EduClips: NYC Welcomes New Schools Chancellor Carranza; OK Teachers Strike — and More Must-Reads From America's 15 Biggest School Districts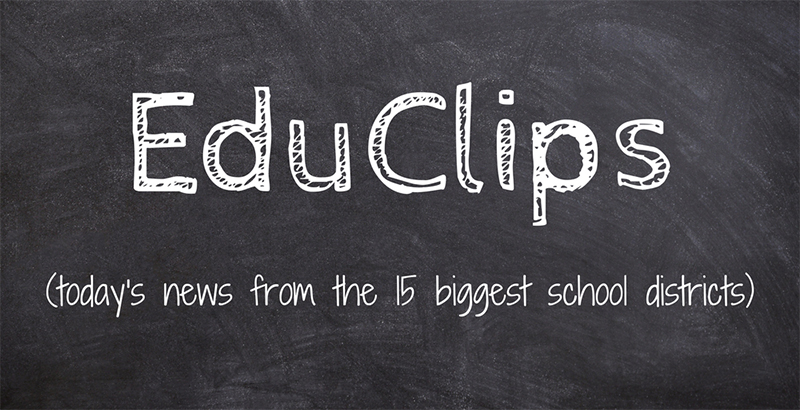 EduClips is a roundup of the day's top education headlines from America's largest school districts, where more than 4 million students across eight states attend class every day. Read previous EduClips installments here. Get the day's top school and policy news delivered straight to your inbox by signing up for the TopSheet Education Newsletter.
Top Story
OK TEACHER STRIKE — On Easter morning, at the nearby Baptist church, Kenita Self closed her eyes and bowed her head in prayer.
The teacher prayed for her third-grade students, who face a high-stakes reading test this year that will determine whether they advance to fourth grade. She prayed for their futures. And she prayed that she was doing the right thing by not showing up Monday morning, instead joining thousands of teachers at the state Capitol to protest the deep cuts to education.Leaving behind their classrooms, educators are set to travel from the far reaches of the state on chartered school buses and in caravans of cars, hoping to press lawmakers into restoring education funding.
Oklahoma's schools and educators have endured some of the steepest cuts in education in the last decade, reductions that are evident in dwindling supplies, aging textbooks and the pay stubs of teachers. Before last week, state lawmakers have not raised the minimum salary for teachers in a decade, making them among the worst paid in the nation. (Read at Washington Post)
National News
TEACHER STRIKES — Why Teachers' Strikes Are Becoming a Nationwide Movement (Read at the Wall Street Journal)
APPROPRIATIONS — Meet the Only K-12 Education Program to Get Cut in the Spending Bill Trump Signed (Read at Politics K-12)
VAPING — 'I Can't Stop': Schools Struggle With Vaping Explosion (Read at New York Times)
LOTTERY — Mega Millions Winner Gets $521 Million. How Far Would That Go for Schools? (Read at Politics K-12)
District and State News
NEW YORK — Welcome to New York, and Here's a To-Do List (Read at New York Times)
CALIFORNIA — So who could be the next Los Angeles schools superintendent? (Read at Los Angeles Times )
TEXAS — Texas schools scramble after state's $118M pre-K funding cut (Read at Longview News-Journal)
FLORIDA — Florida leads nation in school vouchers, and there are more to come (Read at Herald Tribune)
CALIFORNIA — Chronic absence rates high at many California continuation schools (Read at EdSource)
NEW YORK — The final answer: School spending gets a billion-dollar boost (Read at Chalkbeat)
ILLINOIS — Illinois High School to Start On-Campus Credit Union (Read at U.S. News and World Report)
FLORIDA — Passing scores on Florida's alternate algebra, 10th-grade reading tests about to rise (Read at Tampa Bay Times)
NEVADA — Nevada gender diverse regulation may move forward next week (Read at Las Vegas Review-Journal)
TEXAS — This Texas senior applied to 20 elite colleges and got a full ride to all of them (Read at Dallas News)
NEVADA — Clark County School District's Turnaround Zone brings mixed results (Read at Las Vegas Review-Journal)
Think Pieces
COLLECTIVE BARGAINING — A Turning Point for Union Research? New Study Shows a Negative Relationship Between Collective Bargaining & Boys' Future Earnings, Career Tracks (Read at The74Million.org)
EDUCATION REFORM — People are saying education reform hasn't worked. Don't believe them. (Read at Washington Post)
GRADUATION REQUIREMENTS — New Report: In 46 States, High School Graduation Requirements Aren't Enough to Qualify for Nearby Public Universities (Read at The74Million.org)
ARMING TEACHERS — Should teachers get guns? Some school leaders say no, absolutely not. (Read at Washington Post)
Quote of the Day
"There was nowhere left to cut to fund education, and when there is nowhere left to cut because of the deepness of your cuts, people realized the reality." — Leslie Osborn, Republican state representative from Oklahoma, where teachers are striking. (Read at the Wall Street Journal)
Want the day's top school and policy news delivered straight to your inbox — for free? Sign up for the TopSheet Daybreak Education Newsletter.
Get stories like these delivered straight to your inbox. Sign up for The 74 Newsletter