EduClips: LGBTQ History Gets Boost in CA Schools; Trump Administration Pushes 'Zero Tolerance' Enforcement for Migrant Teachers — and More Must-Reads From America's 15 Biggest School Districts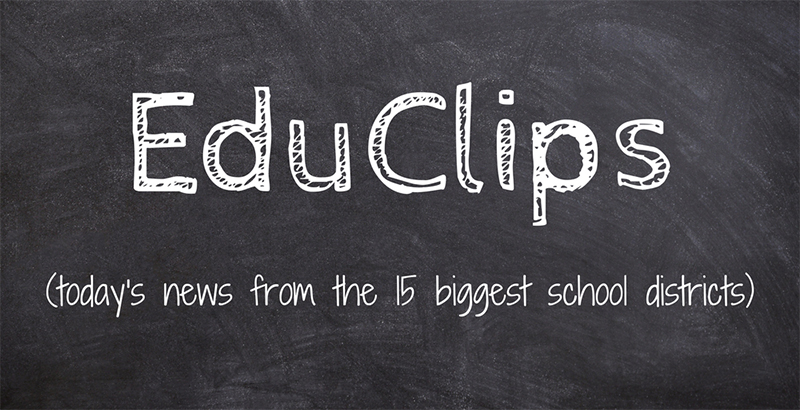 EduClips is a roundup of the day's top education headlines from America's largest school districts, where more than 4 million students across eight states attend class every day. Read previous EduClips installments here. Get the day's top school and policy news delivered straight to your inbox by signing up for the TopSheet Education Newsletter.
Top Story
TEACHERS UNIONS — Early Wednesday morning, the U.S. Supreme Court voted 5-4 to strike down mandatory agency fees for public unions, handing a major blow to influential teachers unions in the United States. Justice Samuel Alito wrote the majority opinion, with the major dissenting opinion from Justice Elena Kagan. (Read more news, analysis and copies of the major opinions today at The74Million.org)
National News
CAREER & TECHNICAL EDUCATION —  Bipartisan Career and Technical Education Bill Approved by Key Senate Committee (Read at Politics K-12)
IMMIGRATION — Anxiety Looms for Thousands of Migrant Teachers as Trump Administration Pushes 'Zero Tolerance' Enforcement of Visa Program (Read at The74Million.org)
SCHOOL SAFETY— Plenty on Security, Little on Guns at Federal School-Safety Session in Kentucky (Read at Politics K-12)
DEVOS — 'Brain Performance' Firm DeVos Invested in Is Hit for Misleading Claims (Read at The New York Times)
SPENDING BILL — Senate Spending Bill Keeps Teacher Grant, Ignores DeVos Choice Proposal (Read at Politics K-12)
District and State News
CALIFORNIA — With California in the lead, LGBTQ history gets boost in school curriculum (Read at EdSource)
NEW YORK — This Brooklyn principal has some advice for teaching children who were separated at the border (Read at Chalkbeat)
CALIFORNIA — LA charter school's summer program fees are illegal, state says (Read at the Los Angeles Daily News)
TEXAS — Texans think state leaders are falling short on public education, UT/TT Poll finds (Read at the Texas Tribune)
FLORIDA — Florida teachers union asks candidates to pledge support for higher pay (Read at the Tampa Bay Times)
ILLINOIS — School board member: 'We have an equity issue in Illinois in our schools' (Read at Fox Illinois)
NEW YORK — Principal to parents: I'm only passing students because summer school too expensive (Read at the New York Post)
ILLINOIS — Teacher Shortage Downstate Looks Different From Chicago Shortage (Read at Chicago Tonight)
FLORIDA — Schools ready to offer more foreign language classes (Read at the Sun-Sentinel)
Think Pieces
CIVICS — Study: Gaps in Civics Performance Between Black and White Students Deepened in NCLB Era (Read at The74Million.org)
CURIOSITY — Piqued: The case for curiosity (Read at The Hechinger Report)
Quote of the Day
"It seems like there's a bit of a zero-tolerance approach going on for everything. Even if they've followed the rules and done everything the right way, immigration officials are still scrutinizing applications even more closely than before." —San Diego-based attorney Vaani Chawla, on a federal crackdown on the enforcement of H-1B visas, which affect thousands of migrant teachers. (Read at The74Million.org)
Want the day's top school and policy news delivered straight to your inbox — for free? Sign up for the TopSheet Daybreak Education Newsletter.
Get stories like these delivered straight to your inbox. Sign up for The 74 Newsletter