EduClips: In Miami, Many Immigrant Students Pushed Into Adult Education Programs Won't Graduate From High School; Teachers Set to Walk Out in North Carolina — and More Must-Reads From America's 15 Biggest School Districts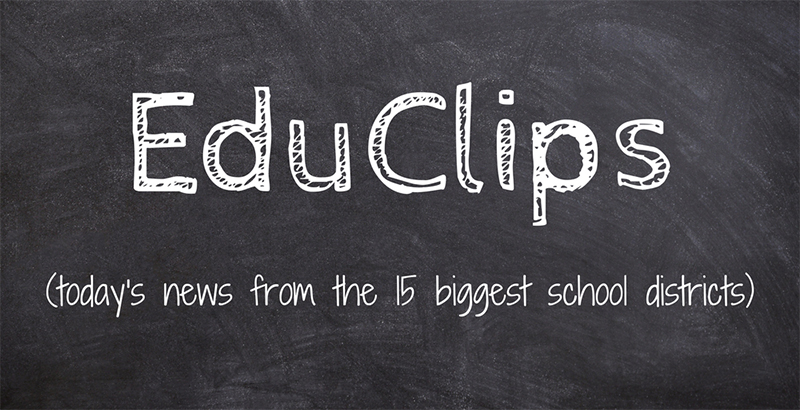 EduClips is a roundup of the day's top education headlines from America's largest school districts, where more than 4 million students across eight states attend class every day. Read previous EduClips installments here. Get the day's top school and policy news delivered straight to your inbox by signing up for the TopSheet Education Newsletter.
Top Story
NC TEACHER WALKOUT — Sally Merryman has taught middle school Spanish in North Carolina for more than 20 years. She, like thousands of teachers from all over the state, plans to march on the state capitol in Raleigh this week.
"I think a lot of us started to see, 'well shoot, if West Virginia can do it, North Carolina can do it,' " she told NPR's Ari Shapiro. "If Oklahoma can do it, North Carolina can do it. If Arizona can do it, so can North Carolina."
On Wednesday, teachers in North Carolina will become the latest to leave their classroom posts and march on their state capitol, wearing #RedforEd T-shirts, in a quest for better compensation for themselves and more resources for their students. (Read at NPR)
National News
PRE-K — More states expanding preschool programs but quality still lags (Read at EdSource)
NET NEUTRALITY — FCC's Net Neutrality Repeal to Take Effect June 11, Worrying Schools (Read at Education Week)
ESSA — Bill Gates gives $44M to influence state education plans (Read at Associated Press)*
NC TEACHER WALKOUT — In North Carolina, Teacher Protest Exposes Rural-Urban Divide (Read at Wall Street Journal)
SCHOOL CHOICE — Here's Who Might Fill Capitol Hill's Upcoming School Choice Void (Read at Politics K-12)
District and State News
FLORIDA — These immigrants came for a better education. Now, they'll never graduate high school (Read at Miami Herald)
ILLINOIS — CPS Hopes to 'Right the Wrongs,' Will Accept Special Education Monitor (Read at Chicago Tonight)
NEW YORK — Betsy DeVos is in New York City — and so far, she's only touring religious private schools (Read at Chalkbeat)
TEXAS — Dallas area charters lag behind traditional public schools, according to new report (Read at Dallas News)
CALIFORNIA — At Special Children's Forum, California Governor Candidates Lament State's Treatment of Kids & Point to Education as the Way Forward (Read at The74Million.org)
NEVADA — Clark County school budget cuts won't be applied equally (Read at Las Vegas Review-Journal)
TEXAS — Thousands of STAAR test takers plagued by glitches again (Read at My Statesman)
CALIFORNIA — On his first day as L.A. schools chief, Beutner visits a bus depot and schools across the district (Read at Los Angeles Times)
NEVADA — Nevada governor hopeful outlines education plan (Read at Las Vegas Review-Journal)
Think Pieces
RESIDENCY — Private eyes track down kids illegally enrolled in suburban schools (Read at Hechinger Report)
ONLINE SCHOOLS – Proof that online high school can work: My daughter (Read at Washington Post)
COMPUTER GAMES — Assassin's Creed Has a New Mission: Working in the Classroom (Read at New York Times)
CHARTER SCHOOLS — Analysis: Many Charter Schools Are Getting Diversity Right — by Design. What We Can Learn From Them About Racial & Socioeconomic Integration (Read at The74Million.org)
CHICAGO SCHOOLS — What's missing from the conversation about Chicago schools? (Read at Chalkbeat)
Quote of the Day
"That energy spreads like wildfire because people really feel now that there's some momentum in this movement and they can really affect change." — Sally Merryman, middle school Spanish teacher in North Carolina, on teacher strikes that have spread to several states. North Carolina teachers are staging a walkout today. (Read at NPR)
*Disclosure: The Bill & Melinda Gates Foundation supports The 74.
Want the day's top school and policy news delivered straight to your inbox — for free? Sign up for the TopSheet Daybreak Education Newsletter.
Support The 74's year-end campaign. Make a tax-exempt donation now.