EduClips: From Virginia Lawsuits Over Secluding Kids to New SCOTUS Briefs Advocating for DACA Students and Teachers, News You Might Have Missed This Week From America's Top Districts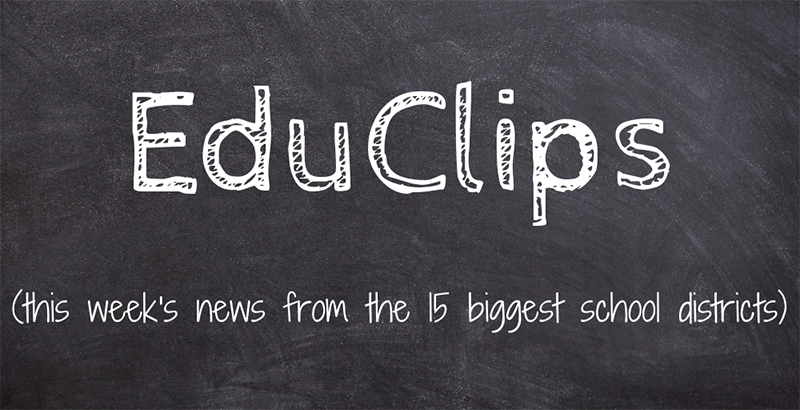 EduClips is a roundup of the week's top education headlines from America's 15 largest school districts, where more than 4 million students across 10 states attend class every day. Read previous EduClips installments here.
NATIONAL — NEA, National PTA File Brief Supporting DACA Students and Teachers in Supreme Court Case: The nation's largest teachers union, the National Education Association, and the National Parent-Teacher Association have filed an amicus brief to the Supreme Court in support of the Deferred Action for Childhood Arrivals program, or DACA, the Obama-era program that allows undocumented people who were brought to the United States as children to get work permits and stay in the country without fear of deportation. According to data from 2016, "228,000 children age 15 and younger were unauthorized immigrants potentially eligible for the DACA program provided they stayed in school," Education Dive reports. Moreover, about 9,000 DACA recipients are teachers, making education one of the most common professions for those who benefit from the program. The brief includes testimony from some teachers. Ending DACA "will be disastrous for students and public education," NEA President Lily Eskelsen García said in a statement. The Supreme Court is expected to hear the case Nov. 12. (Read at Education Dive)
NEVADA — Parents of Special Needs Kids Raise Concerns About Treatment From CCSD Staff: Five parents from Clark County School District said in a press conference Monday that special education students have been "routinely abused" in the district's care. Parents said their children had been bullied and hit by educators and that the district has prohibited monitoring devices that would record what happens to their children during the school day. "You have denied information, erased videos, blamed families and [done] anything else you possibly can to cover up because you do not want to take responsibility for what went wrong under your care," one parent said, addressing the district. (Read at the Las Vegas Review-Journal)
CALIFORNIA — New State Law Creates Pot of Emergency Funds for California Community Colleges: California Gov. Gavin Newsom signed a law last week that allows the state's community colleges to use money from an existing funding stream to cover "emergency financial aid" for students in good standing. The change is meant to allow schools to help students cover "unforeseen financial challenges" including housing and food costs, textbook purchases and transportation. (Read at Inside Higher Ed)
VIRGINIA — Parents Sue Fairfax Schools, Allege Improper Seclusion and Restraint of Students With Disabilities: Three parents filed a lawsuit Tuesday alleging that the Fairfax School District used excessive and improper seclusion to "silence, detain, segregate, and punish students with disabilities." One child was secluded "on at least 745 occasions and excluded from class several hundred more times over seven years, according to court papers." (Read at The Washington Post)
FLORIDA — DeSantis Wants to Boost Minimum Pay for Florida's Teachers: Gov. Ron DeSantis wants to raise the minimum salary of teachers in Florida to $47,500, a proposal that would cost hundreds of millions of dollars and is expected to become a key issue for the state legislature next year. DeSantis said his proposal will raise pay for 60 percent of teachers in Florida, which at $37,636 ranks 27th in the country for starting teacher pay. (Read at the Daily Commercial)
ILLINOIS — Could Chicago Actually Shorten Its School Day? The Latest Twist in the City's Labor Battle, Explained: The Chicago Teachers Union, which is threatening to strike Oct. 17 if it does not reach a contract by then, is demanding a shorter school day as part of the negotiation. The union wants elementary teachers to have an additional 30 minutes of morning prep time. The current school day for elementary students is seven hours, and it's unclear where those 30 minutes would come from. (Read at Chalkbeat Chicago)
● Related: Class size has also emerged as a key issue in the negotiation (Read at Chalkbeat Chicago)
Noteworthy Opinion and Analysis 
NATIONAL — How the Ed. Department Threw a Wrench in Student-Privacy Laws (Read at Education Week)
STRIKES — Chicago Is the Latest Front for 'Common Good' Bargaining (Read at Chalkbeat)
PARENTING — Is Your Child Struggling in School? Talk to Your Pediatrician (Read at The New York Times)
TEACHING — Four Ways Educators Can Help Young Black Students Thrive (Read at The Hechinger Report)
GIFTED ED — The Contradiction at the Heart of Public Education (Read at The Atlantic)
What Else We're Reading
TEACHER VOICE — Arkansas Teacher of the Year Criticizes Little Rock Proposal to Break Up District (Read at the Arkansas Democrat-Gazette)
INSPIRING — A Bandless Football Team and a Teamless Band Team Up (Read or listen at NPR)
SOLUTIONS — Florida Students Lobby for Bill to Help English Learners (Read at the Tampa Bay Times)
Support The 74's year-end campaign. Make a tax-exempt donation now.