EduClips: Audit Slams NYC Schools on Grade Fixing; More Than 1 Million People Worldwide Join 'March for Our Lives' to Push for Gun Control — and More Must-Reads From America's 15 Biggest School Districts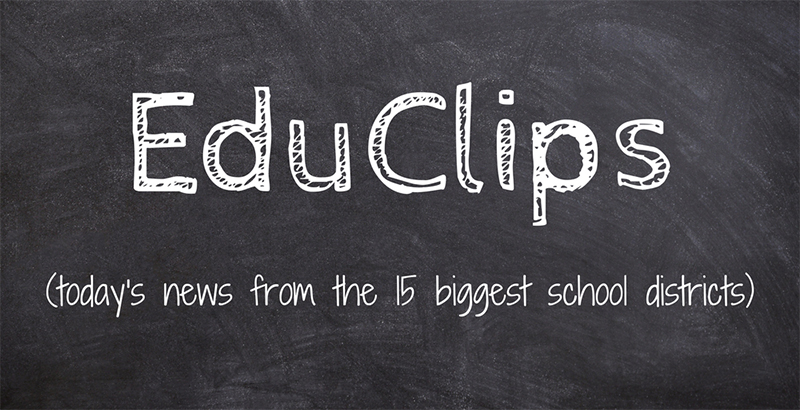 EduClips is a roundup of the day's top education headlines from America's largest school districts, where more than 4 million students across eight states attend class every day. Read previous EduClips installments here. Get the day's top school and policy news delivered straight to your inbox by signing up for the TopSheet Education Newsletter.
Top Story
MARCH FOR OUR LIVES — An estimated 800,000 protesters packed a three-quarter-mile section between Capitol Hill and the White House in Washington, D.C., Saturday, making the March for Our Lives, a colossal effort led by Stoneman Douglas students to advocate for gun-control legislation, one of the biggest youth protests in the U.S. since the Vietnam War era — and the largest single-day demonstration in Washington history. Over 800 sister rallies were held across the country and around the world. From Paris to Tokyo, millions of global citizens showed up Saturday to support the cause.
Rates of gun violence are higher in the United States than in any other developed country. More than 187,000 students in at least 193 K-12 schools have experienced a campus shooting since the Columbine massacre in 1999, according to a Washington Post analysis. The report found an average of 10 school shootings a year in that same time. There have been 11 school shootings in the first three months of 2018 alone, putting this year on track to be one of the worst in history. (Read at The74Million.org)
National News
SCHOOL SAFETY — DeVos' School Safety Commission Meets March 28, Amid Skepticism About Its Membership (Read at Politics K-12)
MARCH — On this day, teachers offered students lessons in support (Read at Washington Post)
DEVOS — Tension Between DeVos and a GOP Congress Reflects a Beltway Tradition (Read at Politics K-12)
MARCH — #MarchForOurLives: 51 Memorable Images That Made Saturday's March Against Gun Violence a Trending Social Media Spectacle (Read at The74Million.org)
District and State News
NEW YORK — Audit slams city over 'troubling' grade-fixing fallout (Read at New York Post)
FLORIDA — Two firms apply to become Florida's first 'Schools of Hope' providers (Read at Tampa Bay Times)
CALIFORNIA — Tens of thousands gather in downtown Los Angeles for March for Our Lives rally (Read at Los Angeles Times)
FLORIDA — Gov. Rick Scott hears from shaken and angry Floridians after Parkland (Read at Miami Herald)
TEXAS — Texas high school students bring together Ted Cruz, Joaquin Castro for "Day of Unity" event (Read at Texas Tribune)
NEW YORK — Inside the 'passion project' Carmen Fariña can't quit: helping New York City schools share space better (Read at Chalkbeat)
NEVADA — Struggling Northern Nevada charter school to close (Read at Las Vegas Review-Journal)
CALIFORNIA — Opinion: California's doomed plan to solve looming crisis in education (Read at Mercury News)
TEXAS — Opinion: Paxton's rotten apple for Texas teachers [Editorial] (Read at Houston Chronicle)
Think Pieces
RACE — Race, not just poverty, shapes who graduates in America — and other education lessons from a big new study (Read at Chalkbeat)
COST OF EDUCATION — How much would it cost to get all students up to average? (Read at Hechinger Report)
STRIKING TEACHERS — When Professionals Rise Up, More Than Money Is at Stake (Read at the New York Times)
TEACHER TURNOVER — Opinion: Teacher Turnover Is a Symptom of a Nationwide Shortage of Educators. What 2 Arizona Teachers Are Doing About It in Their State (Read at The74Million.org)
APPLE — What Apple has to do to get back to the head of the class (Read at USA Today)
ED TECH — "Tired of fighting that fight": School districts' uphill battle to get good deals on ed tech (Read at Hechinger Report)
MATH — Here's an approach to math phobia that could add up: Tackle the fear head on (Read at Washington Post)
Quote of the Day
"Six minutes and about 20 seconds. In a little over six minutes, 17 of our friends were taken from us." — Emma Gonzalez, survivor of February's mass shooting in Parkland, Florida, speaking at Saturday's "March for our Lives" before remaining silent for nearly 6 minutes to memorialize the 17 people killed in the massacre. (Read at The74Million.org)
Want the day's top school and policy news delivered straight to your inbox — for free? Sign up for the TopSheet Daybreak Education Newsletter.
Get stories like these delivered straight to your inbox. Sign up for The 74 Newsletter