Educators Report Being Surprised by a Homecoming Surge in Hate Speech at Their Schools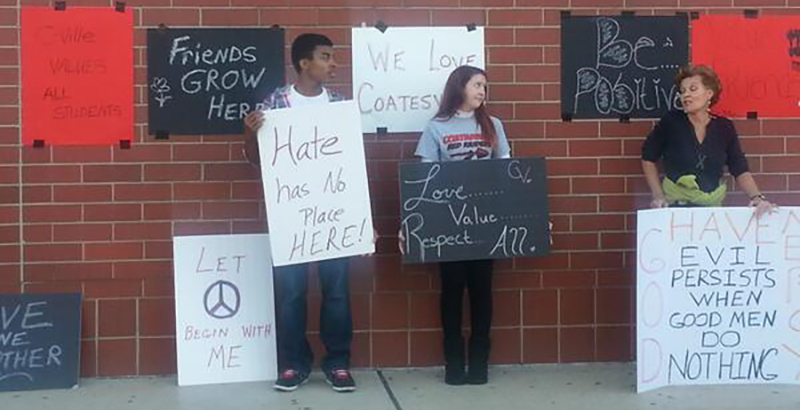 A flurry of racially charged incidents at schools this fall — attributable to everything from homecoming to the polarized political climate — has caught many educators and administrators off guard.
In October, the examples were numerous: Carving a swastika into a pumpkin. Shouting racial slurs at high school football players. Wearing a prison jumpsuit with the name Freddie Gray, an African American who was killed in police custody in Baltimore, on the back.
Some of the recent incidents occurred during homecoming, which comes as students reacclimate to school and join friends at large pep rallies and football games.
Yet precise national statistics on the number of such incidents are hard to come by. Many teachers and administrators anecdotally report such incidents are on the rise, according to the Associated Press. Dan Domenech, head of the School Superintendents Association, said he believes there has been a spike this year.
"You have to be aware of it. You have to monitor it. You have to prevent it from escalating," he said.
In a study released last month, about 28 percent of teachers reported an increase in students making derogatory remarks about other groups during class discussions. The UCLA survey was conducted at the end of the 2016–17 school year.
After a number of incidents in the Philadelphia area last month, officials from the Quakertown school district reached out to the Peace Center in nearby Langhorne to help develop a racial tolerance and conflict resolution program.
"Middle school and high school students need to be talking about this," the Center's director, Barbara Simmons, told The Philadelphia Inquirer. "Kids are being drawn into groupthink when it comes to white nationalism, racism, intolerance, and hatred."
Some have blamed President Donald Trump and other elected leaders for normalizing hurtful rhetoric and not speaking out strongly enough against hate groups. More than 90 percent of teachers in the UCLA study agreed that "national, state, and local leaders should encourage and model civil exchange and greater understanding across lines of difference."
The Peace Center's Simmons keeps a spreadsheet of bias incidents in Bucks County, Pa. Since Trump's election, it has grown to five pages, which she said may be attributable to the president's comments. In August, for example, Trump called some of the white supremacists who marched in Charlottesville, Va., "very fine people."
However, not all experts are convinced of the so-called Trump Effect.
"I think we need to be careful not to play the 'Trump' card and conclude that his administration is to blame for all this," Maura McInerney, legal director of the Education Law Center of Pennsylvania, told the Inquirer. "That approach ignores the broader pre-existing problems of racially motivated incidents of bullying and harassment in our schools that have not been adequately addressed."
Whether there has been an uptick in actual incidents, in student reporting of such incidents, or in media interest in those stories — or some combination — can be difficult to untangle, and there have been some notable false reports.
Dealing with incidents that occur on social media can also be prickly for school administrators, who are responsible for maintaining safe learning environments without infringing on students' First Amendment rights.
In public schools, there needs to be a clear "nexus" between social media behavior and the school environment before a student can be disciplined, Kelli Hopkins, associate executive director of the Missouri School Boards Association, told the St. Louis Post-Dispatch.
Meanwhile, frustrated educators are looking for answers to an issue that has caught many of them off guard. The Southern Poverty Law Center (SPLC), which tracks media reports of hate incidents in schools, found more 90 incidents across 30 states in October.
"There's a sense of just really not knowing quite what to do," said Maureen Costello of Teaching Tolerance, a branch of SPLC.
Support The 74's year-end campaign. Make a tax-exempt donation now.