EDlection2018: Rhode Island Gov. Gina Raimondo Re-elected on a Post-Parkland School Safety Platform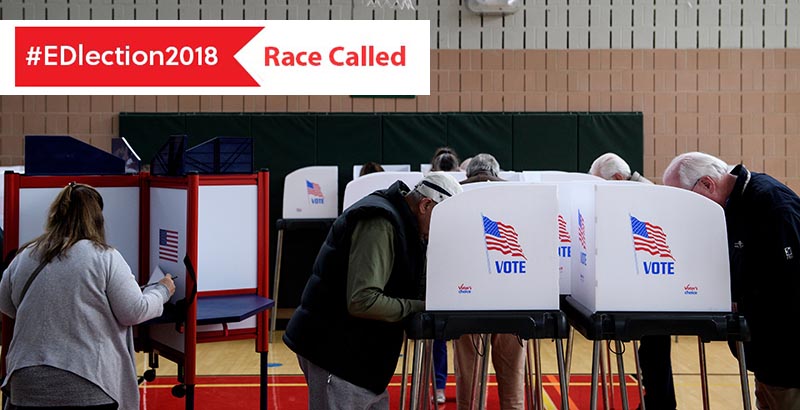 EDlection2018: This is one of several dozen races we've analyzed for the 2018 midterms that could go on to influence state or federal education policy. Get the latest headlines delivered straight to your inbox; sign up for The 74 Newsletter.
In a race called by the New York Times a scant half hour after the polls closed, Rhode Island Gov. Gina Raimondo cruised comfortably to re-election with a 14-point lead. With 93 percent of precincts tallied, the Democrat had secured 52 percent of votes, compared to GOP challenger Allan Fung's 38 percent.
— Gina Raimondo (@GinaRaimondo) November 7, 2018
The state's first female governor, Raimondo took executive action after the massacre in Parkland, Florida, to ban guns in schools carried by anyone other than police, and has urged education leaders to tap construction funds to bolster school safety. She has also pushed for a statewide ban on assault weapons.
The mayor of Cranston, Rhode Island, Fung also campaigned on a school safety platform, though he favored using state funds to put more security officers in schools and proposed re-allocating funds from the "out of control" internal budget of the state General Assembly to pay for it.
(Check out what's going on in governor's races across the country on The 74's liveblog.)
In October, Raimondo received the endorsement of the National Education Association Rhode Island's political action wing in what the union's president acknowledged was a "difficult recommendation for some of our members." In her former role as state treasurer, Raimondo pushed a public-employee pension reform that lowered benefits for future retirees, halted cost-of-living increases for current retirees and raised the retirement age.
It looks like @GinaRaimondo will be re-elected with a *majority* of the vote despite running in a 6-way field. She's currently at 51%.

Suffice to say, this is an impressive outcome for a governor who won with just under 41% four years ago, and who was long seen as vulnerable.

— Ted Nesi (@TedNesi) November 7, 2018
The governor's support during her first term for preschool, all-day kindergarten, mental health support for students and a school construction bond carried more weight than her pension stance, union leaders ultimately decided.
In her second term, Raimondo has vowed to expand the "Rhode Island Promise," which currently provides free access to the Community College of Rhode Island to qualified students. The governor has proposed extending benefits to students at Rhode Island College and the University of Rhode Island.
Support The 74's year-end campaign. Make a tax-exempt donation now.