Downgraded but Still Destructive, Florence Keeps Schools Closed Amid Extensive Flood Damage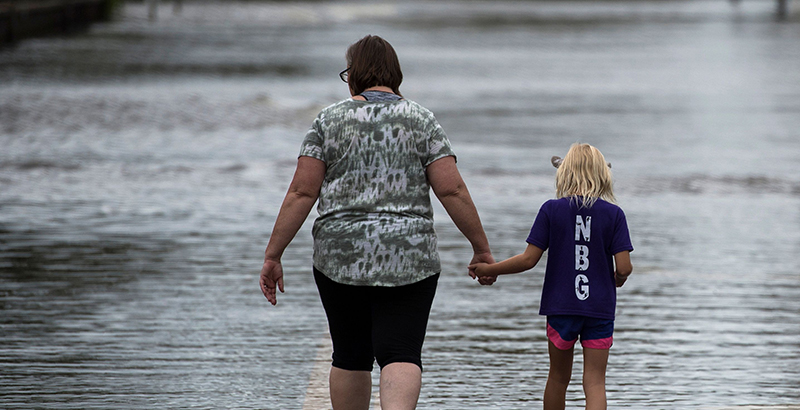 Hurricane Florence weakened to a tropical storm when it made landfall Friday in the Carolinas, but the downgrade didn't stop the monster storm from dumping record-breaking rain, causing widespread floods and damaging countless buildings in its path.
Schools were no exception. White Oak High School in Jacksonville, North Carolina, for example, sustained severe flooding and damage in at least a dozen classrooms and other parts of the school, according to a video created by the school's principal, Christopher Barnes.
The school, which serves 1,057 students, will remain closed all week.
There was some good news, however: According to a tweet Barnes posted, the school's chickens survived the wind and rain.
The storm, which has killed at least 23 people so far, cut off Wilmington, North Carolina, a city of about 117,000 people that sits between the Atlantic Ocean and the Cape Fear River. Three school districts in the region — Pender County, New Hanover County, and Brunswick County — have announced they will remain closed all week.
For some school leaders, deciding whether to reopen schools was a challenge. Schools scattered throughout North Carolina, South Carolina, and Virginia were closed Monday, while others reopened.
Public schools in Durham, North Carolina, reopened, but the superintendent later apologized for the choice. Parents there criticized the move, citing safety concerns and continuing flooding on the roads. Nonetheless, all but one school in the district stayed open for the full school day Monday.
A school bus in Durham got stuck in a ditch after struggling to get through flooded roads.
Another North Carolina district opened, then released students early because of potential flooding, apologizing for any safety issues the initial decision created.
South Carolina Gov. Henry McMaster gave the OK for most of the schools in his state to reopen Monday, leaving the decision about when to local officials. Some districts opened Monday; others remained closed or had a delayed opening, according to local news reports.
Now a tropical depression, Florence is expected to continue to bring heavy rain as far as Boston as it moves northeast along the Atlantic coast.
Throughout the storm, schools and school buses have proved essential for helping evacuate those in the storm's path and providing a safe place to stay.
Support The 74's year-end campaign. Make a tax-exempt donation now.