'Cruel and Vindictive': Immigrant Youth Rally Outside Houston Courthouse After Federal Judge Strikes Down DACA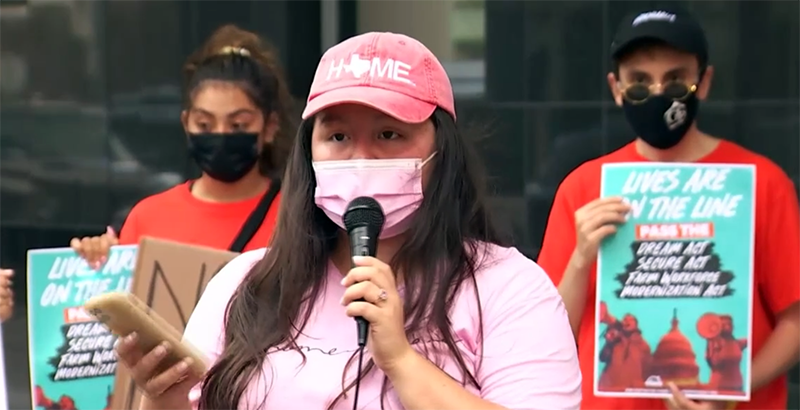 Get essential education news and commentary delivered straight to your inbox. Sign up here for The 74's daily newsletter.
Immigrant-rights activists rallied outside a Houston courthouse on Monday demanding the Biden administration act swiftly to protect them after a federal judge halted an Obama-era program that provides deportation relief and work permits to hundreds of thousands of undocumented residents brought here as children.
"It hurts deeply that my home state, the place I've grown up in and have grown to love, is the one leading the charge against me and my right to live and work," Susana Lujano, a 28-year-old Deferred Action for Childhood Arrivals (DACA) recipient, said at the gathering organized by the immigrant-rights group United We Dream. Lujano, who has lived in Texas since she was 2, called the latest ruling — one in a long series that has left the fate of the so-called Dreamers in turmoil — "cruel and vindictive."
On Friday, a federal judge in Texas barred any new applications to the DACA program, creating uncertainty for thousands of first-time applicants who sought its protection. While Judge Andrew Hanen of the U.S. District Court in Houston let the status of the more than 600,000 current DACA recipients stand, the George W. Bush appointee found the Obama administration overstepped its authority when it created the program in 2012.
Referring to DACA as an "illegally implemented program," Hanen wrote that "the public interest of the nation is always served by the cessation of a program that was created in violation of law." His position echoed that of the Trump administration, which sought to end DACA under the premise that it was illegally created by the Obama administration without congressional approval. Though polls have consistently found overwhelming support for DACA among the public, immigration reform has stalled in Congress for years.
President Joe Biden has already announced a plan to appeal the case brought by Texas and other Republican-led states. Under what the president called a "deeply disappointing" ruling, current recipients aren't immediately affected but the Department of Homeland Security is prohibited from approving new applications. The move is particularly damning for those young people whose applicants were awaiting approval but were snagged in a backlog caused by the pandemic.
Among them is Andrea Anaya, a Marymount University student who was born in El Salvador and raised in Maryland. Anaya said she applied for DACA for the first time in February but was still waiting on U.S. Citizenship and Immigration Services to process her application.
Friday's ruling "means I continue to be exposed to the threat of deportation and don't know if my DACA application will ever be approved," she said in a media release. "I shouldn't have to fight to prove that my life and my existence matter."
Joe, I'm tired of hope and your well wishes. I want certainty of my livelihood. Do something, you're THE President of the United States. Keep your promise. https://t.co/iiPsnsCoWo

— Andrea Anaya (@andreajanaya) July 17, 2021
Lujano said she was "heartbroken" that those who applied for DACA protections for the first time this year "won't be able to have the same peace of mind that I had when I was approved."
The administration's intent to appeal means DACA could make its way back to the U.S. Supreme Court absent congressional action. In a statement, Biden called on Congress to pass legislation that provides permanent protection to DACA recipients. Greisa Martinez Rosas, executive director of United We Dream, urged Congress to include a pathway to citizenship in its upcoming budget.
"Today's ruling is evidence that DACA is not enough," she said in a press release. "The program has always been temporary, leaving hundreds of thousands of lives vulnerable to the next attack."
DACA recipients — and young immigrants applying for the program for the first time — have lived in a state of limbo since the Trump administration announced efforts to end it in 2017 and its fate has been the subject of back-and-forth court decisions. In June 2020, the Supreme Court ruled that the Trump administration failed to provide "a reasoned explanation" for its decision to terminate DACA and failed to consider how ending it could affect its beneficiaries.
Meanwhile in Washington, D.C., on Monday, immigrant rights advocates marched to the White House, where they demanded that Biden include a pathway to citizenship for undocumented residents in the American Jobs Plan.
Critics of the Obama-era immigration policy were quick to cheer on the Texas ruling. Robert Law, director of regulatory affairs and policy at the Center for Immigration Studies, a think tank that supports restrictive immigration policies, praised the ruling, but said the judge's unwillingness to terminate the program for current recipients "neuters the impact of his decision." The federal judge noted that hundreds of thousands of DACA recipients and their employers rely on the program and therefore "it is not equitable for a government program that has engendered such a significant reliance to terminate suddenly."
"Establishing a 'reliance interest' for an illegal program for illegal aliens takes the winds out of the sails of advocates for the rule of law," Law wrote in a press release. Allowing current recipients to keep their benefits makes the ruling "yet another mostly symbolic victory."
As lawmakers in Washington debate the Dreamers' fate, Lujano made clear at the Houston rally that the status quo is unsustainable.
"I don't want to be here temporarily anymore. This is my home. I've grown up here, I love this state," she said, pointing to her pink hat embroidered with the word "HOME" and a Texas illustration. "It hurts to love it so much. It hurts to love it when it seems to hate me."
Get stories like these delivered straight to your inbox. Sign up for The 74 Newsletter