College Attendance Continues to Decline: 85% of College Admissions Directors Worry They Won't Hit Enrollment Goals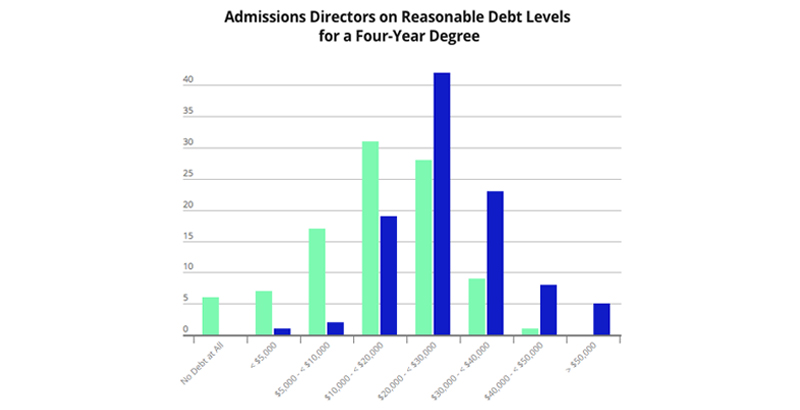 Fifty-five percent of college admissions directors said in a recent poll that they were "very concerned" about hitting enrollment targets for 2017–18, up from just 31 percent in 2015. All told, 85 percent voiced at least some doubt about meeting their goals for the year, yet more evidence of a nationwide decline in college attendance that has been measured for several years.
The officials voiced their worries as part of Inside Higher Ed's annual Survey of College and University Admissions Directors, which solicited responses from more than 450 administrators at public, private, and for-profit schools from July to August. The fight for new applicants was the main focus of the study, though participants also gave provocative answers to questions on free-tuition schemes, the use of social media in admissions, and higher education's response to the 2016 elections.
Just 34 percent of those polled said their institutions had met the coming year's enrollment goals by the traditional May 1 deadline; that figure represents an 8-percentage-point dip from two years prior. Highly desirable, doctorate-granting public universities — schools like Clemson, University of Virginia, and Purdue — are the only institutions for which a majority of respondents (59 percent) had admitted full classes by May 1. Only about a quarter of public baccalaureate (22 percent) and community colleges (27 percent) had done so.
(The 74: The Rise of 'College Admissions Sabotage': When HS Seniors Use Social Media to Rat Out Their Classmates)
Those soft figures are the clearest indication thus far that a "college admissions bubble" has at least partially deflated. After peaking at 20.6 million students in 2011, nationwide enrollment sagged to just over 19 million last year. The result has been a significant slowdown in tuition increases as postsecondary institutions of all kinds adjust to the correction.
The phenomenon's primary cause is demographic: After ever-climbing millennial hordes made their way to college over the past few decades, declining birth rates have yielded fewer 18-year-olds, and not even elevated high school graduation rates can make up the difference. Obama-era clampdowns on the for-profit college industry have also dramatically shrunk the size of that sector.
Fewer students overall means fewer dollars for degree-granting institutions to chase, leading to mass school closures over the past few years. The total number of both two- and four-year colleges eligible to award federal financial aid dropped almost 9 percent between 2012–13 and 2016–17, with media accounts proliferating of small private colleges blinking out of existence.
Some other findings from the study included:
Following the surprise presidential election victory for Donald Trump last November, 30 percent of the admissions directors said their institutions had worked harder to recruit low-income white students. Thirty-eight percent said they had increased recruiting of students from rural areas. The Education Advisory Board has dubbed rural students the "holy grail" for college recruiters.
Free tuition programs, such as New York's new Excelsior Scholarship program, have become a source of division between admissions officers in private versus public institutions. Of those surveyed, 37 percent said they support the goal of free tuition, while 34 percent disagree. Half of public university officials thought the schemes were a good idea, while almost as many (46 percent) of their private school counterparts believed the opposite. More starkly, 85 percent of private school respondents said they believed free tuition to be a threat to their institutions.
Admissions directors for private institutions also have a much higher threshold for what they consider a reasonable level of student debt for a four-year degree. The vast majority of private administrators believe a reasonable debt level to be between $10,000 and $40,000, whereas the range among most public directors falls between $5,000 and $30,000.
While admissions directors largely agree that U.S. colleges have become too dependent on international students from a few countries — such as China and India — few believe that to be the case at their own institutions.
Just 14 percent of respondents said that admissions officers should check the social media accounts of prospective students, while four times as many (57 percent) said they should not. Still, in the wake of Harvard's decision to revoke acceptance from 10 students who made offensive comments on a private Facebook group, three-fifths said that the university was correct in its decision.
Get stories like these delivered straight to your inbox. Sign up for The 74 Newsletter