Baltimore Students Wear Blankets, Coats to Class in High School With No Heat for 2 Weeks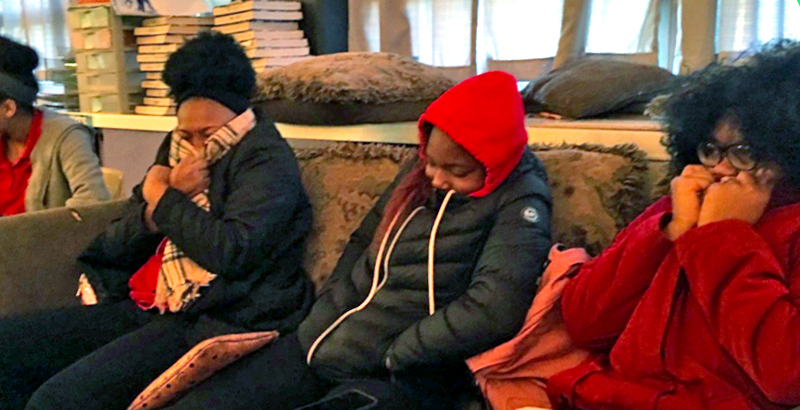 Cold weather has hit the East Coast — and Baltimore's Western High School, where students came prepared to learn with their backpacks, pens, homework … and blankets.
A tweet surfaced Wednesday morning showing a classroom filled with students wearing coats, hats, and scarves to keep warm from the below-freezing weather outside and inside their school. Western High did not have heat for more than two weeks.
Students took to Twitter to complain about classrooms that "feel just like outside." One student's teacher said it was "too cold to do anything." The class watched a documentary instead.
ABC2 News reported Wednesday that Baltimore City Schools issued a statement saying the "heating issues" were caused by cold temperatures, high winds, and an old physical plant — boilers kept shutting off. "Facilities staff will be working this evening to install a new oil regulator to adjust the flow of oil through the pipes. With this repair, we are hopeful that building temperatures will return to more comfortable levels on Thursday," the statement said.
On Thursday, Baltimore City Schools gave The 74 a statement indicating that the boiler repairs were successful and heat had been restored.
Full statement from Edie House Foster of Baltimore City Schools:
"The facilities staff has informed me that Western High School has heat. The repair work on the boilers was successful and the boilers have continued to run without any problems. Staff has walked each floor of the building. Temperatures in classrooms on the three floors have consistently been recorded in the 70s. Work is ongoing in the building. We will closely monitor temperatures in the building to ensure satisfactory heating."
A Twitter update Thursday afternoon from the original poster announced that the school did have heat, though students were advised to wear layers. The tweet showed photos of students bundled in blankets and said the heat was blowing at room temperature at best.
The high on Thursday was 38 degrees.
Support The 74's year-end campaign. Make a tax-exempt donation now.