Awkward in Wisconsin: Assistant Supe Tweets Personalized Learning 'Is Like Teenage Sex'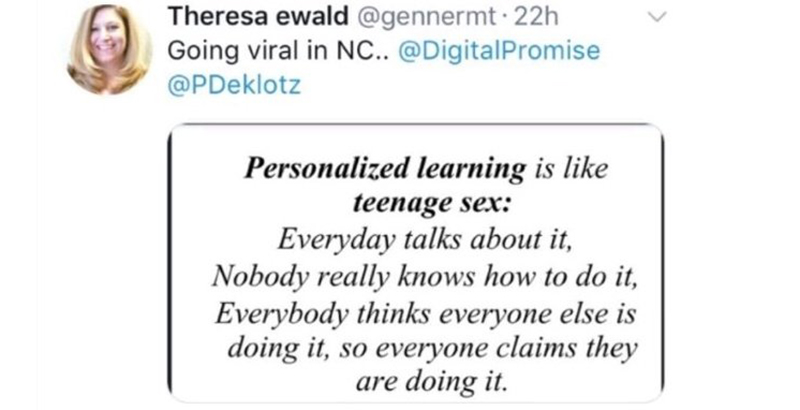 Personalized learning has been compared to many things, but teenage sex usually isn't one of them.
The assistant superintendent of the Kettle Moraine School District in southeastern Wisconsin changed that this week. In a now-deleted tweet, Theresa Ewald forwarded the message: "Personalized learning is like teenage sex: Every[one] talks about it, nobody really knows how to do it, everybody thinks everyone else is doing it, so everyone claims they are doing it," WISN 12 News reported.
Community members called her comments "inappropriate." In a statement emailed to WISN 12 News, Superintendent Patricia Deklotz apologized, saying the tweet was aimed at an adult audience and did not endorse teenage sex.
It's worth noting that a similar quote has been attributed to Dan Ariely, a professor at Duke University, who posted on Facebook in 2013, "Big data is like teenage sex: everyone talks about it, nobody really knows how to do it, everyone thinks everyone else is doing it, so everyone claims they are doing it…"
Get stories like these delivered straight to your inbox. Sign up for The 74 Newsletter