At Ed Dept. Equity Summit, Marten Announces Plans to Address 'Pressing Needs' of Students with Disabilities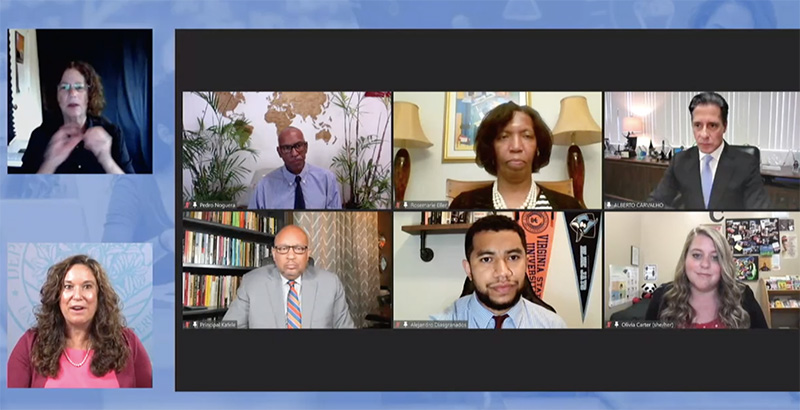 Get essential education news and commentary delivered straight to your inbox. Sign up here for The 74's daily newsletter.
The U.S. Department of Education plans to make the needs of students with disabilities a higher priority when schools fully reopen in the fall, Deputy Secretary Cindy Marten said Tuesday during a virtual summit focusing on equity.
The department is preparing a document, coming later this summer, that "will address some of the most pressing needs and the concerns elevated by families, advocates and educators to provide clarity and direction and attention to this community," Marten said during the event.
Since the beginning of the pandemic, districts across the country have faced lawsuits and angry parents complaining that students with disabilities missed many of the services they were entitled to receive while schools were closed.
But some districts prioritized students with disabilities in reopening efforts. Rosemarie Eller, school board president in the White Plains Public Schools in New York — one of several educators featured during the panel discussions — described how her district held in-person school for students with disabilities as much as possible this year to "maintain the continuity of their educational experience." Leaders held "coffee talks" with parents so they could become better acquainted with administrators and develop trust.
Denise Stile Marshall, CEO of the Council of Parent Attorneys and Advocates, called Marten's announcement "welcome news." The advocacy group, she said, has asked the department to provide schools with information on how to ensure students receive a free and appropriate education under the law even if a parent continues to opt for remote learning.
The two-hour event, expected to be one in a series focused on equity, comes as educators continue to confront the uneven impact of the pandemic and school closures on students. Recent test results in Houston, for example, show a sharp decline in Algebra I scores among on Black, Hispanic and low-income students, and hospitals have seen an increase in girls needing mental health services. Education Secretary Miguel Cardona, however, said in recorded remarks that he wants equity to be more than a "passing buzzword." He's drawing attention to students that have long felt marginalized in public schools, and shared a video last week of a conversation with his transgender cousin.
"A lot of times, school for these kids, it's an escape for them," said Alex Cardona. "And having to escape to somewhere that's also unsupportive just doesn't help anyone."
In the Miami-Dade County Public Schools, a district prominently featured during the event, counselors and other student service professionals are trained to understand the needs of LGBTQ students and know where they can refer students and their families for support, explained Superintendent Alberto Carvalho. The district has a central office specialist who leads that work.
"It is 100 percent our responsibility to see our students, to recognize them, to value them," added Olivia Carter, a counselor at Jefferson Elementary School in Cape Girardeau, Missouri, and the 2021 School Counselor of the Year. "It's our responsibility to humanize students."
That includes helping students come to school with clean clothes, said Alejandro Diasgranados, who teaches fourth and fifth grade at Alton Elementary in Washington, D.C. and led efforts to provide an on-site laundry facility for students to reduce absenteeism. He agreed with Marten that the condition of school facilities is an important equity issue.
"My students have seen the differences between our school and more affluent schools across town — things like other schools have turf fields and schools without bars on windows," said Diasgranados, one of four finalists for 2021 Teacher of the Year.
President Joe Biden has proposed spending $100 million for K-12 school construction and upgrades as part of his infrastructure plan, but if the administration reaches a compromise deal with Republicans, that plan is unlikely to be included.
Diasgranados said he is especially focused on recruiting more educators of color.
"Teacher diversity is teacher quality," he said, but added that in addition to providing mentorships, it's important that black educators aren't "forced into disciplinary roles," which can contribute to high turnover.
The event included student performances and one student panelist. Rina Stanghellini, part of the White Plains district, said it's important for students to see reflections of their culture in the curriculum in the early grades.
"I didn't get to read books about Asian American characters in culture by Asian American authors until I got to high school," she said.
Shantel Meek, who leads the Children's Equity Project at Arizona State University, said following the summit that the speakers could have given more attention to early-childhood education. While Miami-Dade officials talked about how the district uses Title I funds to expand the state's half-day pre-K program to a full day, Meek said equity issues in K-12, such as facilities, mental health services and workforce diversity, apply to the early years as well.
"Often early ed gets seen as an equity intervention in itself, when in reality it is a system of its own with many of the same challenges as K-12," she said.
Some parents noted that this was the second virtual summit the secretary has held without representation from parents. The reopening event the department held in March included student voices, but not those of parents.
"All this discussion about reforming education needs to be meaningful and include parents in the consultation process," said Eileen Chollet, a parent whose daughter attends Fairfax County Public Schools in Virginia.
Support The 74's year-end campaign. Make a tax-exempt donation now.