As White House Strikes Stronger Tone on Reopening Schools, First Lady and Ed Secretary Cardona Tour Districts Where Most Students Attend in Person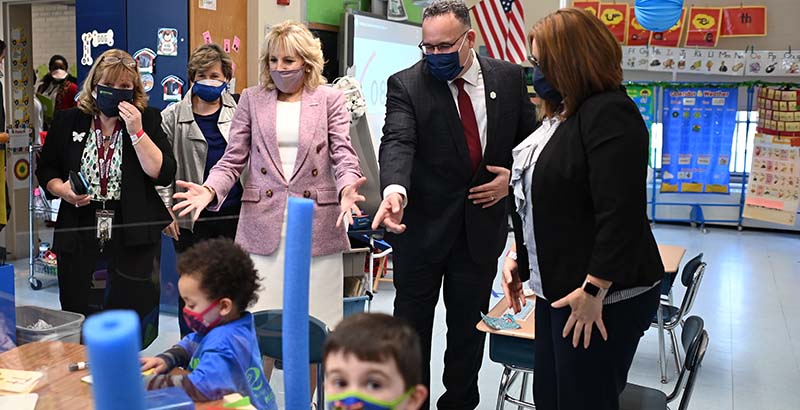 Less than 24 hours after being sworn in, Education Secretary Miguel Cardona leaned into the Biden administration's push to reopen schools, joining first lady Jill Biden Wednesday in two districts where the majority of students attend in person — including in his hometown of Meriden, Connecticut.
"Schools are more than just places where students learn to read and write. They're communities. They're safe communities for children," Cardona said at Meriden's Benjamin Franklin Elementary School. "Safely reopening schools quickly means we're creating those communities. We're giving them back to our students, who deserve them."
Joined by American Federation of Teachers President Randi Weingarten, Biden and Cardona talked to teachers, greeted colleagues in the hallways and toured a "sensory room" for students with special needs.
Referring to "being at home," Cardona noted that "being on the computer doesn't match this."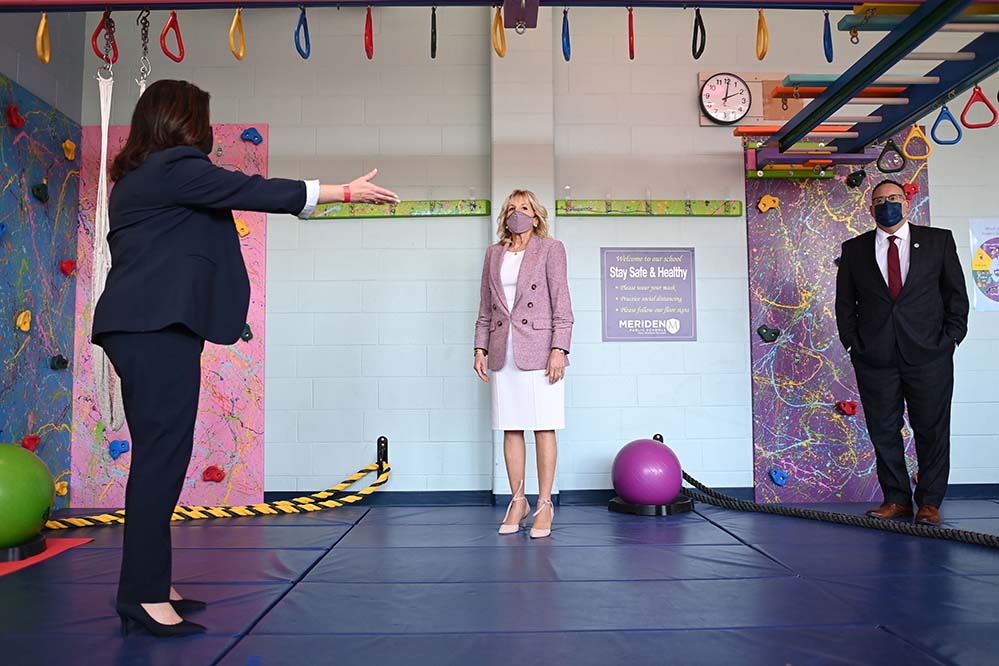 The timing of the visits demonstrate the importance the Biden administration has placed on reopening schools as well as the controversy the push has generated in many communities. The events come a day after President Joe Biden said that he wants all states to prioritize teachers, school staff members and child care providers for vaccines. But even though Weingarten has acknowledged schools can reopen without vaccines, some local affiliates say their teachers won't return to the classroom without them.
"Our goal is to do everything we can to help every educator receive a shot this month, the month of March," Biden said Tuesday, promising to use the federal pharmacy program to reach as many educators as possible.
Cardona penned an op-ed in USA Today announcing a national summit on reopening later this month, promising to share successful approaches and continuing to collect data on schools' reopening status. In addition, he wrote a letter to students and parents. "Brighter days are ahead. We are making progress," he wrote.
The administration's coordinated message about reopening and vaccines follow earlier mixed signals from the White House about reopening. Some wonder what effect efforts to accelerate reopening schools will have on western states, where few have fully reopened and battles between district leaders, parents and teachers unions continue to be heated.
"The fight feels very, very local. No amount of exhortation from the feds is likely to break through that vitriol," said Robin Lake, director of the Center on Reinventing Public Education at the University of Washington. She added that while most districts are open to some extent, "it's the big urban holdouts that are the problem. Changing that will likely require direct intervention and mediation."
The school visits on Wednesday highlight districts where teachers returned in the fall, before vaccines were available.
In Meriden, elementary and middle school students in the district attend every day. Middle school teachers move from class to class while students stay in one place, a practice many experts recommend to minimize spread of COVID-19. High school students attend every other day.
The hybrid model "has presented some challenges, but has also offered surprising opportunities," said Matthew Banas, a social studies teacher at Maloney High School who now teaches two smaller groups of students instead of one large class.
"I have found that I know my students better than ever before," he said. "I am able to have more in-depth conversations with my classes as classroom management issues have largely disappeared, so I feel that I have a better handle on who they are as learners and people."
Following their stop at Franklin Elementary, Cardona and the first lady were set to travel to Fort LeBoeuf Middle School, in Waterford, Pennsylvania, where about 80 percent of students have been back in class five days a week since September. The administration chose the school based on a recommendation from the state affiliate of the National Education Association, said Rick Emerick, the district's superintendent. NEA President Becky Pringle was expected to attend.
Last summer, when the 2,100-student district northeast of Cleveland, Ohio, surveyed families, only about 20 percent opted to remain in virtual learning.
"We can't turn our backs on the fact that our parents have got to work," Emerick said.
But in terms of social distancing, the response created logistical challenges.
"We have creatively used just about every space that we possibly can," he said. That includes holding classes in the gym and what used to be a wrestling room at the middle school. "We just really … tried desperately to get all the mitigation strategies in place — and those are endless."
Since the fall, the district has had 115 cases of COVID-19, a tally that includes those who were exposed but might not have tested positive. All but one of the district's five schools have temporarily returned to distance learning at least once, sometimes due to a lack of substitute teachers. Teachers in the state are not yet eligible for a vaccine, but state officials have indicated they might be moved up soon.
Some students that weren't doing well learning virtually have returned to the classroom, Emerick said. "There's no better education than face-to-face instruction with folks who care about kids."
Get stories like these delivered straight to your inbox. Sign up for The 74 Newsletter