Zen Dens and Peace Rooms: How Schools are Giving Kids Space to Reflect, Regulate
Students use calming rooms, which are typically voluntary & open to all students, when they are feeling anxious, agitated or just need some alone time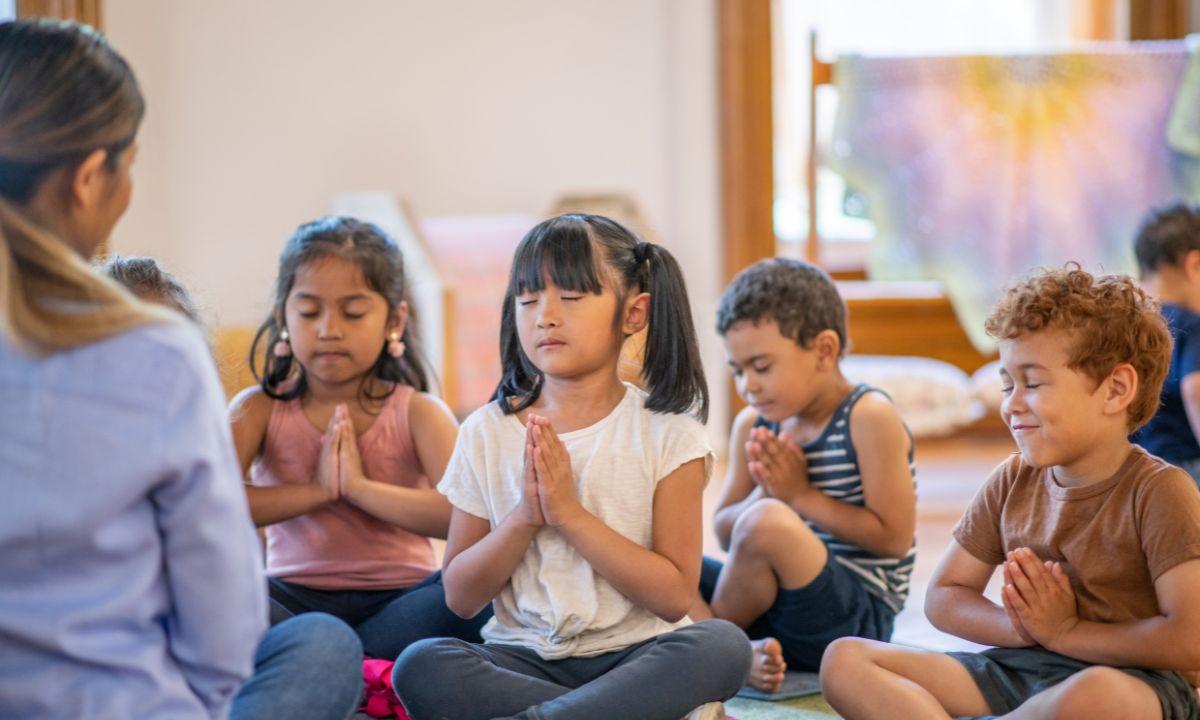 No paywall. No pop-up ads.
The Brave Room at Indian Hill Elementary School in Cincinnati has pillow chairs, a mini Zen garden and soft lighting. Every day, students stop in — some for a few minutes, others for a full class period — to use fidget toys, coloring books and kinetic sand, or just chill out.
"Our goal is that they use the room and then return to their academics more settled, " school counselor Sarah Kellett said.
The Brave Room is named after the school's athletic team, the Indian Hill Braves, and its name aligns with the term "brave spaces," or inclusive learning environments. Schools and afterschool programs nationally are adding similar rooms under various names — calming rooms, zen dens, peace rooms — as another way for students to address their mental and emotional well-being. Proponents of calming rooms say they offer young people a safe, quiet space to reflect on and regulate their emotions.
Calming rooms can be "really powerful" for children, said Robert Dillon, a former public educator turned author.
"Most human beings need opportunities to reflect and recalibrate," said Dillon, who worked in education for 25 years, including as an English teacher and a middle school principal.
The calming room concept has existed for decades, noted Dillon, but in recent years he's seen more and more schools and afterschool programs create mediative sanctuaries for children to process their feelings, cool off or re-calibrate before returning to class.
Students use calming rooms, which are typically voluntary and open to all students, when they are feeling anxious, agitated or just need some alone time to regroup. Some schools have sign-up sheets or a pass for the calming room and teachers can encourage students to go to a room. Some schools may have a therapist, school counselor or staff in the room or nearby.
Some schools nationally have long sent students, particularly those with disabilities, to rooms with similar names — quiet rooms, reset rooms, reflection rooms — and barred them from leaving, as punishment, a convenience or out of frustration. The practice has been banned in some states. But the calming rooms that Dillon and the others are talking about are different: Proponents say they are grounded in the science of social-emotional learning and students are never forced to go to or stay in them.
The reasons for the rise in calming rooms are a result of many factors, including challenges posed by the pandemic — the loss of learning and social isolation as the result of closures and remote learning that occurred in many cities — and the ubiquity of social media.
"We are in a noisy society — mentally noisy, emotionally noisy — and I think these calming spaces are pushing back against the everyday tech noise," Dillon said.
In the aftermath of the pandemic, where the ramifications are still playing out inside and outside of educational settings, social-emotional learning, activities and teachings, including calming rooms, that support a child's mental well-being have become priorities for schools and programs.
"We're in a mental health crisis right now and things are a little scary at times," said Brooke Unrath, director of social-emotional learning at the Boys and Girls Club in Green Bay, Wisconsin.
The Green Bay Boys and Girls Club opened its first of two calming rooms in 2017. Zen dens, as they are called there, are outfitted with bean bag chairs and instructions on how to calm down and regulate emotions. Students who use the zen den can also get one-on-one support from Unrath, who is a licensed clinical social worker.
Since students returned to school after COVID-19 closures, Unrath is seeing more students who report heightened feelings of anxiety and depression, including suicidal thoughts.
The number of kids reporting suicidal ideations is at an "astronomical amount per week," Unrath said. Before the pandemic, maybe she would get one or two kids a month who were contemplating suicide. This school year, she gets one or two a week.
"There are 7-year-olds coming into my office sharing that they want to kill themselves," Unrath said, "and that is it's hard to swallow."
To address the increase in mental health concerns, the club has added calming corners in every program facility, which have toolkits that include fidget spinners and noise-canceling headphones, in addition to the zen dens.
As one of the first clubs to have a zen den, a growing number of Boys and Girls Clubs around the country — from Chicago to Atlanta to South Dakota — have reached out to Unrath for advice on creating their own calming rooms. She's also seen calming rooms begin to pop up in nearby school districts. The trend began before the pandemic, she said, but has gained momentum since, which she attributes to the increase in pandemic-related anxiety and depression and to cyberbullying.
"The importance of social-emotional learning is moving up the priority pecking order, going from a few educators to systemic in nature," Dillon said.
The design and experience of calming rooms today are far better and thought out than a decade ago when teachers might throw a beanbag or pop-up tent in a corner of the classroom but rarely taught kids how to use those spaces.
Even as calming rooms are gaining popularity, educators still face several barriers to creating them in their school or program setting. The rooms cost money to set up and design, require space and need buy-in from the school or program leaders and staff, said Dillon.
Done right, calming rooms that follow current best practices like those with designated spaces and clear instructions on how to use the calming room are more likely to help struggling kids and give credibility to education, but, he cautioned, those "done poorly" evoke negative impressions of a "fad, a one-off, something that's silly."
At Indian Hill Elementary, Kellett said it's extremely important calming rooms are "not a space that is ever punitive." When students return to class after a visit to the brave room, the teachers' protocol is to welcome the student back.
Calming rooms can also be used to take the emotional temperature of the school. For example, Indian Hill discovered a noticeable increase in calming room visits after recess. Kids were likely riled up after playtime and needed some adjustments before returning to studies, Kellett said.
Some teachers began instituting a quiet time with music after recess to soften the energy level.
"Students coming in from recess would have that natural time to get out some last wiggles or calm down and then enter the classroom," Kellett said.
Since the school opened the Brave room nearly four years ago with a $1,000 grant, Kellett said she's seen the calming room trend extend not only to nearby school districts but also into the student's homes.
"Several students try to create their own calming space within their homes," Kellett said. "They see the benefit of taking a break or cooling down and honoring their emotions."
Youth Today is an independent, nonprofit news organization covering issues related to children and young people. Youth Today is published by the Center for Sustainable Journalism.
Get stories like these delivered straight to your inbox. Sign up for The 74 Newsletter