You've Heard of Thurgood Marshall & Earl Warren. Now It's Time to Celebrate the 'Regular' People Who Made Brown v. Board Possible 65 Years Ago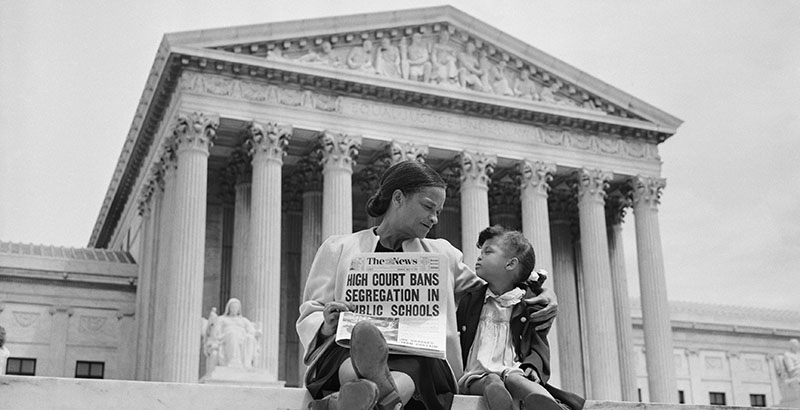 This essay is part of a special series commemorating the 65th anniversary of the landmark Brown v. Board of Education school desegregation case. Read more essays, view testimonials from the families who changed America's schools and download the new book Recovering Untold Stories: An Enduring Legacy of the Brown v. Board of Education Decision at our new site: The74Million.org/Brown65.
May 17, 2019, marks the 65th anniversary of the Brown v. Board of Education decision. Some legal experts believe it is one of the greatest Supreme Court decisions of the 20th century. Some social scientists call it a giant step forward for the civil rights movement. Some educators see it as a major blow to Jim Crow schooling in the South and North. Others say the decision touched their hearts. Each assessment is valid.
For me, Brown is a powerful narrative in a long line of stories about freedom movements in the United States and the role regular people played in them.
Popular names associated with this historic decision — Thurgood Marshall, Daisy Bates, Earl Warren and Kenneth Clarke — will receive a lot of accolades today, and rightfully so. We must also celebrate hundreds of other people whose personal and professional sacrifices made this day a reality for millions of schoolchildren, regardless of race or region. Often, their stories are unknown to the general public or overshadowed by brighter lights.
Here are examples of pre- and post-Brown stories from which I draw inspiration.
The Families: Cheryl Brown Henderson, one of three daughters of the late Rev. Oliver L. Brown, whose namesake is listed in the 1951 lawsuit against the Topeka Board of Education in Kansas, is the founding president of The Brown Foundation for Educational Equity, Excellence and Research. Its mission is "to build upon the work of those involved in the Brown decision, to ensure equal opportunity for all people. Our cornerstone is to keep the tenets and ideals of Brown relevant for future generations through programs, preservation, advocacy and civic engagement."
The Brown Foundation produces materials teachers, students and the general public can use. One of them is a 2018 book titled Recovering Untold Stories: An Enduring Legacy of the Brown v. Board of Education Decision. It is a treasure trove of stories told by relatives of children and adults who were part of the five cases in the 1954 decision: Delaware (Belton [Bulah] v. Gebhart); Kansas (Brown v. Board); South Carolina (Briggs v. Elliott); Virginia (Davis v. Prince Edward County); and Washington, D.C. (Bolling v. Sharpe).
The Students' Strike: On April 21, 1951, three years before nine black-robed Supreme Court justices declared that "separate but unequal" had no place in public education, 16-year-old Barbara Rose Johns and a group of black-bodied high school students in Farmville, Virginia, organized a strike to protest the Prince Edward County School Board's refusal to address overcrowding, infrastructure challenges and inferior teacher salaries at the segregated Robert Moton High School. Black parents' efforts to get something done were rebuffed time and time again by the school board despite the fact that they paid taxes into the education system. So students decided to get involved in a strategic way.
The students' strike caught the attention of Howard University Law School graduates Spottswood Robinson and Oliver Hill, who agreed to file a lawsuit on behalf of the NAACP to intervene in this matter. This resulted in the Davis v. County School Board of Prince Edward County case of 1951. This case become one of five Brown v. Board of Education cases heard by the Supreme Court. It is worth noting that more than 100 parents and children living in this rural Virginia county accounted for the majority of plaintiffs in all five cases. To learn about the strike from someone who was there, read The Strike by John Stokes.
Project Exodus: Boston experienced one of the most cantankerous school desegregation efforts among big city systems during the 1970s. Fistfights, protests and rocks thrown at school buses by adults and students alike were par for the course. An April 5, 1976, photo titled the "Soiling of Old Glory" won the Pulitzer Prize that year for vividly capturing the sentiment about race and busing in Boston and, in many ways, the nation.
Lost in this story, however, is the role a pioneering group of black families from the Dorchester and Roxbury sections of Boston played in the 1960s to help create a pathway toward public school integration at a time when the Massachusetts Department of Education and Boston School Committee could not — or would not — do so.
Fed up with lip service, petitions, lawsuits and school boycotts in 1963 and 1964, all of which resulted in incremental change, some parents took matters into their hands and founded Operation Exodus. One of its goals was to raise money to bus students into under-enrolled white public schools in Boston. Some educators resisted the effort, while others voluntarily opened their doors. In time, public and private stakeholders supported the mission of Operation Exodus. This effort culminated in the formation of the Metropolitan Council for Educational Opportunity (METCO) Program in 1966.
In 2019, METCO is the second-oldest voluntary school integration program in the nation. More than 3,000 children attend approximately 190 public schools in Boston, Springfield and elsewhere to promote diversity and enhance educational opportunity. At least 10,000 more students are waiting for a chance to gain admission into a suburban school. Research points to successful outcomes for METCO students.
Hispanics before Brown: Hispanic families and children played an important role on the pathway to Brown. In 1931, for example, Mexican families in Lemon Grove, California, refused to enroll their children in a school building they called "La Caballeriza" — the barn — while white children were educated in another building. After a number of requests, the school board refused to put Mexican and white students in the same building. Parents filed a lawsuit. A San Diego superior court judge ruled in their favor, and the Mexican children were placed in a building with whites. But the battle was not over.
In 1943, a public school located in the Westminster school district of California's Orange County denied 9-year-old Sylvia Mendez and her two brothers admission into the "white" school. They were told to attend the "Mexican school" 10 blocks away. The Mendez parents and other Mexican-American families filed a class-action lawsuit against four Orange County public school districts for denying their children, and nearly 5,000 similarly situated children, access to an integrated education. Three years later, a federal district judge ruled in Mendez v. Westminster that the school's segregation policy violated the Fourteenth Amendment of the U.S. Constitution. The decision was appealed to the Ninth Circuit Court of Appeals in San Francisco.
As life would have it, 39-year-old Thurgood Marshall filed a "friend of the court" brief to support the Mexican parents' case in 1947. After the Ninth Circuit affirmed the Mendez decision, the California governor, Earl Warren, signed a law to end public school segregation in the state.
By 1954, the fight against public school segregation moved from California to Washington, D.C., and Marshall, then lead attorney for the NAACP, and Warren, then chief justice of the Supreme Court, were involved again — this time for a group of families and students with a different shade of Brown, literally and figuratively.
As we commemorate Brown at 65, let us acknowledge victories won and opportunities lost. Lawyers, judges and educators remain essential stakeholders in this work. That was true in 1954, as it is in 2019. So are families, students — and a lot of regular people, too.
Gerard Robinson is the executive director of the Center for Advancing Opportunity, a Washington, D.C.-based research and education initiative.
Get stories like these delivered straight to your inbox. Sign up for The 74 Newsletter