Young & Schachter: To Reimagine the Future of Education, Innovation Isn't Enough — We Need Inventions for an Entirely New Vision of Teaching and Learning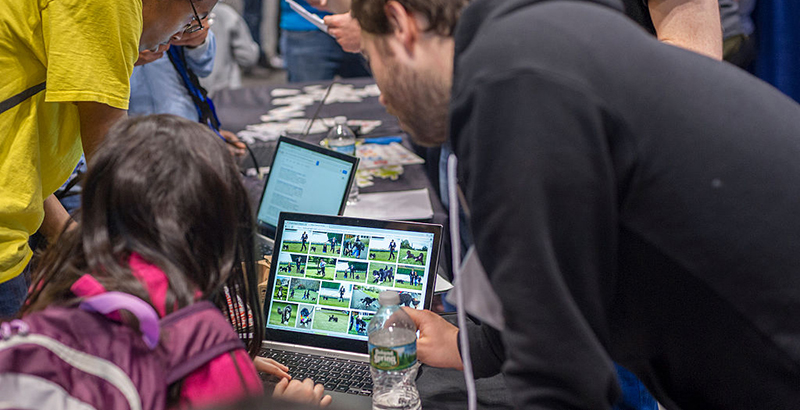 Last year, education technology companies raised $1.45 billion in their continued push to help move the nation's education system into the next age of learning. Over the past decade, many of these investments have put technology-driven solutions at the center of a response to the education market's demand to prepare our nation's young people so they can thrive in an unpredictable future. And, as a result, we have seen a rapidly growing number of technological innovations that include the latest apps, online assessments, whiteboards and "tech tools of the month."
While these innovations may appear to move us forward, too many actually serve economic and educational goals from a past age. Memorization and regurgitation of facts no longer ensures success, especially when that is defined as young people effectively contributing to their communities and living fulfilling lives. In this new age, students need to develop agency and dynamic skills that include creativity, collaboration and critical thinking. What we ultimately need are new systems and supports, guided by a new vision for education.
Innovations, like online learning platforms that let students navigate classwork at their own pace, are designed to make the current educational system more efficient. Inventions, by contrast, support an entirely new vision for education, transcending the boundaries of the school day and building. They allow students to learn anywhere and at any time, accessing a new ecosystem of flexible, hands-on and inquiry-based educational opportunities.
At its core, this requires a fundamental shift in thinking: Learning can't be done to kids; it must be done by and with kids.
One example of this way of thinking is Imblaze, a powerful mobile platform that connects learners who are interested in real-world internships with mentors in their communities. In the process, they establish relevant workforce opportunities that not only benefit the employer but also build students' social capital and reinforce the professional skill sets our young people are hoping to develop.
CommunityShare is another inventor working to reimagine the relationship between schools and communities. CommunityShare's online platform transforms entire regions into "human libraries of human books" by matching educators with local partners — both individuals and organizations — who can serve as project collaborators, mentors, content-area consultants and guest speakers. Through in-person, real-world learning experiences with these community partners, students become more engaged in school, discover new career possibilities and expand their access to social capital and caring adults.
Education Reimagined finds, connects and convenes inventors of these new models, systems and policies. This community shares a common vision for education, positioning young people to realize their unique potential through a learning trajectory that builds on their strengths, interests and curiosities.
Most inventions like these emerge on a shoestring budget, while billions of dollars flow into the innovation category. This isn't surprising; to generate a big return on investment, technology companies must develop a business model and corresponding products that support the market's current demands.
So what incentives exist to create inventions for a new market that is focused not on tweaking the current educational paradigm but on reimagining systems? In many cases, companies do not want to disrupt an existing market, especially if doing so will compromise their own market share and viability.
To shift the market, we need to expand investments in research and development that support not only inventive products but also the mindset and culture change required to grow a learner-centered marketplace. We also need to rethink how we measure the impact and success of ed tech tools, which are still too often informed by increases in user numbers, clicks and advertising dollars. Instead, we need to develop business models that are as inventive as the learning pathways we want youth to follow, that put learning at the center for all students. Wouldn't it be exciting to see funders mobilize their social capital and challenge grants around that?
Overcoming market demands may seem intimidating, but we believe it is critical to the future of our young people and their educational success. This will require not only inventive entrepreneurs but also a wealth of inventive stewards — innovators, philanthropists, business leaders, nonprofits, policymakers, school administrators, educators, parents and students — courageously working together to do what in our hearts we know is right. Individual learners and entire communities can realize their full potential if we focus our collective energy on creating tools that serve a broader learning ecosystem dedicated to fostering collaboration, critical thinking, creativity and lifelong learning.
Ecosystems are a natural foundation for reimagining education and learning. After all, nature is the true mother of invention.
Kelly Young is executive director of Education Reimagined. Josh Schachter is founder of CommunityShare.
Support The 74's year-end campaign. Make a tax-exempt donation now.