Arne Duncan's Next Mission: Helping the Young Men at the Center of Chicago's Gun Violence Epidemic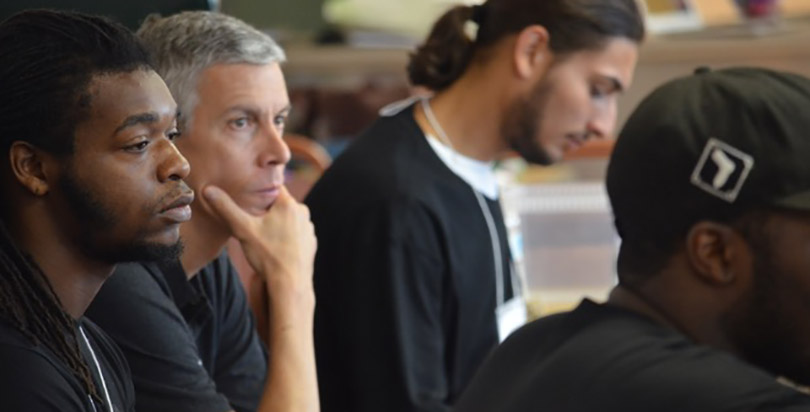 Arne Duncan didn't think his hometown of Chicago could get any worse. He was dead wrong.
A native of the city's Hyde Park neighborhood, the former Obama education secretary grew up playing basketball on the streets in Chicago's violence-plagued South and West sides. Too often, he said, the older teenagers who watched out for him on the court wound up getting shot and killed. When he served as CEO of Chicago Public Schools from 2001 to 2008, the hardest part of his job was the funerals.
There was 14-year-old Starkesia Reed, who died in 2006 when a stray bullet from a gang member's AK-47 zipped into her home as she dressed for school. And there was Blair Holt, a 16-year-old honor student who, a year later, was fatally shot when a teenage gunman stormed onto a city bus in pursuit of a gang rival.
"The academic achievement, budget issues, labor management stuff was all easy, relatively speaking," Duncan told The 74. "On average, we lost a child every two weeks due to gun violence, and going to those funerals, going to classrooms where there's an empty desk and trying to talk to kids and make sense of the senseless, going to those kids' homes, nothing came close."
Following a seven-year stint in Washington, Duncan went home — and now has a new mission that couldn't be more aptly timed. The nation's third-largest city hit a 20-year high in homicides last year, and Duncan thinks he's found a way to help.
Through a new project called Chicago CRED (Create Real Economic Destiny), he aims to provide training, counseling, and job opportunities to hundreds of men between 17 and 24 years old, many of whom have criminal records and lack high school diplomas. If they are given the opportunity to gain job skills and earn some money, he hopes, they'll seek out careers, not gang wars.
---
---
Chicago CRED launched as a pilot in September, bringing together 32 at-risk young men for a new chance to learn and work, said Becky Betts, Duncan's chief of staff. It is funded by the Emerson Collective, a California-based nonprofit where Duncan serves as managing partner. Founded in 2011 by Laurene Powell Jobs, widow of Apple co-founder Steve Jobs, the Emerson Collective invests in initiatives designed to transform American education, immigration, and other social justice causes.
Chicago CRED participants are recruited through referrals from community organizations and residents of high-risk neighborhoods.They spend several weeks learning communication, professionalism, conflict resolution, and other skills necessary to hold an entry-level job. Then follows transitional work, including construction on historic homes. Each participant gets a weekly performance evaluation and a life coach to help develop personal and professional goals.
The 32 eventually dwindled to 27: One landed a job, another was arrested, and a few became safety risks, Betts said. But about a third of the participants are ready for job placement, she said, and are pursuing positions with employers in the community.
"It seems like a lot of hands-on type jobs are very appealing to the men, so jobs in construction are really ideal. Janitorial jobs are also good," Betts said. "A lot of the men are very entrepreneurial, and so we are also trying to figure out what kind of entrepreneurial-type jobs they'd be suited for."
Two weeks ago, the nonprofit launched its second cohort of 36 young men, most of whom, like the first group, have criminal backgrounds.
Last week, ahead of his first major speech since leaving the White House, former president Barack Obama
met with the participants
, listening to their stories and sharing his own experiences living in Chicago as a young man. On Wednesday, Duncan
is scheduled
to give a look at his new gig at the City Club of Chicago.
---
It's a beautiful day on the South Side. pic.twitter.com/PtoaFbww0s

— The Obama Foundation (@ObamaFoundation) April 24, 2017
---
Chasing the spike
Duncan previewed Chicago CRED during
a 20th-anniversary bash
in New York City for the America's Promise Alliance, a nonprofit focused on improving outcomes for at-risk children founded by
Colin Powell
, the retired four-star general and secretary of state under former president George W. Bush.
"My epiphany coming home is, if we really want to get at this violence issue, we can't just work on the prevention side," Duncan said at the event. "If we want to stop the shooting, we have to work with the shooters."
Focusing on gun violence was never his calling, he admitted. But after he left the Obama administration in 2015, he couldn't ignore the statistics. Violence in his hometown — dubbed "Chiraq," for its bleak murder rate — had reached a new high.
"I went back and I talked to guys on the street, I talked to community leaders, I talked to political leaders, and they said, 'What are you going to do? You've got to come help. You've got to come do something,' " Duncan said. "At a very deep level, it's where I want to be, it's where I think I need to be."
Duncan launched the nonprofit following a harrowing
report
that found that 46 percent of Chicago's African-American men between the ages of 20 and 24 were both out of work and out of school in 2014. Similarly, 13 percent of black Chicago residents between 16 and 19 years old were neither employed nor in school. These numbers were largest for the city's South and West sides, the report found.
"Low rates of employment are spatially concentrated in neighborhoods that are also racially segregated," the report concluded. "Youth employment rates are tied to conditions in neighborhoods and cannot be seen as distinct from what is happening in the neighborhoods themselves. The devastation of unemployment in turn, wreaks havoc on the neighborhood."
Meanwhile, murders in Chicago are at their highest point in nearly two decades. In 2016, 764 people were murdered in the city, a 58 percent spike in homicides from the year before, according to
a January report
by the University of Chicago Crime Lab. About 90 percent of Chicago homicides were committed with a gun, and African-American men represented a majority of both suspects and victims. Young people made up a disproportionate share of shooters in Chicago compared with other American cities.
The report concluded: "One key implication of these data is the importance of a policy response that is focused on the core problem: violence concentrated largely in a moderate number of our most disadvantaged neighborhoods, carried out by teens and young adults in public places with illegally owned, and perhaps increasingly lethal, firearms."
Before its launch, Chicago CRED commissioned its own report, Betts said, and found that between 1991 and 2004, 80 percent of gang-related killers and 63 percent of victims were between the ages of 15 and 24. Additionally, in Chicago's 15 most violent neighborhoods, more than half the men between 16 and 24 years old — 26,000 in all — were considered "disconnected," meaning they weren't in school or working. That 52 percent figure is three times as high as the citywide disconnected rate.
Adding to that disconnection is a breakdown in families, churches, and schools, which left these young men on their own, Duncan said. As a skeptic of mass incarceration, however, he said arrests aren't going to solve the problem.
"A lot of our guys have made rational choices, starting at about the age of 12 or 13, where mom is on crack or an alcoholic and dad is gone or locked up, and they have to become the man of the house, and they have to make some money to survive," he said. "There's one person hiring, and that's the guy on the corner, and the rest of us are absent, and they go down that path that, tragically, almost inevitably leads to this violence."
A new path
Since his return to Chicago, Duncan has heard all kinds of stories. He met one young man who started selling drugs when he was only 9 years old. Another had been shot in the leg, a third in the back. He heard from a grandmother who wouldn't let her grandson outside their house for fear of violence.
In a meeting with a dozen young people last summer, Duncan inquired about their experiences with gun violence: "How many of you know someone who has been shot?" he asked, and everybody's hand went up. "And 10? How many people know 20 people who have been shot?" Half the kids, he said, still had their hands raised.
"I've never been to Iraq. I've never been to Afghanistan," Duncan said. "But I wonder whether kids in Iraq and Afghanistan know 10, 15, 20 people who have been shot."
Chicago CRED's second cohort is even more high-risk than its first, Betts said, but the objective is the same: to break the cycle of violence and lack of opportunity. Overall, Betts said, Chicago CRED hopes to work with several hundred young men each year.
But to make a real dent in Chicago's violence epidemic, Duncan said, he needs buy-in from Chicago's most at-risk young people — those who one day may find themselves on either side of a gun.
"As passionate as I am, I'm not going to solve this," he said. "They're going to help, they're going to solve it, it's going to be their leadership, it's going to be them talking to guys on their block, them talking to guys in their group, them talking to their younger siblings."
---
---
Support The 74's year-end campaign. Make a tax-exempt donation now.