Year of the Outdoor Classroom: Why Schools in Virginia, West Virginia and Michigan Have Joined the National Trend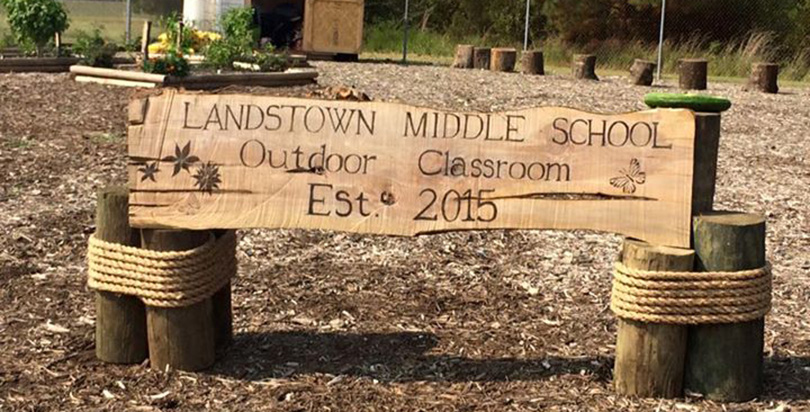 This article is one in a series at The Seventy Four which profiles the heroes, success stories, unexpected surprises and randoms acts of kindness to be found at schools all across America. Read more of our recent inspiring coverage at The74million.org/series/inspiring.
When people talk about innovation in education, they tend to first turn to issues of technology. But a new trend is blooming in schools across the country, and it's altering the way students learn about everything from science to math to language arts.
Students are picking up their backpacks, walking through the school doors and engaging in tangible learning experiences in outdoor classrooms.
---
---
A ribbon cutting ceremony was held on Monday to officially dedicate and open the new outdoor classroom at Landstown Middle School in Virginia Beach, Virginia.
The 14,000-square-foot space has room to seat 40 students and boasts a chalkboard, flower garden and vegetable beds, reports
WTKR
.
Several area community organizations and businesses helped make the project a reality, including VBCPS Educational Foundation, Home Depot, Seagreen Lawns, Virginia Tech, and LifeTouch. Professionals with related skills, including farmers, chefs, and horticulturists, will teach in the classroom.
Meanwhile, in Holt, Michigan, the new outdoor classroom at Hope Middle School is teaching students leadership and management skills. They wrote grant proposals for the project, which resulted in $1,400 from the Holt Education Foundation. A local contractor learned about the effort and donated an additional $6,000 in materials and labor.
The students then drafted a budget for the classroom and planned out the space. Recycled materials were one creative and frugal solution. Old tires were used to create table bases. Stools and benches were made from trees downed in a storm. The result is a living educational space that's inspiring students to learn.
"It's like a magical place. It's like a fairy tale," Alshoun Jones, 11, told the
Lansing State Journal
. "You can read, learn and just treat yourself out here."
Students and teachers at Wheeling Middle School in Wheeling, West Virginia are now enjoying their new outdoor classroom thanks to a grant from West Liberty University. Students have a chance to garden everyday, and teachers are expanding their lesson plans to include lessons on healthy eating and appreciating the outdoors.
"Yeah, I think we all love it, and plus Ms. Mckay told our class that the green stuff like outdoors it helps your brain learn better when you're learning outside," 8th grader Amari Poole told
WTRF
.
Get stories like these delivered straight to your inbox. Sign up for The 74 Newsletter