Work Inside President Trump's Ed Department? No Way, Say Some Policy Experts and Advocates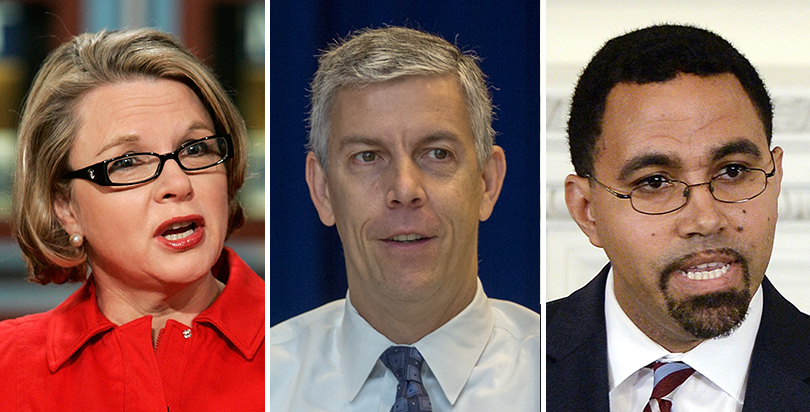 Updated Nov. 17
After eight years of a Democrat in the White House, conservative policy wonks should be flocking to join the incoming Republican administration. But in education, at least, some analysts and school choice advocates say they won't work for Donald Trump, raising questions about whether the new president can successfully fill key positions with qualified staff.
Alexander Holt, a higher-education policy analyst for the New America Foundation, a Washington, D.C. think tank, who describes himself as a conservative, said he could never join the Trump administration. "I can't morally justify myself working for somebody who has said and done the things he has," Holt said.
"I really would not and could not work for the Trump administration in any capacity," said Robin Lake of the Center on Reinventing Public Education in Washington state, which generally backs school choice initiatives. She added that she knows of many people with similar hesitations. "Most everybody I know would not just automatically jump on board — they'd have their own personal questions to work through, and for some of them, they'd be very, very significant," she said.
Michael Petrilli, president of the Fordham Institute, a right-of-center education think tank, worked for the Department of Education under President George W. Bush and was a vocal "Never Trump" conservative. Petrilli told The 74 he definitely would not work for Trump.
All three, however, said they would gladly give advice to the next administration, and other experts expressed greater optimism about Trump's ability to attract talent.
"I think there are a lot of people in the education policy community who have reservations, based on some of the things that were said over the course of the campaign," said Martin West, a researcher at Harvard University and former adviser to Republican Sen. Lamar Alexander, chair of the Senate education committee. "My hope is that they will be able to staff the Department [of Education] with competent officials because … there are decisions that need to be made."
Max Eden of the Manhattan Institute, a conservative think tank, wrote in an email, "Surely some will sit on the sidelines, but I don't think [Trump will] have a hard time recruiting top talent. From the perspective of a conservative education reformer, this administration presents a tremendous opportunity. … Much will rest on his appointees, and I think some great folks would answer the call."
Said Petrilli, "I think that there are plenty of smart, talented people who will agree to work in the Trump administration."
Lake agreed. "The sense I get … is there are a group of really good people who would be willing to overcome any kind of personal distaste or concern in service of getting some important issues right in education," she said.
Democrats for Education Reform is not among them and does not wish its allies to be either. The group, which backed reform policies under President Obama, put out an unusually sharp statement, recommending no Democrats serve under a Trump presidency.
"DFER encourages no Democrat to accept an appointment to serve as Secretary of Education in this new administration," said President Shaver Jeffries. "In so doing, that individual would become an agent for an agenda that both contradicts progressive values and threatens grave harm to our nation's most vulnerable kids."
Former Democratic New York City councilwoman Eva Moskowitz, founder of Success Academy Charter Schools, announced this week that she would not work for a Trump administration, one day after meeting with the president-elect, but would offer advice.
Call to service or crisis of conscience?
"A month ago, maybe there was actually a much bigger question [that] maybe there would be a lot of people who were just unwilling to do it," said a former Republican federal education official, who did not want to speak openly in order to maintain a positive relationship with the new administration. "Now that it's gone from being a hypothetical Trump administration to a real Trump administration, it seems like more people have decided that this is public service … and if asked to serve, [they] will do so."
Nevertheless, the former official said, there would likely be holdouts: "There's a very real question about, will some number of people decide that with a clear conscience they can't serve. I don't know if that's 1 percent of people or, like, 50 percent of people, but I'm sure it will be some."
Holt said he wouldn't judge anyone who worked in the administration and understands why a number of
recent
articles
have urged qualified candidates to do so. (Though one national security expert who initially advised fellow conservatives to work in the new administration
quickly retracted
his recommendation after speaking to members of the transition team.)
Personally, Holt said, "I don't want to be part of an administration that would potentially try to exclude an entire group of people based on their religion from entering the United States."
Holt said he wouldn't work for Trump under any circumstances, but he said the calculus might vary for a candidate for secretary of education — who would have a greater role in determining policy — as opposed to potential lower-level staffers, who essentially would just have to follow orders.
A May 2016 piece in Education Week identified a handful of conservatives who said they wouldn't work for Trump if he was elected. "I just don't believe he has an agenda," John Bailey, who formerly worked for Jeb Bush's group ExcelinED,
told EdWeek
. "It troubles me greatly how dismissive he is of many key groups, whether it's women, immigrants or minorities."
Politico has
reported
on a potential brain drain: "The Education Department appears poised to lose a significant chunk of its institutional knowledge, as some career employees with decades of experience are looking for the exits because they're unable to stomach a Trump administration."
Education secretary rumors continue
Meanwhile, the incoming administration is reportedly
considering
a number of candidates for secretary of education, including Gerard Robinson of the American Enterprise Institute, Bill Evers of the Hoover Institution and Wisconsin Gov. Scott Walker.
Politico also
reported
that Trump was working with the American Federation for Children, a group that backs charter schools and vouchers, while considering two of its top officials, Betsy DeVos and Kevin Chavous, for education secretary. A spokesman for the group, Matt Frendewey, would only say, "I can confirm when folks from the campaign reached out, we provided them information and help when/where needed when crafting [Trump's] education policies."
Luke Messer, an Indiana congressman,
confirmed
his interest to Politico: "I don't know if I'm being considered, but I certainly would be open to the possibility of serving."
However, Ben Carson, reportedly under consideration for the secretary post, turned down any role in the administration, according to
The Hill
. "Dr. Carson feels he has no government experience — he's never run a federal agency. The last thing he would want to do was take a position that could cripple the presidency," said Carson's friend, Armstrong Williams.
The Trump transition team did not respond to a request for comment.
Disclosure: The 74 Editor-in-Chief Campbell Brown sits on the board of directos for the American Federation for Children and the Success Academy Charter Schools. Betsy DeVos is the chair of AFC's board and The Dick & Betsy DeVos Foundation provides funding to The 74. The American Federation for Children sponsored The 74's 2015 education election summit.
Support The 74's year-end campaign. Make a tax-exempt donation now.