With Vergara's Demise, Heat's on California Legislature to Take up Teacher Tenure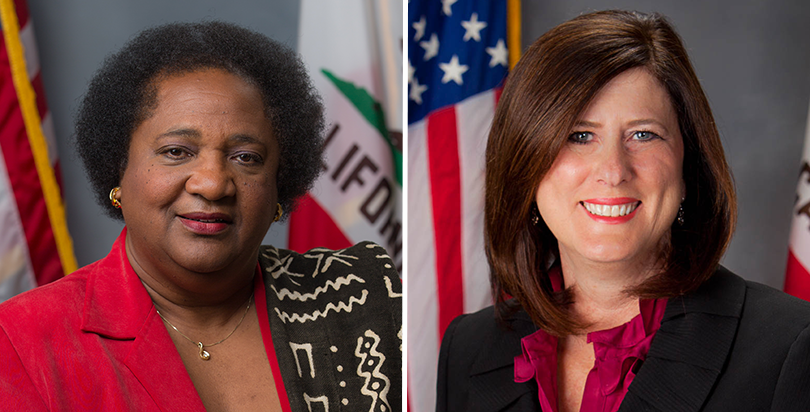 This article originally appeared at our partner site, LA School Report.
In the wake of a crushing
defeat
for a landmark challenge to California's teacher tenure laws, the battle for change has shifted from the courts to the state Legislature.
While most parties agree that the inequities brought to light during the Vergara v. California trial must be righted, there's a difference of opinion from those inside and outside the Legislature about whether that's possible in the current political landscape in Sacramento, where teachers unions are among the most powerful lobbying groups.
Marshall Tuck, a former Los Angeles charter schools executive who ran unsuccessfully for state superintendent in 2014, credited Vergara and its nine student plaintiffs for the change he's seen in the halls of the capitol.
"There's real momentum that's been built around these kids and the support they got," Tuck said. "I believe that the momentum will hopefully continue and that we'll get these changes."
Assemblywoman Susan Bonilla, D-Concord, takes an opposite view.
"There's no momentum. It's the reverse," she said. She pointed out that the California Teachers Association has racked up three wins since spring, with the appellate court's unanimous ruling to overturn Vergara, the Supreme Court's decision this week to decline to review the case and the thwarting of her own bill that would have made changes to teacher tenure and dismissal procedures.
"That's the reality. It gets harder with every defeat," she said.
Bonilla agrees it's the Legislature's job to make these changes.
"That's why I carried my bill. The Legislature needs to take action. They shouldn't abdicate their responsibility to the children of California."
Even though
Bonilla's AB 934 was defeated
after initial backers withdrew their support and lobbied against the final watered-down version, Tuck said the bill showed that the Legislature has made progress.
"Really for the first time, you saw a Democrat introduce meaningful legislation that addressed a lot of the areas that Vergara sought to address," he said. "That, to me, really shows progress.
"Four years ago, there was zero dialogue about improving these laws," he said.
Silicon Valley entrepreneur David Welch who founded StudentsMatter, which sponsored the Vergara lawsuit, said the organization will now turn its attention to the Legislature to seek the changes the lawsuit fought for.
"We hope the Legislature is listening," he said Monday after the Supreme Court declined to take up the case.
CTA's political action committees gave about $250,000 to the chair of the Assembly Education Committee, Patrick O'Donnell, D-Long Beach, in his 2014 reelection bid. It was about one-third of the funds spent by that PAC in that election cycle.
The CTA PACs also contributed campaign donations in 2014 to other members of the Assembly and Senate education committees, including Connie Leyva, Kevin McCarty, Tony Mendoza and Kristin Olsen, state campaign finance records show.
With the current legislative session wrapping up by the end of the month, little progress will happen immediately. Tuck hopes that the November elections, and victories for the Democrats in state races backed by education reform groups, will shift the Legislature even further.
"It's more about how do we get people elected that are independent of special interests, that are really committed to solving these tough challenges that face our public schools," Tuck said.
Bonilla is less hopeful.
"The support isn't going to be there. What you saw happen with my bill is embracing the status quo," she said.
Bonilla is termed out of the Legislature this fall, as are Carol Liu, D-La Cañada Flintridge, chairwoman of the Senate Education Committee who supported Bonilla's bill, and Loni Hancock, D-Berkeley, also on the Senate Education Committee and a supporter of Bonilla's bill.
"I think it's great to see members come in and really be pursuing solutions and not beholden to the teachers unions. … (But) I don't think it's enough to get any legislation passed," Bonilla said.
One piece of legislation that did make it through the Legislature this session was Democratic Assemblywoman
Shirley Weber's bill, AB 2826
, which now awaits the governor's signature. The bill encourages school districts to adopt guidelines for teacher evaluations to include a variety of measures like student achievement, surveys from parents and students, portfolios of students' work and classroom observations.
The CTA remained neutral on the bill.
A spokesman for Weber said the assemblywoman is committed to engage with stakeholders on dealing with the broader scope of student outcomes.
"With or without the existence of Vergara, our office is planning on moving forward to address the problem of education inequity and overall improving student outcomes," Weber spokesman Joe Kocurek said.
Fidelia Muralles, a mother of four who was active with Parent Revolution in its attempt to take over South Los Angeles'
20th Street Elementary School
, said she was saddened and disappointed by the Supreme Court's decision.
"What can we expect if we can't rely on our courts to actually lead the way in making sure our kids get an education?" Muralles said in Spanish through a translator.
Muralles said she felt her children experienced a lack of preparation at the elementary level.
"It's going to have a real impact for kids and families who don't have access," she said of the decision.
Lisa Snell, director of education at Reason Foundation, a nonprofit, nonpartisan public policy research organization, said she thinks it will be "extremely difficult" to get the changes Vergara sought through the Legislature, especially considering its track record.
"Every attempt to make even just the most moderate changes to these laws has been unsuccessful," she said.
One way forward, she said, could be through a ballot initiative and appeal to the voters with the stories of students who are receiving an inadequate education in California public schools. But she pointed out that a statewide ballot initiative to change teacher tenure, Prop. 74, was defeated in 2005 by a 55-to-45 vote margin.
"I think somehow they're going to have to show more harm and have their storytelling be even better," Snell said.
Get stories like these delivered straight to your inbox. Sign up for The 74 Newsletter