With New Grants, 5 States Could Lead the Way to Widespread, Effective Tutoring
Huffman: The goal — how can schools, with the support of providers, harness the positive effects of tutoring and deploy it quickly to more students?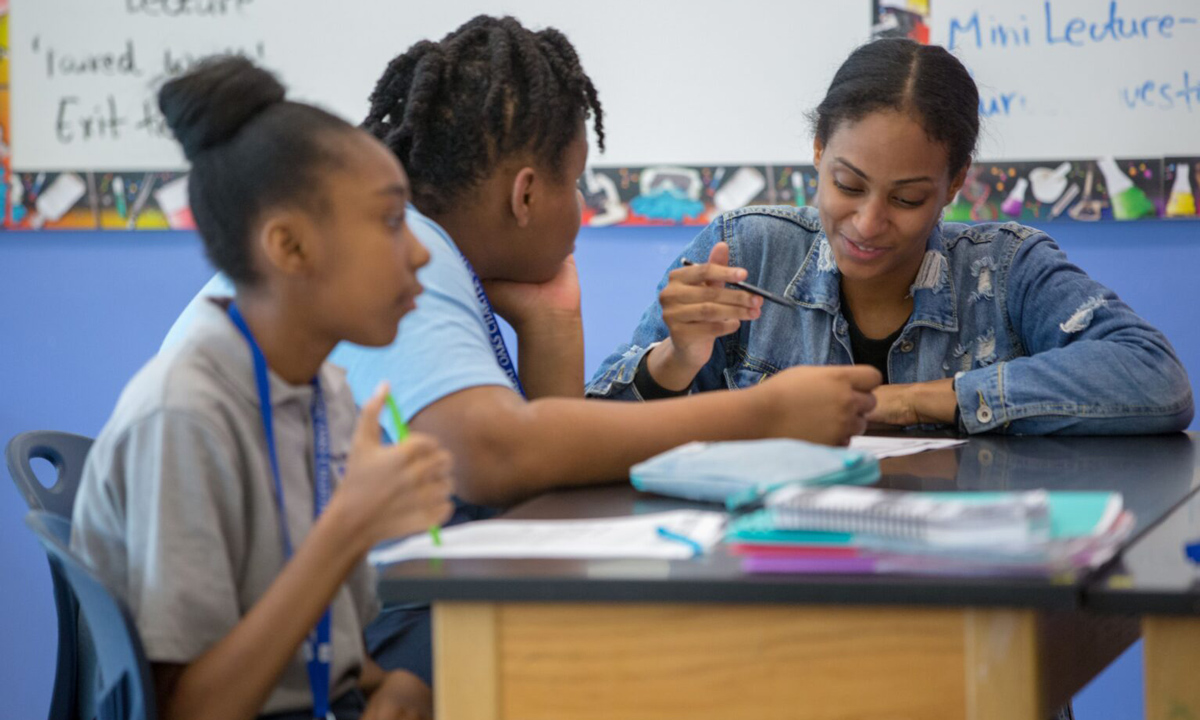 Support The 74's year-end campaign. Make a tax-exempt donation now.
For an intervention utilized by schools and parents for decades, tutoring has had a tumultuous ride over the last three years. Rediscovered during the pandemic as a research-driven means of helping kids make up lost learning, tutoring appears in 4 out of 5 states' ESSER recovery work. And now, with the dawning of the large language artificial intelligence era, tutoring is viewed by many as the entry point for new technology in education.
Yet, despite all the attention and enthusiasm, tutoring currently reaches at most 10% of students in the country — and probably many fewer. How can schools, with the support of tutoring providers, harness the very real positive effects of tutoring and deploy it quickly to more students?
At Accelerate, the national nonprofit I lead that aims to help make tutoring a standard part of the American school day, we believe that one key answer lies in state policy, regulation and infrastructure. On April 26, Accelerate announced $1 million in States Leading Recovery grants to Arkansas, Colorado, Delaware, Louisiana and Ohio that will help their education agencies make tutoring more widespread and effective. Our hope is that these states can help create model policies and plans that others can adopt, and that we can continue to build a cohort of states working jointly to make tutoring more effective in the years ahead.
Quality tutoring relies on several things that innovative new technology and programs are well-positioned to provide: time management, data collection and tailored content. But providers are just half of the equation for scaling high-impact tutoring — schools, and the public education sector writ large, make up the other half.
Our States Leading Recovery grant program aims to push the tutoring marketplace to become one in which school districts pay only for programs that have a strong evidence base, and tutoring providers bring research backing their effectiveness and commit to outcomes-based contracts. States can play their part by cutting back regulatory snags and creating a path for effective programs.
School leaders sometimes argue that providers, failing to understand the daily challenges of running a school, have overpromised and underdelivered. Entrepreneurs retort that schools have failed to accommodate new ideas, creating implementation barriers that impede success. But cynicism about promised revolutions that never materialized must not be allowed to thwart the ability to significantly upgrade the education system of the future.
The message we are hoping to send with our state grants is twofold:
First, to states: It's time to align policies with priorities and make it easy for school districts to implement effective tutoring. The research now shows what high-impact tutoring can look like — and researchers are beginning to learn that virtual tutoring can be as effective as in-person; that volunteers, paraprofessionals and college students can make good tutors; and that tutoring can be effective one-on-one or in small groups. Additionally evidence makes clear that it should happen during the school day in order to reach the highest-need students in a consistent way.
At the same time, most school districts have never been stretched thinner. If they are to add tutoring to their plate, policymakers need to set the table. States can do that in a number of ways, such as identifying research-backed programs, funding and supporting implementation, and removing regulatory barriers that make it harder for schools to find blocks of time for tutoring.
Second, to providers: A concerted effort by the public sector to remove barriers to innovation will not mean a no-strings-attached payday — the stakes for students are simply too high. Ed tech leaders and other tutoring providers should anticipate a public marketplace in the years ahead that relies more heavily on outcomes-based contracts with a willingness to cut loose programs that do not meet goals.
The private sector should also assume that states and districts will increasingly build and rely on preferred-provider lists that overtly prioritize public spending on programs that have a strong base of research and evidence, vetted by outside experts. Curriculum providers know this marketplace well — and it is coming soon to the tutoring space.
In the words of L.A. Unified School District Superintendent Alberto Carvalho at ASU+GSV, the private sector should increasingly expect to "engage in efficacy-based contracting. … If I [as a superintendent] deliver on the fidelity of implementation, meaning I deliver the kids and number of minutes, I expect you to deliver the results. And to the extent that you exceed the bottom line, you get more money."
Rapid advances in technology are exciting for tutoring and for education. New products and services have the potential to put widespread, effective, personalized instruction within reach in the years ahead. States must get ahead of this by building a marketplace that rewards research-driven and outcomes-oriented providers, and helps schools and districts serve the highest-need students.
Schools and providers stand at the precipice of potentially radical changes in the capacity to deliver tailored, excellent content to students. It will take a collective effort to redesign the standard American school day in order to close longstanding opportunity gaps and help the highest-need students.
Support The 74's year-end campaign. Make a tax-exempt donation now.