With Narrow Win Kelly Gonez Re-Elected to LAUSD School Board
Many say Gonez didn't get an easy victory against her novice opponent because of her support from charter advocates, mask mandates and lengthy school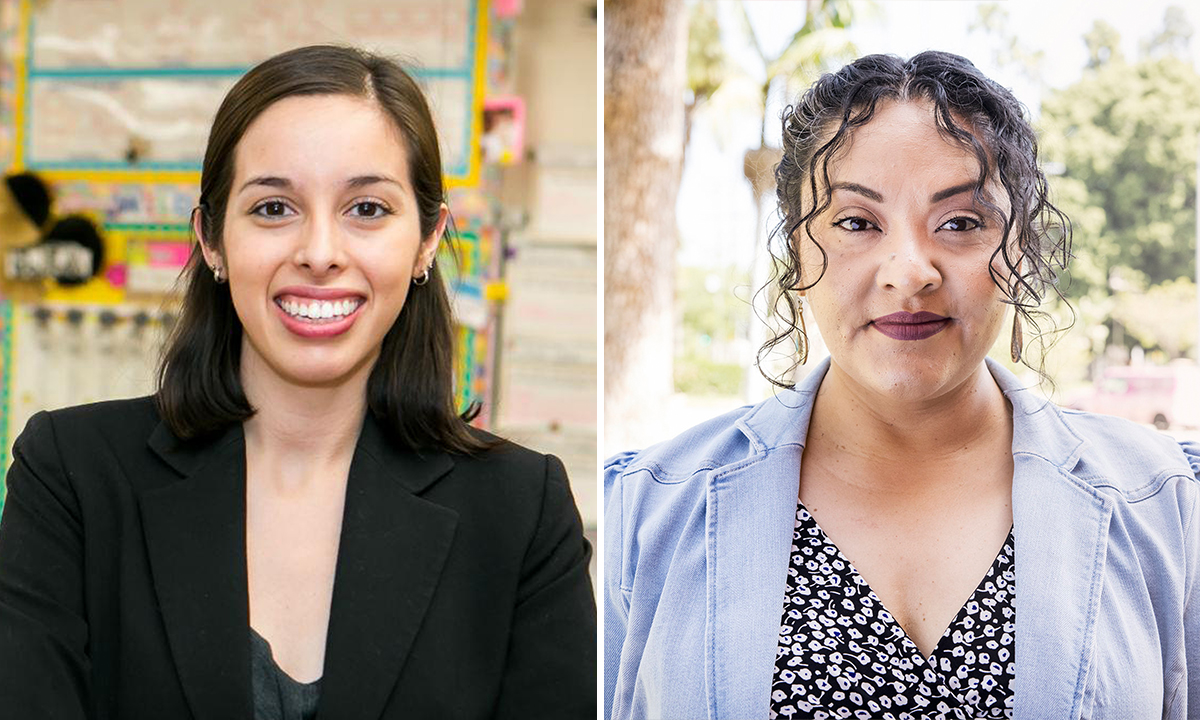 Support The 74's year-end campaign. Make a tax-exempt donation now.
Los Angeles school board president Kelly Gonez will keep her spot on the panel, but her lack of a significant lead despite her advantages over her novice opponent made the race a stand out.
Gonez, who raised $500,000 and major endorsements including the United Teachers Los Angeles, declared victory last month, garnering 51.27% of the vote. Marvin Rodríguez, an LAUSD teacher of 17 years with no previous political experience or major endorsements, raised just over $11,000 and trailed closely behind with 48.73%. In a message to his supporters, he all but conceded last week.
LAUSD parents, politically active Angelenos and education policy experts have suggested several reasons why Gonez's Board District 6 win was so narrow, including her support from charter advocates and dissatisfaction with mask mandates, lengthy school lockdowns while Gonez served as school board president.
Many of the reasons trace back to a shared theme — that her clear advantages may not have worked fully to her benefit. It's the money that supported her and her experience on the school board that turned off some voters.
"The most interesting thing is, this is a situation where she's getting fire from both her left and her right," said Rob Quan, an activist and founder of Unrig LA.
On the left, Quan said, there are those who are more inclined to support public schools and had concerns about Gonez's position on charter schools. On the right, he said there have been two primary concerns — her position on COVID-19 protocols and her vote to scale back police presence in LAUSD schools.
The anonymous founder of LA Parent's Union (@UTLAUncensored), a parent advocacy group with nearly 5,000 followers on Twitter, said the group endorsed Rodríguez because "he's an outsider, right?"
"So many people in L.A. are feeling like a career politician and the establishment is really just looking out for their own next seat and to keep their group in power," the founder said.
They also said that for many parents in Board District 6, support for Gonez dropped when she voted to reduce school police. Many parents saw it as a threat to their childrens' safety — a type of "political grandstanding" they also saw in her leadership through one of the longest Covid-19 school closures and mask mandates in the nation, UTLAUncensored said.
Wavering faith in Gonez's alliance with the people stemmed from her hefty funding, too.
Billionaires Reed Hastings, the founder of Netflix, and businessman Bill Bloomfield, donated $1.68 million to the re-election of both Kelly Gonez and Nick Melvoin (who was re-elected to represent Board District 4) through the PAC Kids First.
"I do think voters are paying attention more and more to who is supported financially by the people and who is financially empowered by the very rich," said Kris Rehl, who voted for Rodríguez. "I believe that Marvin Rodríguez wants to be on the LAUSD board because he wants to make the lives of students and teachers better. I can't say that I think Kelly Gonez is only running for this position for those same reasons."
Gonez's support from pro-charter advocates, like Hastings, as well as her support from the California Charter School Association in 2017, when she was initially elected to the seat, has some skeptical about her resolve in holding charter schools accountable.
Although Gonez, a former charter school teacher, has attempted to distance herself from the stance of her pro-charter donors in interviews, apprehension remains. Rehl said the primary reason he voted for Rodríguez was his strong anti-charter stance.
"I really feel like LAUSD needs bold leadership that doesn't cave into special interests like the charter school association, and I'm a strong supporter of UTLA, so I was really disappointed to see UTLA endorse Kelly Gonez, who in the past has been pretty friendly to the charters," said Arturo Gomez, a tenant defense attorney.
The Board District 6 race was not the only LAUSD election where the politics of public school versus charter schools came to a head. In the Board District 2 race, candidates Rocío Rivas and Maria Brenes, who ran on similar platforms, vied to represent parts of central and east L.A.
Rivas, who was backed by UTLA and has been more outspoken in her anti-charter stance, won with 52.49% of the votes. Brenes, backed by SEIU Local 99 — LAUSD's second biggest union — as well as Bloomfield and Hastings' PAC, had 47.51% of the votes.
Gomez said he voted for Rivas because of her stance on charter schools: "I wasn't a big fan of Brenes who seemed to have backing from a lot of charter adjacent organizations," he said.
On Nov. 23, Rivas took to Twitter to declare her victory, tweeting that "people power wins over billionaire money."
"Her message was certainly tapping into a bit of the charter school narrative, that this was charter school money trying to defeat her and that public schools won," said USC Rossier professor Marsh. "This has happened in the past in LA Unified, that when outside money comes in, or money that's perceived to be on one side or the other, sometimes it actually does the opposite and motivates some voters to say 'we're not going to let this money influence how we vote.'"
Marsh added that both the District 2 and District 6 elections show a continuation of elections "being a proxy war" for teachers unions and charter interests. She also pointed to another takeaway that stood out to her from the November election.
"Just because you have the funding doesn't necessarily mean you're gonna win the votes," she said. "That stands out to me in both of these races."
This article is part of a collaboration between The 74 and the USC Annenberg School for Communication and Journalism.
Support The 74's year-end campaign. Make a tax-exempt donation now.