As Trump Pauses on ESSA Accountability, Advocates Look for Signal on Whether New Rules Will Stick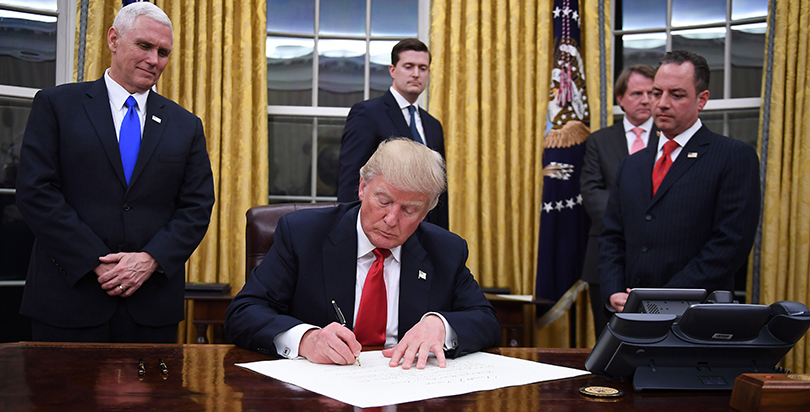 The implementation of the Every Student Succeeds Act just got fuzzier.
The Trump administration late Friday delayed the implementation of all pending federal regulations, including the Obama administration's proposed ESSA accountability rules. Those rules, governing how states measure school performance and work to improve those that have fallen behind, were finalized in November and set to take effect January 30.
The delay, while largely expected, now pushes any decision on the regulations to at least late March, just two weeks ahead of the first initial deadline for states to submit plans on April 3. State leaders are now left to wonder whether that schedule will hold and whether the Trump administration will rewrite the rules.
Underpinning the confusion is the continued tension over the confirmation of Education Secretary–designate Betsy DeVos and subsequent vacuum in leadership at the department. She fumbled several answers at her hearing last week, and Democrats have continued — unsuccessfully — to press for additional hearings on her nomination. Committee leadership delayed the vote on her nomination by a week, to January 31, to give members more time to review her lengthy financial disclosure.
(The 74: DeVos Pledges Not to Gut Public Schools or Force School Choice During Confirmation Hearing)
DeVos at her hearing wouldn't commit to maintaining the Obama administration's accountability regulations, but said she "absolutely" plans to stick to the schedule of having states submit plans by either April 3 or September 8, with implementation to begin in the 2018–19 school year.
Mike Magee, CEO of Chiefs for Change, said his members — district and state leaders committed to certain education reforms — will move forward with their plans and the schedule laid out by the Obama administration.
It was encouraging to hear DeVos's testimony that she expected states to keep to that timeline, but some backup would be helpful, he said.
"Anything the administration can say to emphasize and clarify that testimony, and clarify that they still anticipate that states will submit the plans on time, would be very helpful to our members," he said. "Anytime you're working on a plan that will impact every student in your state, any kind of confusion about things like timelines is not very helpful."
Mike Petrilli, president of the Thomas B. Fordham Institute, also said he'd like the administration to signal that it intends to maintain that schedule but that there's probably no one in place to offer that assurance until DeVos is confirmed.
"As soon as [DeVos] is confirmed and then has at least some skeleton crew, it would be nice if they could send that signal somehow," he said.
DeVos during her confirmation hearing reiterated her commitment to accountability but didn't commit to keeping the regulations.
"As would be tradition with a change of administrations, I will look forward to reviewing [the accountability regulations], and again I will state my orientation toward pro-accountability," she said.
Sen. Chris Murphy, who asked if she would uphold them, responded, "I think that's going to raise a lot of questions for administrators and school superintendents who are now trying to implement that regulation."
Education committee chairman Lamar Alexander, who also asked DeVos if she planned to adhere to the existing timeline, said he was glad the Trump administration withdrew the Obama regulations.
"This regulation goes to the heart of the new law fixing No Child Left Behind, which reversed the trend toward a national school board and restored to states, communities and classrooms the responsibility for establishing their own accountability systems," he said. "I look forward to working with the Trump administration to implement the new law as Congress wrote it."
After the pause, the Trump administration could either continue with the Obama regulations or scrap them entirely, with or without a replacement. That would leave it up to the states to interpret how ESSA should be implemented. Yet another option, Petrilli said, would be for the Trump administration to try some hybrid by indicating to states which parts of the Obama regulations they could feel safe ignoring.
"I think the chances are very good that these regs will either go away or will be changed or will not be enforced in some way," he said.
The current uncertainty accelerates what states have been facing regarding ESSA's rollout since Trump's November 9 election victory.
Had Hillary Clinton won, it could be expected that her Education Department would, for the most part, not deviate from the Obama administration's rules, particularly after the plan garnered the backing of both civil rights groups and teachers unions.
Advocates at the time reiterated that the law was a floor, not a ceiling, and that states should continue with their plans for tough accountability anyway. Locally grown pushes were likely to fare better in the long run, they said, than those backed by the "D.C. made me do it" excuse that existed under No Child Left Behind.
(The 74: States Keep Their Focus on ESSA Implementation Amid Upheaval in D.C. and Beyond)
Advocates and leaders are still recommending that states continue on plan and schedule to write tougher rules than ESSA's baseline standard to protect educational opportunities for low-income children, students of color, disabled students and others.
Chris Minnich, executive director of the Council of Chief State School Officers, said the pause was expected and shouldn't cause delays as states implement the law.
"We have encouraged state chiefs to stay the course as they continue to lead in implementing ESSA, and ensuring that every kid in their state receives a quality education," he added in a statement.
Washington, D.C., State Superintendent Hanseul Kang had pushed for tough accountability, with a set timeline of public meetings and feedback that would put D.C., through its state board of education, on the path to submit its plan April 3. Kang's spokesman said that plan has not changed; a spokesman for the state board of education had no comment.
Chiefs for Change has worked with 15 state education leaders — six members of the group and nine others — in collaboration for almost a year to come up with strong, evidence-backed state plans to promote equity, Magee said. They still have every intention of keeping those plans and submitting them on schedule.
"Our members are moving forward in any event," Magee said. "The more clarity, the better, and that would be helpful."
The Dick & Betsy DeVos Family Foundation provided funding to The 74 from 2014 to 2016. Campbell Brown serves on the boards of both The 74 and the American Federation for Children, which was formerly chaired by Betsy DeVos. Brown played no part in the reporting or editing of this article.
Support The 74's year-end campaign. Make a tax-exempt donation now.