With Democrats Divided, Advocates Push to Save Key Education Priorities in Biden 'Build Back Better' Plan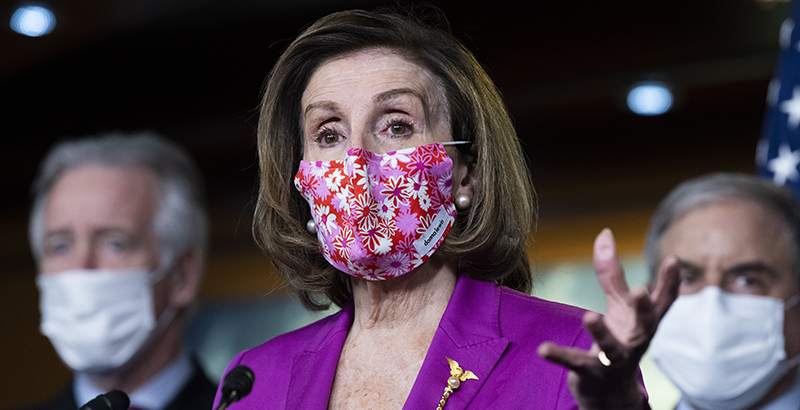 Get stories like these delivered straight to your inbox. Sign up for The 74 Newsletter
Updated
The House will resume consideration of the $1.2 infrastructure bill Friday morning after Thursday night slipped away without a vote.
Negotiations that would secure moderate Democrats' support of President Joe Biden's separate social spending bill — the deal that progressives are waiting for in order to vote for the infrastructure package — are continuing.
"A great deal of progress has been made this week, and we are closer to an agreement than ever," White House Press Secretary Jen Psaki said in a statement. "But we are not there yet, and so, we will need some additional time to finish the work, starting tomorrow morning first thing."
Meanwhile Biden signed a continuing resolution Thursday night, avoiding a government shutdown and giving the Senate until Dec. 3 to work on the fiscal year 2022 budget. The president's proposed budget includes significant increases for Title I, special education and community schools.
"There's so much more to do," the president said in a statement. "But the passage of this bill reminds us that bipartisan work is possible and it gives us time to pass longer-term funding to keep our government running and delivering for the American people."
Democrats, however, wanted to include language that would lift the debt ceiling, which the government will hit Oct. 18. Republicans voted against that plan.
With Congress tackling overlapping budget issues this week, advocates are most focused on saving President Joe Biden's bold agenda for schools and families.
The proposed $3.5 trillion "Build Back Better" plan, which Biden says would lower costs that are "squeezing families month after month and year after year," includes major increases for early-childhood education, teacher and principal preparation, school construction and community college. But Democrats don't have enough support to pass it, even though they're using a process known as reconciliation, which doesn't require a single Republican vote.
Sen. Joe Manchin of West Virginia, who along with fellow Democrat Krysten Sinema of Arizona is opposed to such sweeping legislation, made it clear in a statement Wednesday night that he can't be convinced otherwise.
"Since the beginning of this reconciliation debate, I have been consistent in my belief that any expansion of social programs must be targeted to those in need, not expanded beyond what is fiscally possible," Manchin wrote. "While I am hopeful that common ground can be found that would result in another historic investment in our nation, I cannot — and will not — support trillions in spending or an all or nothing approach that ignores the brutal fiscal reality our nation faces."
The debate over the president's agenda has revealed sharp divides among Democrats, while Republicans have held a united front against compromise proposals. Disagreement among Democrats is most obvious over the $1.2 trillion infrastructure package, which House Speaker Nancy Pelosi was weighing whether to bring to a vote Thursday. Moderates have demanded a vote on the funding for roads, bridges and broadband, while progressives have said they won't support the infrastructure bill unless they first get a vote on the larger reconciliation bill.
It's not the infrastructure bill THEN maybe the Build Back Better package down the road. That wasn't the deal.

Progressives won't back down. We're fighting the people's fight and we're going to deliver the entire Build Back Better agenda.

— Pramila Jayapal (@PramilaJayapal) September 29, 2021
Adding to the tension, Congress will try to avert a government shutdown Thursday by passing a continuing resolution that keeps the government open past the end of the fiscal year. Democrats are also faced with meeting an Oct. 18 deadline to keep the U.S. from defaulting on its loans.
The House on Wednesday passed, along party lines, a bill to raise the government's $28 trillion debt limit — the total amount the government can borrow to cover its obligations. But the bill is not expected to pass in the Senate. Defaulting can lead to another recession, hinder economic growth and make it much harder to cover the costs of the reconciliation bill if it passes.
Democrats argue that the Trump administration was partially responsible for the increase in spending, so Republicans should bear some of the responsibility for raising the limit. But Republicans have said as long as Democrats control Congress and the White House, they can add it to their reconciliation bill.
The ongoing stalemate has some wondering whether the bill will survive.
"You've got to figure there's now a chance, very small but real, that the bill stalls out," Rick Hess, a senior fellow at the conservative American Enterprise Institute, said about the proposed $3.5 trillion package.
Dropping the total price tag, perhaps as low as $1.5 trillion, could "set off some brutal intramural battles among the [Democrats]," Hess said, and would "certainly offer a stress test of various Democratic priorities."
Mary Filardo, executive director of the 21st Century School Fund, which advocates for modernizing schools, is among those lobbying to keep their priorities in the final package. She's been meeting with Senate staff members about the $82 billion slated for school construction and repairs.
"They seem pretty subdued, like they don't really know what is going on," she said, adding that they "support the issue, but it doesn't seem to be a must have."
Cutting school construction funding, she said, could impact another key priority in the package — universal preschool. While Biden's $200 billion plan would put some classrooms in community-based centers, schools would also need to accommodate more pre-K students.
'Could still be effective'
Some observers suggested there's room to negotiate amounts over the big-ticket provisions, such as pre-K, child care and free community college.
"All of these could still be effective even if the top line numbers go down," said Julia Martin, legislative director at Brustein and Manasevit, a law firm specializing in education.
But Shantel Meek, a professor at Arizona State University and director of the Children's Equity Project, said she hopes lawmakers don't trim the preschool proposal by "pitting access and quality against one another. In order for [universal pre-K] to meet the promise we know it can, we need access to quality — that means supporting the whole child, whole family."
Others are concerned whether some of the smaller provisions would get cut from the package, such as the $4 billion to continue the Emergency Connectivity Fund, which addresses the digital divide for students learning at home.
"We want to make sure the connectivity [and] devices provided … aren't in a position to go dark and disconnect students," said Noelle Ellerson Ng, associate executive director for advocacy and governance at AASA, The School Superintendents Association.
Originally part of the American Rescue Plan, the $7 billion program allows school districts to purchase devices for students and cover the cost of at-home internet service. According to the Federal Communications Commission, more than $1.2 billion in funds have been awarded so far to 3,040 schools, 260 libraries and 24 organizations that include both. A second application window runs through Oct. 13.
Even if all of the education-related proposals stay in the package, Martin warned that one way negotiators could lower the final figure is to increase states' share of the cost. The pre-K proposal, for example, currently calls for the federal government to pick up 100 percent of the cost of serving all 3- and 4-year-olds for the first two years, with states contributing increasing percentages of the cost over time.
"My concern would be if the state matches were to go up," Martin said. "I think that would result in a patchwork implementation at best, and may make it more difficult for states to access funds."
Linda Smith, director of the Bipartisan Policy Institute's Early Childhood Development Initiative, said another option would be to limit the number of years covered by the legislation or to limit the program to children with greater needs. But she said that would be hard to do after the president pledged it would be universal.
Nonetheless, she remains hopeful that the early-childhood proposals would remain a centerpiece of the final plan.
"It always gets a little crazy when the sausage-making gets into high gear," she said. "I still think something will come out of this."
Get stories like these delivered straight to your inbox. Sign up for The 74 Newsletter