With DACA Headed to Supreme Court Next Week, Activist Jose Antonio Vargas Urges Immigrant Students to Be Courageous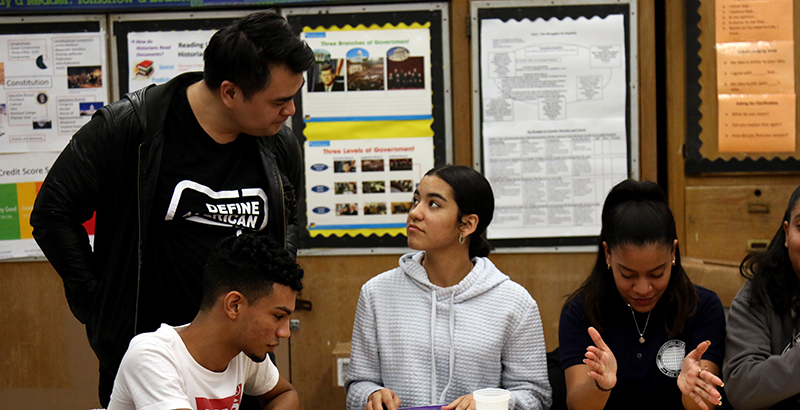 Updated Nov. 4
New York City
Jose Antonio Vargas had only been in the South Bronx classroom a few minutes when a student dropped a pointed question.
"What finally led you to come out as an undocumented immigrant?" the student asked Vargas when he made a recent visit to the International Community High School, which serves teens who recently immigrated to the U.S.
It's a discussion Vargas has had time and again over the last eight years, ever since he outed himself in a 2011 New York Times Magazine essay, which followed his hardscrabble journey from undocumented 12-year-old born in the Philippines to Pulitzer Prize-winning journalist. Since then, the 38-year-old Vargas has become an outspoken immigrant-rights activist.
For Vargas, writing publicly about his immigration status was risky. Hundreds of thousands of immigrants with similar backgrounds have taken similar risks since 2012, when then-President Barack Obama created the Deferred Action for Childhood Arrivals (DACA) program. The program provides work permits and deportation relief to some undocumented residents who came to the U.S. as children, but it also required that they share their immigration status with the government. Now, some DACA recipients are worried that the Supreme Court, after it hears oral arguments on the program next week, will allow the Trump administration to end it.
At the high school, Vargas highlighted for the students the importance of resilience. Don't let fear prevent you from being successful, he said.
Vargas chose to share his immigration status, he told the students, to cope with a dark depression. He was writing a profile on Facebook founder Mark Zuckerberg for The New Yorker, or, as he called it, "this magazine with big words" and little room for photographs. He was a success, but he also was living a lie. His green card and Social Security card were fraudulent. At that point, only a few people knew he was in the country illegally — such as the high school principal who helped him get a driver's license in a state where he did not live.
"If money is not bringing me happiness, if success is not making me happy, what's going to make me happy?" Vargas asked. He settled on honesty. "In some ways, I had to be honest with myself. So that's why I came out."
Last week, Vargas visited a class taught by government and economics teacher Alhassan Susso, the 2019 New York State Teacher of the Year, who immigrated to the U.S. at 16 from Gambia. Prior to the visit, Susso assigned the diverse group of students — recent immigrants from countries including the Dominican Republic, Ecuador and Yemen — to read Vargas's 2018 memoir, Dear America: Notes of an Undocumented Citizen. Vargas learned he was undocumented at 16 when he first tried to get a driver's license.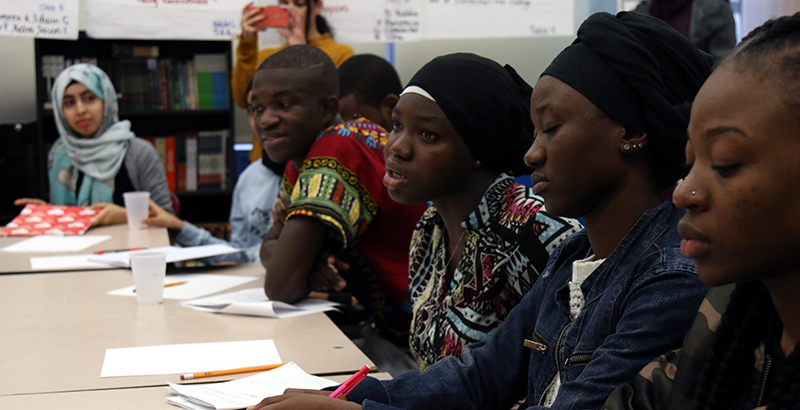 The school visit was scheduled through a partnership between Vargas's nonprofit, Define American, and Facing History and Ourselves, which provides students with lessons on racism, anti-Semitism and prejudice. Susso didn't speculate on his students' immigration status, and the district does not require schools to collect information on the topic.
Sitting in a circle in Susso's classroom, the students were unreserved in their questions. One student asked Vargas, who is gay, how discrimination against the LGBTQ community differs from that against undocumented immigrants. What would he change about his journey? Has being an immigrant helped him succeed?
"Could you think of one reason," one student asked, "that the government didn't deport you yet?"
Vargas has had several close encounters. In 2014, for example, immigration officials detained him for trying to fly out of a Texas town on the U.S.-Mexico border without a valid visa. As a result, Vargas was given a notice to appear before an immigration judge.
In response to the student's question, Vargas acknowledged that he didn't know. But he offered one possible explanation: The government is more afraid of him than he is of it. When President Donald Trump was elected on a promise to ramp up immigration enforcement, Vargas said, he expected his time would soon come. But living in fear, he said, is unsustainable. After hiding in plain sight for so many years, he chose a different path.
"I have to live my life knowing that I'm free, that I don't need papers to be free," he said. "I don't need this government, or any government, to give me value."
Carrying weight
The majority of the American public is sympathetic toward Dreamers, as undocumented immigrants who were brought to the country as children are often called, with recent polls suggesting that most Americans believe DACA recipients should be allowed to remain in the U.S.
But next week, the Supreme Court is set to hear oral arguments in a case that could decide the fate of nearly 700,000 DACA recipients. The Trump administration has sought to end the program since 2017, with then-Attorney General Jeff Sessions arguing that  Obama had created the program through an "open-ended circumvention of immigration laws" because Congress didn't approve it. Since then, federal courts in Washington, New York and California have halted efforts to phase out the program.
Vargas, who was one year too old to qualify for DACA, told the students they shouldn't let the drama surrounding federal immigration policy get in the way of pursuing their dreams.
"I'm not some undocumented, gay Filipino person carrying around all of those issues," Vargas said. "We're people. That's the thing. How do you not internalize this feeling that we're problems or we're issues or we're political talking points? I hope that you all don't do that to yourself."
Indeed, Trump administration policies on immigration affect more than those who are eligible for DACA. Heightened immigration enforcement and anti-immigrant rhetoric have negatively affected the mental and physical health of immigrant children and those with foreign-born parents, according to a report released last month by the nonprofit Foundation for Child Development.
Fresa Hernandez, a 16-year-old who immigrated to the U.S. from the Dominican Republic in 2015, asked Vargas about his relationship with his family, including the mother he hasn't seen for over 25 years. Vargas said his family sent him to the U.S. for a better life.
"But their idea of a better life was very limited by their own understanding of what America was: Get through high school — at least get a high school degree — then work as a janitor at the flea market and then maybe find a woman to marry who is a U.S. citizen," he said. "No one asked me if I wanted to do this."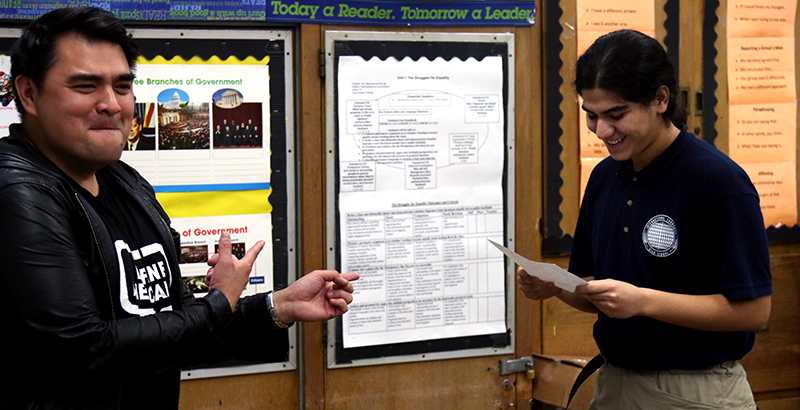 Some students in the classroom gasped in agreement. As a young adult, Vargas said he resented his family for relying on him to provide for them.
Reflecting on his own experience, Vargas recently acknowledged to a group of college students in Louisiana that he would've preferred to stick with his mother in the Philippines.
Hernandez sympathized. When she moved to the U.S., she experienced her own challenges. "It was hard for me to learn the language, leave my country [and] part of my family behind," she said.
But she was glad she moved to the U.S. with her mother. Several of her classmates, she said, weren't so lucky.
As the classroom discussion grew more emotional, Vargas turned to a student on his right. "Why are you crying?" he asked.
"Because your story is sad," she replied. "I just feel emotional."
Vargas objected. His story isn't sad.
"I don't feel sad about it, but I think being honest with yourself hurts," he said.
But he didn't pass up on an opportunity for comedic relief. When someone knocked on the classroom door, Vargas made a joke at the expense of federal immigration authorities:
"Is that ICE?" he quipped.
"You've got to have a sense of humor," he told the students, who burst into laughter. "If you don't have a sense of humor, it's over. You have to be able to laugh at this. It's too tragic."
Get stories like these delivered straight to your inbox. Sign up for The 74 Newsletter