With an Online Community & Summer Camp, Scratch Brings Coding to 42 Million Kids
Children ages 5 to 16 can create their own digital stories, games and animations, and share with their peers — for free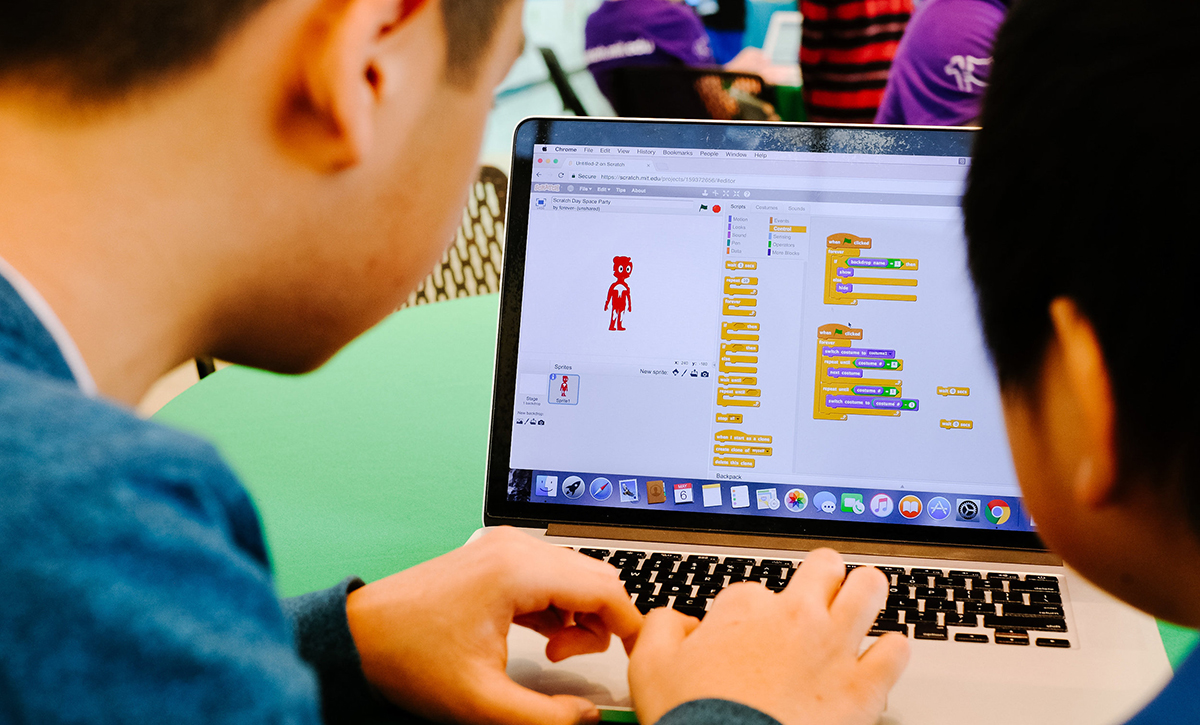 Support The 74's year-end campaign. Make a tax-exempt donation now.
Scratch, the world's largest coding platform for children, takes a peer-focused approach to engaging young people of all backgrounds. The MIT-born nonprofit makes it easy for students to understand the backbone behind coding, but the users also become part of an online community designed to inspire others with a wide-reaching audience.
So, it follows that Scratch's approach to summer learning loss is a multi-week online camp in July and August that invites all students to build interaction, with both coding and one another.
Created 15 years ago as part of a MIT project to introduce less clunky software for kids to learn coding, Scratch has over 42 million active users across 200 countries, with an average age of 12. The original program, designed for kids 8 to 16, was intended for use outside of school, but the software — which teaches coding but has plenty of academic skills built in — has been heavily adopted by schools and educators. For ages 5 to 7, Scratch Junior can be used even by children who may not be able to read. With simple-to-use block-style coding, users — dubbed Scratchers — can create their own projects, whether digital stories, games or animations, and share that within the community.
"Kids just enjoy it, it is fun," says Shawna Young, the Scratch Foundation's executive director. "They are able to create these projects. It is based on this idea of yes, you are learning, developing computational skills, but at the heart of the work you are really having fun and creating something you care about."
The nonprofit foundation operates the online platform with the goal of opening coding opportunities to a more diverse demographic.
"We want kids to have this learning experience that is highly accessible and engaging and not limited to certain socioeconomic backgrounds," says Young. "If you want to address inequity, start by not having barriers that are financial."
Scratch is free, supported by funders including the LEGO Foundation, AT&T and Google. The nonprofit also partners with community organizations around the world in the Scratch Education Collaborative, to make learning available to students in traditionally underrepresented communities. From 40 organizations the first year, there are now 91, with representation from over 20 countries. Scratch also did a recent outreach to kids with an American Sign Language tutorial to expand creative opportunities in coding for children who are deaf or hard of hearing.
"We recognize how children learn is important, and it is not equitable," Young says, noting that teachers tend to focus on the "what" — the reading, writing and arithmetic — rather than on how that impacts children's enthusiasm, interest areas and potential career paths. By creating a free tool and partnering with organizations that can incorporate it into their own education-focused programs, Scratch aims to create excitement and bolster when it comes to critical thinking, problem solving and collaboration.
Christan Balch, the foundation's community engagement manager, helps operate the online summer Scratch Camp. Open to anyone on the platform, the camp is free. "At the heart of the camp, you will find it is a shared journey toward project creation," Balch says. "It is an open invitation for Scratchers to create around a theme they might not have thought about otherwise and do so in a kind, caring and collaborative community with others from around the world."
This summer's theme is "fantastical fantasies," with each week offering a new theme and project prompts (the Aug. 15 week theme is "mythical worlds"). Scratchers can get as involved as they like — some come and go weekly, while others dive in daily — and Balch says she enjoys seeing children take on leadership roles and get tapped as camp counselors. "I love that part," she says. "Counselors are Scratchers in the online community who are helpful, kind and encouraging. We are seeing leaders forming in the online community and acting as resources and mentors for others."
The goal of the camp is to "keep kids (academically) engaged while teaching them skills," Balch says. But they also get to explore concepts they are truly interested in, and that opens doors for all sorts of projects. Balch says she recently logged into a camp day and saw an animated piece of artwork of a unicorn-dragon-cat that a young person had invented, a story about discovering a trail of glitter and a game that placed the world's slowest tree in a race.
"I see these wide range of things and get excited," she says. "Scratchers are the most creative, funny, kind, most expressive kids I've ever had the pleasure of working with, and Scratch camp is an example of that."
Support The 74's year-end campaign. Make a tax-exempt donation now.