With 6 Wins in 7 Years, Granada Hills Charter School Extends Its Dynasty in the U.S. Academic Decathlon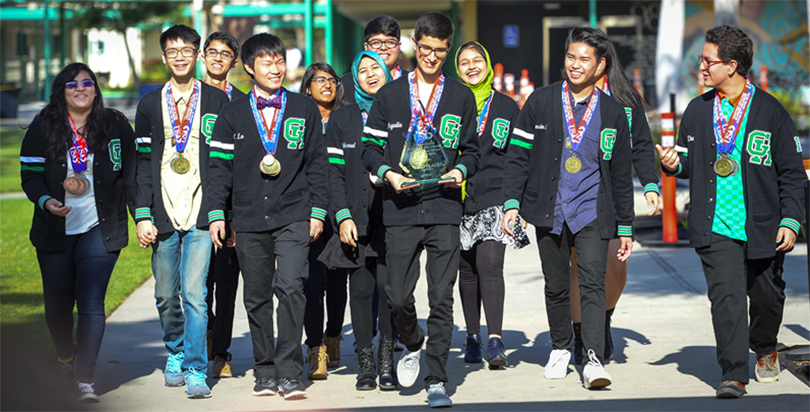 What Serena Williams is to the Grand Slam, what the John Wooden UCLA basketball teams were to the NCAA tournament, and what Magic Johnson to the NBA finals — that is what Granada Hills Charter High School is to the rarified world of the United States Academic Decathlon: an iconic L.A. powerhouse that could soon run out of room in its trophy case.
With its victory last month at the 2017 championship in Madison, Wisconsin, the program claimed an unprecedented sixth title in seven years. The event, considered one of the most grueling high school academic challenges, tests nine-member teams from around the country in subjects ranging from math to music to social science to speech. To even reach the final round, a team must proceed through a series of regional and state competitions.
What's more, as the birthplace of the decathlon and home to its past 15 winners, California is known as the proving ground of great squads. Judging from its homecoming reception, to say nothing of local media, Granada Hills stands as the undisputed ruler of the state. Officials from the Los Angeles Unified School District and the city council welcomed the team back with congratulatory speeches, while the school band hailed them with bagpipes and cheerleaders twirled. Among administrators, the mood could best be described as giddy.
"It's hard to argue there's not a dynasty in play here, right?" said Granada Hills Executive Director Brian Bauer in a phone interview. He noted that a former national champion, who recently graduated from UCLA, had been a guest at the day's festivities; another served as a coach for this year's roster. "There's that kind of lineage and legacy, if you will, with the team."
"Everyone cares so much about this program that even if they leave, they never really leave," said Jonathan Sturtevant, an algebra teacher who serves as one of Granada Hills's three principal coaches. "We have an ex-coach from the 2011 team who still works with the kids on interviews. [Emeritus coach] Matt Arnold, who stepped down this year, still did essays with the kids."
Uncommon devotion and excellent coaching are two of the program's strengths, but it benefits from other advantages as well. Although decathlon teams are grouped into three divisions based on size, big schools headline the contest, and Granada Hills's nearly 4,500 students make it the largest charter in the country. Founded as a part of LAUSD nearly 60 years ago, it reportedly boasted the largest student body in the country in 1970. Though its most famous alumni are athletes (gridiron legend John Elway graduated in 1979, and Milwaukee Brewers MVP Ryan Braun followed a few decades later), the school is also considered one of the highest-performing in California.
Bauer successfully campaigned to win charter status for Granada Hills over a decade ago, disappointed with the district's decision to veto the school's strict attendance policy. That decision crystallized a back-and-forth struggle in the city between charter advocates, who celebrate the independent schools with the same enthusiasm that Granada Hills pours on its decathletes, and the district's school board, which has been more wary.
(LA School Report: LAUSD Puts Money and Muscle Behind 3 State Bills That Shackle Charter Schools)
Though he has never looked back since decoupling from LAUSD, Bauer feels that Granada Hills — and perhaps especially its Academic Decathlon program — still benefits from playing in the same academic sandbox as the district.
"There's something about LA and Academic Decathlon. We separated from the district 13 years ago, but a large part of our success is about competing against some of the best schools in the LA school system. That brings out the best in a number of teams, and it's motivated our coaches and kids," he said. Included in that description is two-time decathlon winner John Marshall High School, along with Granada Hills's white whale: El Camino Real High School, which has romped to an unmatched seven championships in the past 19 years. (One more win and Granada Hills would tie the record.)
In an interview with The 74, three Granada Hills decathletes described their intramural jockeying as fierce but friendly.
"In every competition, we try to remain sportsmanlike: Do the handshake thing, say congratulations every time, no matter what outcome," said Jordan Barretto. "I think that's a big part of what this team represents. [Teams like Marshall and El Camino] aren't really our rivals. We respect them as competitors, but we really see them as people who help us grow."
"The week before a competition is sometimes the most stressful week we have," added Aisha Mahmud. "Because we want to win — for the school, which has given so much to us, and for the legacy that Granada has created."
Asked what he gained from participating in the program, which consumes virtually every minute of free time during competition season, Peter Shin pointed to the close connections forged through rigorous study: "How close we get, and how comfortable we are in front of one another, is something that I don't think I've ever experienced. I have good friends, but I don't think I've ever come to trust them the way I do this team."
Those relationships are nurtured by the coaches, who see them as a key to mastering the decathlon's unique setup. Each team must include students with varying academic records: three each from the "Honors" (3.75 GPA and above), "Scholastic" (3.00–3.74), and "Varsity" (2.99 and below) designations. That requirement prevents schools from cherry-picking their top pupils and makes collaboration imperative; Honors students give their Varsity teammates an example to follow, while seniors mentor younger students in the skills necessary to win.
"It's part of our strategy," said Sturtevant. "Having the kids work together and fostering that partnership with one another is one of the secrets to our success."
"My favorite part of the program is what it does for the Varsity students," the coach continued. By the end of the year, "they just become different people. … A lot of them find motivation they didn't know they had. They want to succeed and start setting academic goals they may not have thought possible before."
Jordan, Aisha, and Peter are all seniors. Along with some of their teammates, they're now enjoying their final week of high school — winding down the academic year, but also finalizing vacation itineraries and getting ready for college. Aisha wants to major in English, Peter plans to study computer science, and Jordan has his eye on an architecture degree. Soon, the demands of the decathlon, including its 12 hours of daily preparation, will be a memory.
Not for Sturtevant, however. As soon as this year's competition ended, he and his fellow coaches began assembling research materials for the 2017–18 decathlon topic, a study of the art, culture, and economics of Africa. And even as he bade farewell to his departing champions, recruitment had already started for next year's team.
"That all starts now," he said wearily. "We're looking at the list this week, actually."
Get stories like these delivered straight to your inbox. Sign up for The 74 Newsletter