Wisconsin Targets Wi-Fi, Busing, Teacher Staffing Woes With $30 Million for Underfunded Rural Schools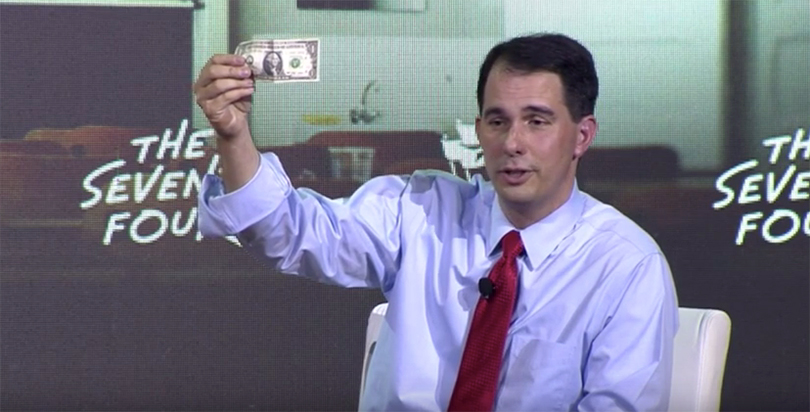 The purse strings are so tight in Wisconsin's Wauzeka-Steuben School District that the school board has agreed to charge students $25 to register for classes, hoping the extra $7,000 will help close its budget deficit.
A decline of 10 students per year has put the rural, 286-student school system in a financial crisis. Business education classes — and upper-level Spanish — are set to be conducted through distance learning. The district plans to cut a custodian to save about $50,000 and reduce a band teacher to part-time to save about $24,000.
On Wednesday, Gov. Scott Walker highlighted the financial difficulties of districts like Wauzeka-Steuben in announcing his $76 billion 2017–19 budget proposal, which includes $11.5 billion in total education funding. The plan would pour more than $30 million into the coffers of rural schools for broadband, transportation and teacher hiring.
---
---
Walker is asking the state legislature to approve an overall increase of $649 million for K-12 schools after years of cuts to public education, including $20 million in so-called sparsity aid — unrestricted funds for school systems with fewer than 1,000 students.
"Wisconsin's rural schools face unique challenges, such as high transportation costs, lack of dependable access to broadband, and declining enrollment. But we don't want these challenges to affect the quality of our children's education," he
said
in a radio address ahead of the budget's release.
Walker is also looking to make more than $22 million worth of technology upgrades for school districts, including buying mobile hotspots that students could use on buses and take home with them. State officials hope this program will particularly help solve broadband challenges faced by rural communities.
---
Speaks for itself. #StudentSuccess pic.twitter.com/GJk8OBwT0g

— Scott Walker (@ScottWalker) February 7, 2017
---
In addition, there is a plan to reimburse districts with fewer than 50 students per square mile if their transportation costs are greater than 150 percent of the state average. Last school year, the reimbursement rate was about 60 percent, Walker's office said.
And, the governor is looking to develop a program to train teacher aides to become full-time teachers.
"It's definitely a step in the right direction," said
Kim Kaukl, executive director of the
Wisconsin Rural Schools Alliance
. "We have a long way to go to get caught back up from all the years of not being funded."
It's not hard to see why he is seeking to boost education funding now, especially in areas where
rural voters
helped swing the presidential race in Donald Trump's favor. Walker is up for re-election next year, and his
approval rating
has been in the 30s and low 40s since 2015, when he was making a bid for the White House.
Republican Senate majority leader Scott Fitzgerald, however, has already indicated that lawmakers may pare down the governor's K-12 spending plan to pay for other expenses.
"There's a lot of different priorities," Fitzgerald
told the Wisconsin State Journal
. "We should be cautious and wait to see the finance committee work through those dollars to see exactly what can we get support for."
Meanwhile, municipalities have been
passing referendums
to increase education spending beyond revenue limits set by the state.
"It signals at the local level, there is recognition that more needs to be spent on education than the state has been providing," said Dan Rossmiller, the government relations director of the Wisconsin Association of School Boards.
"It's kind of like our governor has turned over a new leaf," Rossmiller said. "That's something I would praise him for."
Support The 74's year-end campaign. Make a tax-exempt donation now.