Wilson: Meet 3 Indianapolis Charter School Networks That Are All In on Virtual Learning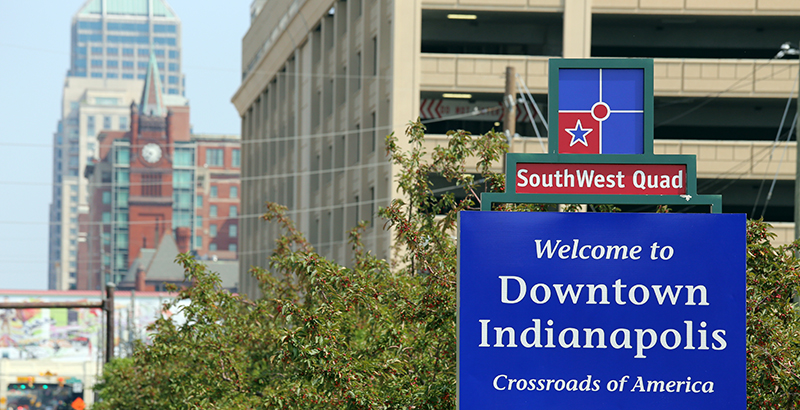 A version of this essay originally appeared on the CRPE blog.
Three much-admired school networks in Indianapolis didn't skip a beat in going virtual.
At Purdue Polytechnic High School, which enrolls 442 students at two campuses in the city, remote learning kicked off Monday, March 16, after schools had closed throughout the city the previous Friday afternoon. By Tuesday, March 17, 95 percent of Purdue's North Campus students were attending virtually — slightly above the school's average daily attendance.
Last year, Purdue students, 65 percent of whom are children of color and more than 50 percent of whom are in low-income households, outperformed students statewide on Indiana's ISTEP high school assessment and trounced their district peers, with nearly twice the number of students passing both the math and English Language Arts components.
When the crisis came, there was little need for reinvention. In a charter school that stresses project and experiential learning, students were accustomed to working on their individual laptops. Instead of gathering in person each morning in their "personal learning communities," they simply signed in to Google Hangouts for a video meeting with their classmates. To sustain their community, students gave one another virtual tours of their home settings. For much of the day, students continued to work in small groups, connected by video, as they tackled their fifth major project of the year. Sophomores are working with staff at Eli Lilly on a specific problem of their choosing that engages the larger question, "How might we expand the healthy human life cycle worldwide?" Upon the project's completion, they will be assessed on three key academic and professional skills.
Students continue to master academic content, aligned with state standards, on Edmentum, an online learning platform, where they watch brief instructional videos and complete online assessments to demonstrate mastery. Small-group academic interventions, or dojos, are now held on Web Whiteboard, and every student receives one-on-one coaching at least once a week. Scott Bess, head of school, explained that individual and group counseling continues and that schools are working with itinerant providers to sustain student services. Even the network's nurse is online and offering virtual yoga classes to students who may be experiencing anxiety. "We believe strongly that there are ways of providing PT and OT in creative ways," he told me. "We've been documenting the time and services we're providing." Bess is undeterred by legal uncertainty over special education compliance and virtual schooling. "We are absolutely not going to say that because we might get sued by someone, we're not going to provide education." He explained that the risk is minimal because his staff stays very close to parents.
Perhaps surprisingly, connectivity proved barely an issue. A few students needed help in obtaining discounted internet connections; the school gave a handful of others mobile hotspots.
Distance learning also launched Monday at Paramount Schools of Excellence, which operates three charter schools educating nearly 1,000 children in kindergarten through eighth grade — 83 percent from low-income households. Paramount's flagship school, Paramount Community Heights, was the highest-scoring school in the state last year. Tommy Reddicks, Paramount's CEO, told me the network began intensive preparations for the pandemic in February. "No teacher didn't understand this might be coming. We took the perspective that we want to be the best in the country at this."
He credits the smooth launch to the network's devotion to systems. "We have top-down buy-in for systems-based and standards-based education, full of rigor," he said. "To protect our investment, we knew we had to be ready to transition with high fidelity." Because digital testing in the state began a few years ago, the school already had one device for every student. An elaborate call center was established in each school to triage concerns from parents, whether regarding technical support, translation services, academic needs or nonacademic needs such as day care — "anything that could be breaking down in the home," as Reddicks put it.
Schools are following an 8 a.m-to-3 p.m. schedule, barely shorter than before. The day begins with two hours of synchronous instruction, with parents and students engaged by chat. Pearson online products continue to be tapped, as before, for both math and reading; teachers can track students' progress throughout the day. Reddicks stresses that K-2 is harder; for now, the school is relying on distributing physical packets and picking them up later in the week.
Reddicks expressed great admiration for parents' commitment. "It's horrifying to see how many parents will be put out of a job" because of the pandemic's disruption. "The levels of stress must be out of control," he said. But on Facebook, parents universally praised the network's characteristic attention to detail.

Eight hours of instruction a day will not be possible, Reddicks recognized. "But we can build up parent rigor over time. We are parent coaches for now. We can tackle this thing here, and that thing there, with them. We can help to find a way to make it work."
Reddicks condemned those who invoked legal obstacles to continuing schools. "It's ethically out of control. It's almost like you're reverse-engineering a reason not to serve kids. These are serious cop-outs. Doing nothing is much worse than doing it virtually. We can't be the ones responsible for our students not moving forward in life."
Indianapolis Classical Schools operates two high schools, Herron and Riverside, offering a classical liberal arts education to a diverse student population of 1,298. Organized as "innovation schools," a form of in-district charter, both schools launched e-learning without delay on Monday. In 2018 U.S. News and World Report ranked Herron, where the student body is approximately half students of color and half white, as the No. 2 public high school in Indiana.
Students sign into Haiku, a digital learning platform, and attend online office hours with their teachers through video calls. Parents and students receive daily automated text messages as assignments are completed. I spoke with one 12th-grade student, Ashantea Gilliard, who will be attending the University of Evansville next year, about her experience with her first days of remote learning. She allowed that it has been emotionally difficult. "I've struggled to have motivation," she told me, "but I'm motivated to graduate." Because of a class trip to Taipei last November, she is behind in her work in Latin and English. She misses her classmates and their vivid personalities. "It's isolating," she said. Some students have set up group chats and are working on assignments together. In a blow to the school's community, an athletic coach was diagnosed with COVID-19 last week, but staff and students continue to press forward.
As the pandemic gains force, it may be that the already vast discrepancy in quality among schools in the United States will be obscenely amplified. Schools, networks and districts like Purdue, Paramount and Indianapolis Classical will move insistently to preserve their students' education: schools that are determinedly focused on results and fueled by a can-do spirit, benefit from a distinctive vision and accompanying rituals and traditions, deploy richly developed and vigilantly maintained systems and structures, and enjoy the passionate subscription of staff and parents. At least for now, schools lacking these assets will hesitate and, ensnared by legal and compliance concerns, either remain closed altogether or point students to an incoherent array of online resources. What then will happen?
Steven Wilson is a senior fellow with the Center on Reinventing Public Education and founder of Ascend Learning, a network of tuition-free, liberal arts charter schools in New York City.
Get stories like these delivered straight to your inbox. Sign up for The 74 Newsletter