Will Preschools Survive the Pandemic? Ailing Cleveland Pre-K Programs Hope Federal Funds Can Salvage Seven Years of Progress Among High-Poverty Children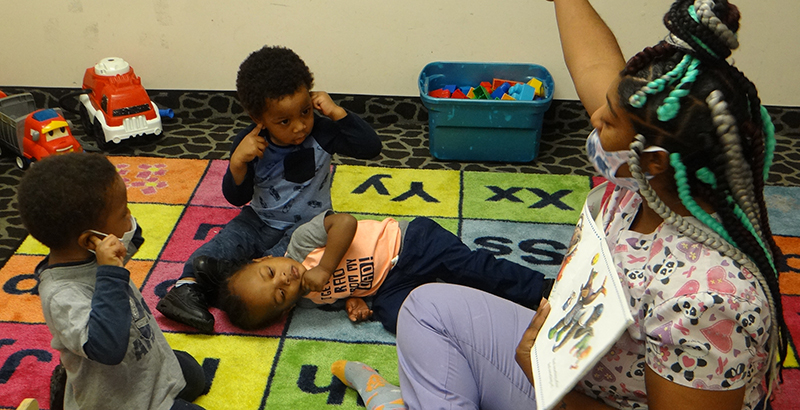 Victoria Smith has kept her two child care centers in Cleveland open during the COVID-19 pandemic by taking out loans and digging into savings.
Her two Developing Character Child Enrichment Academies, which used to have more than 100 children paying tuition or bringing state child care payments to her business, now enroll about 30.
The 10 cribs normally filled with infants all sit empty.
"The business is in a tailspin," said Smith, who is anxiously waiting to hear how much help the latest federal pandemic relief package will give her. Though Congress set aside $10 billion for child care centers like hers last month, details of what aid each center can expect to receive is still being sorted out across the country.
In Ohio, there is currently no timetable for when the money will be released, while Cleveland's seven-year effort to put more poor kids in preschool tries to survive. "I don't know what's going to happen," said Smith.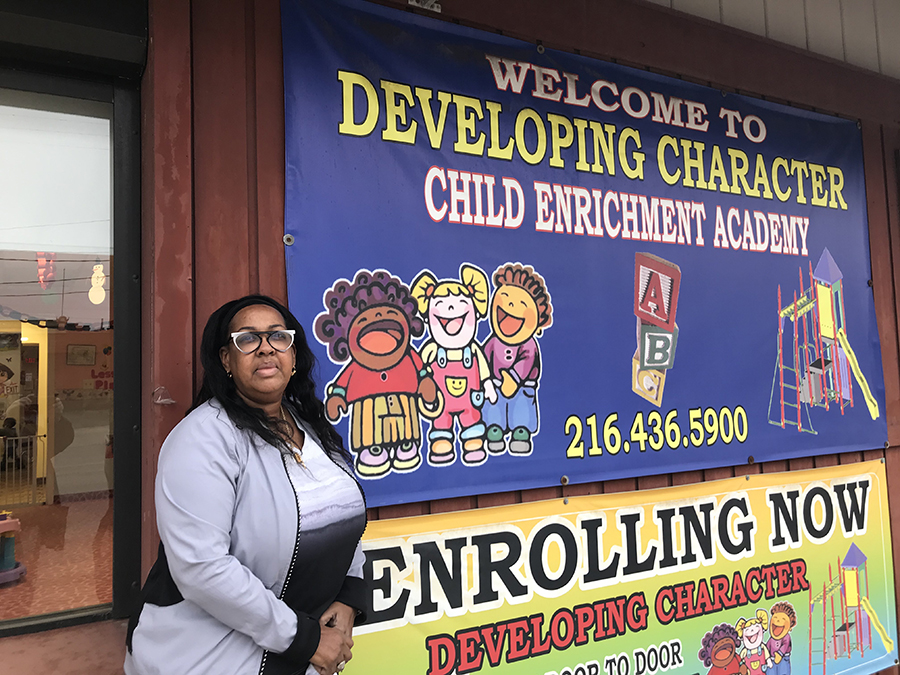 Child care centers and preschools nationally are struggling to survive during the pandemic, as they try to maintain payroll, pay rents and stay open even as students have vanished. About 56 percent of centers are now losing money every day and 44 percent don't know how long they can stay open, according to a survey late last year by the National Association for the Education of Young Children. Ohio preschool and child care advocates estimate that enrollment is down about 50 percent in centers across the state.
The drop is of particular concern in Cleveland, which relies on private child care centers that double as preschools to help its high-poverty three and four year olds with academic and social skills.
There is broad consensus that high-poverty students like those in Cleveland, which has the highest child poverty rate of any city in the nation, need the social and academic help of preschool just to avoid falling helplessly behind suburban kids.
Since 2013, a citywide partnership of the city, school district and other advocates called PRE4CLE has been working to increase the number of kids in high quality preschools. Though Cleveland has not sought a dedicated tax for preschools, like San Antonio, Seattle, Denver and Cincinnati did, PRE4CLE has found smaller grants, organized teacher training and counseled preschools across the city to improve them academically.
Since starting in 2013, PRE4CLE has helped to gradually increase the number of kids in high quality preschools – those with strong academic programs – from less than 2,900 in 2013, to more than 4,900 in 2019.
Then COVID hit and that total crashed to 2,400 this fall – fewer than when PRE4CLE started. That leaves a little more than one in five of the city's preschool-age kids receiving the early help that researchers say high-poverty kids need.

Smith said her enrollment never recovered after the state shut child care centers in March for a few months. She has been trying since the summer to ask families why they do not return.
"There was a few that stayed with aunts and uncles," she said. "There were a few that were scared and just didn't want to come and some we just weren't able to track."
There's also a real danger of the damage lasting even after the pandemic eases, if preschools like Smith's don't survive. Cleveland school district preschools and those that are part of the federal Head Start program, should outlast the pandemic, but PRE4CLE Executive Director Katie Kelly said 85 percent of early learning seats in Cleveland are in private centers that are in danger of shutting permanently.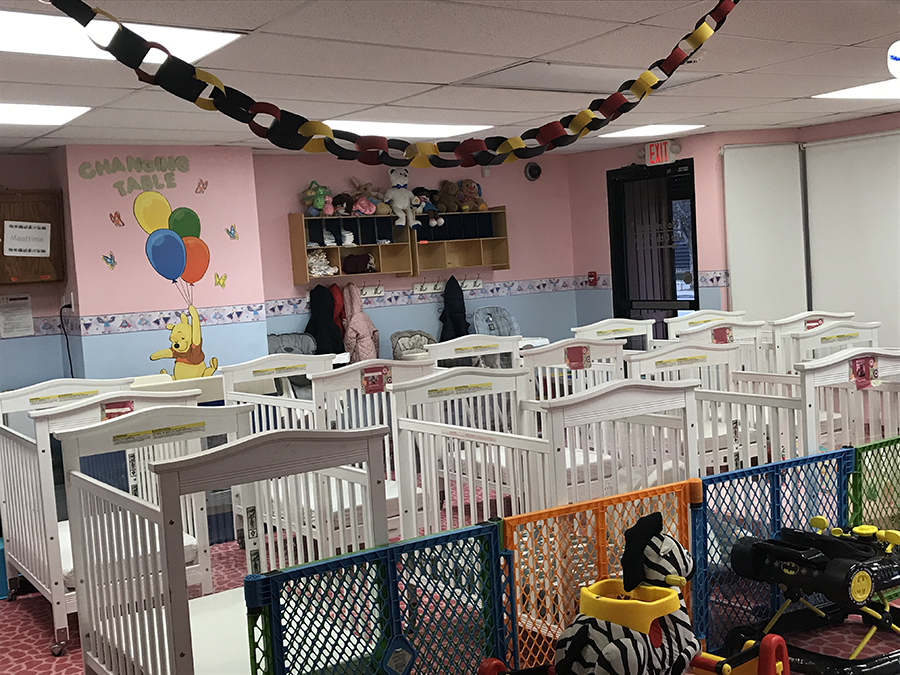 Smith has avoided closing so she wouldn't have to lay off all of her staff; and so people would remember her center when the pandemic eases. So she took two Paycheck Protection Program "loans" in the spring, $16,000 for one center and $18,000 for the other, that she won't have to pay back. But payments are starting to come due on another disaster loan she took out through the Small Business Administration.
She has also cut costs. Employees with their own children left to care for their kids at home and she has scaled back her staff from 12 to seven by eliminating cleaners, drivers that would take school-age kids to school, and a cook for one of the buildings.
So Annette Lumpkins, who has worked for Smith for 10 years, cooks one hot meal at one center and delivers it to the other every day.
"As soon as I make them, I run them up, five to 10 minutes to the other one," Lumpkins said, as she ladled chicken and rice, green beans and pineapple into plastic containers.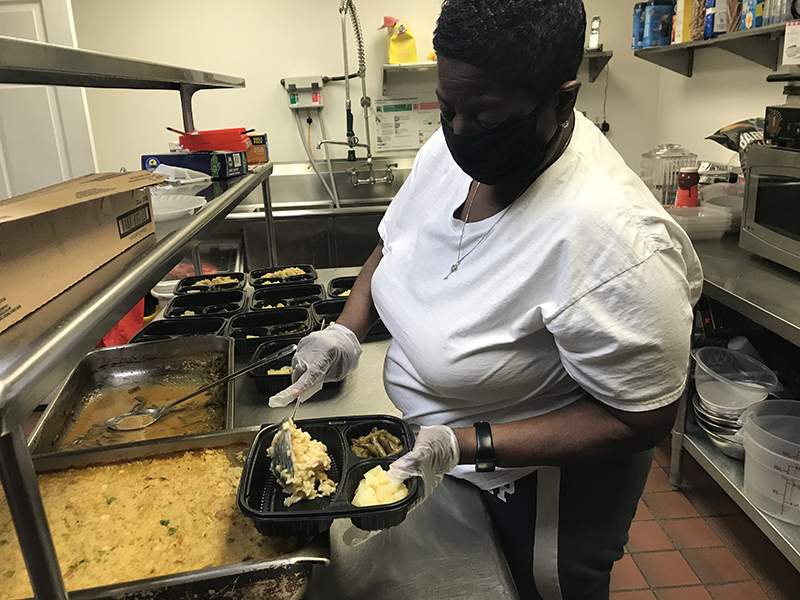 Other child care owners are in a similar position. Dave Smith, executive director of Horizon Education Centers, which has three child care centers in Cleveland and eight others in the region, estimates that without federal aid, his centers would eat through their savings in 11 more months.
"The big challenge is how long is this emergency going to last and when will people come back to the centers?" Smith said. "If we spent all of our money saving our bacon now, what are we going to do when September hits?"
Kelly is hopeful the stimulus money will help, though she had joined preschool advocates nationwide seeking a much larger amount — $40 to $50 billion — for child care in the relief package. Advocates are still sorting out, state by state, how the $10 billion Congress provided will be handed out — as loans, or grants, or as reimbursement for personal protective equipment, or as higher payments for each student — and how long that money can keep centers afloat.
Ohio's Department of Job and Family Services has so far confirmed only that Ohio will receive about $330 million for child care, but it hasn't released a plan for disbursing money yet. That total is in line with what the Center for Law And Social Policy predicted in its state-by-state estimates last month, while saying the total falls "woefully short" of what is needed.
Other national preschool advocates like the First Five Years Fund say more will be needed to keep child care centers in business and help them rebound after the pandemic.
"The $10 billion is a down payment for what we know is a much greater need," said spokesman Charlie Joughin. He is watching what President-elect Joe Biden will include in his proposal for a third round of pandemic aid, expected to be announced within days.
Todd Waldron, treasurer of the Ohio Association of Child Care Providers, said $10 billion sounds like a lot of money, but when spread out nationally, it doesn't leave enough for each center.
"It's going to help us, but we're still going to have a problem," he said.
Smith said she's hearing that she can apply for another payroll protection "loan" that would be a big help, for now. And she can add to her disaster loan, but she is not sure she is willing to take on more debt.
She's just trying to stay optimistic.
"I think I'm going to make it," she said. "Every day I tell myself that. Some days are scarier than others, but if it turns around by the summer I'm going to be OK."
Get stories like these delivered straight to your inbox. Sign up for The 74 Newsletter