Will Personalized Learning Become the New Normal? Inside Rhode Island's Statewide Tech Initiative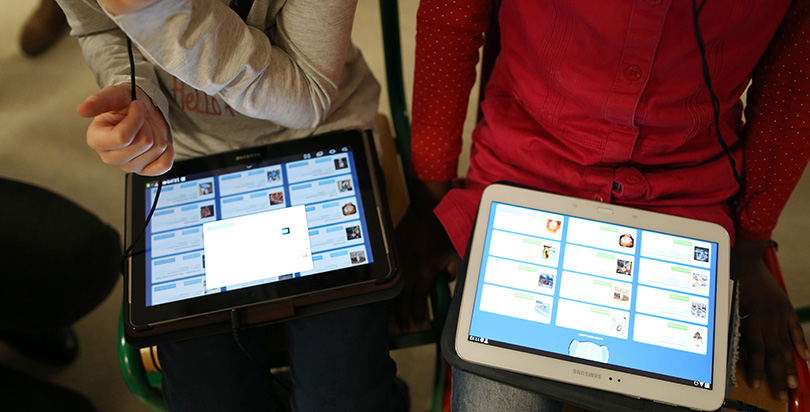 Over the past few years, Rhode Island has emerged as a national leader in the drive to put personalized-learning programs into actual classroom practice. Now education leaders in Providence, the state's capital and most populous city, are looking to scale their early efforts statewide, pushing district leaders to think bigger about pilot programs and technological infrastructure, while also commissioning new research on how an understudied learning model could drive student performance.
The state's six-month-old, $2 million public-private personalized-learning initiative is capitalizing on the freedom afforded by the Every Student Succeeds Act (ESSA), the nation's federal education law, which returns significant power to the states, to chart and test how personalized instructional techniques can be delivered to its 140,000 K-12 students. Broadly speaking, personalized learning tailors the instruction, content, pace, and testing to the individual student's strengths and interests, using technology, data, and continuous feedback to make that customization possible.
The ability for states to more fully explore innovation through technology and curriculum paths separate from traditional reading, writing, and math — rather than following the federal government's lead — was a key aspect of ESSA's original intent.
In shifting authority and autonomy back to local leaders, the education law, which replaced No Child Left Behind, earned widespread support from a bipartisan coalition of lawmakers; then-President Barack Obama even dubbed its passage in 2015 a "Christmas miracle."
"Could you do some of this stuff before ESSA?" asks Richard Culatta, Rhode Island's chief innovation officer and the former director of educational technology at the U.S. Department of Education. "Certainly it would have been possible, but it would have been harder to do. With our additional flexibility, we are up at the front of the line taking advantage of it."
A statewide 'proof point'
Rhode Island is accepting applications for its new Lighthouse program, giving schools the opportunity to apply — through a challenge process — to serve as schoolwide personalized-learning models. Already in that pipeline are the Rhode Island Mayoral Academies, a public charter school network that uses the Summit Basecamp learning platform at its Blackstone Valley Prep. The free digital learning platform, created by Summit charter schools and Facebook, provides curricula, student projects, and teacher resources and support to some 130 schools, 1,100 teachers, and 20,000 students.
"Our goal is to meet the kids where they are and help them be their best; that has been our charge from the beginning," says Blackstone executive director Jeremy Chiappetta. "In order to meet them where they are, you need to understand where they are across a broad spectrum and you have to be able to track it and push people."
Chiappetta points to Blackstone as a key incubator that will inform and shape the state's larger personalized-learning vision. "We need to be a proof point," Chiappetta says, "an open door for others to learn from us and give feedback to the Rhode Island initiative. It is really powerful, and we are helping fulfill the vision as others are exploring."
The Lighthouse program is funded in part by the Chan Zuckerberg Initiative, a three-year $3 billion investment by the pediatrician Priscilla Chan and her husband, Facebook founder Mark Zuckerberg, to advance science and education. Other funders include the Jaquelin Hume Foundation, the Nellie Mae Education Foundation, and the Overdeck Family Foundation.
---
VIDEO: How personalized learning can change classrooms, in 2 minutes
---
Rhode Island hopes to have the pilot schools vetted and chosen by this summer, with the goal of implementing a personalized-learning program by the start of the 2017–18 school year.
"We are providing resources to help them build out their plans," Culatta says. "We will select a couple of schools to win the challenge and want to help a broader number of schools to build plans. Even if we can't fund them [all], it leaves them with a solid step to build out a plan on their own."
Culatta is working closely with Daniela Fairchild, the director of education for Governor Gina Raimondo's office of innovation. The office, a quasi-governmental agency working with educators across the state to spur, seed, and accelerate innovation through technology, released a paper in late February that tackled the uneasy task of defining personalized learning for every educator in Rhode Island, further solidifying the three essential components that have been laid out by the U.S. Department of Education: pace of learning, definite learning objectives for each student, and defined instructional approaches.
"The paper is great to create common understanding," Fairchild said. "Action steps that came out of the paper, the big things, were folks wanting to get connected to more research, to answer some specific questions around implementation, and to see locally some real examples and models of personalized learning."
In February, in an interview with EdSurge, Fairchild laid out the broader plan: that the state is looking to "leverage our work with our partners to scale personalized learning and become the first state in the nation with a new model on a systemic level."
Expanding personalized-learning research
That system-wide model will also be constructed using new personalized-learning research. Fairchild says the state is now building a network that will pair higher-education researchers to the K-12 practitioners who are implementing the plans in the classrooms. A key component of this network is that it will extend beyond education researchers, connecting elementary and high school educators with academics from a variety of disciplines.
"We are connecting so practitioners are getting answers in real time," Fairchild says. "If it is just education [researchers], you miss out on network approaches, organizational structures, social networks, cognitive sciences, and so many other disciplines. We are hoping to break down some of those silos and connect some of those [other] researchers."
Existing research on personalized learning is limited in both depth and scope and is often tied to smaller efforts. According to Education Week, the most comprehensive study to date was conducted by the Rand Corporation in 2015, studying how personalized learning shaped the learning of 11,000 students across 62 schools.
"The results look fairly promising," says John Pane, one of the Rand researchers, "but the research method is vulnerable to bias. There was evidence of promise that suggests it could be positive, but more work has to be done."
Pane says giving students more individualized attention has proved powerful in past research, but scaling personalized learning with technology presents a new, modern method that simply hasn't been tested. Studying entire schools that are looking to implement the approach across the board offers an ideal research opportunity.
A major component of Rhode Island's research will focus on the role of technology in facilitating and measuring learning at a student's desired pace. State leaders say that rolling out personalized learning plans to every student in a given school will help define that sweet spot.
"One thing we say, kind of jokingly, is one of the biggest challenges is: When do you use technology? And the second challenge is: When do you not use technology enough?" Culatta says. "Finding that balance is really key."
Critics of personalized learning argue that too much faith has been placed in the use of technology altogether as it relates to student learning and that putting students in charge of their own learning paths and the pace at which they tackle and master new information can be counterproductive.
But anecdotally, education leaders across Rhode Island — including the head of Providence Public Schools, the state's largest district — say that they've already seen the benefits of a personalized-instruction approach that gives schools greater autonomy.
"Providence is committed to school-based autonomy, with each school involved in choosing its own technology and instructional methods to support personalized learning," says Christopher N. Maher, the district's superintendent. "By owning these choices, school leaders and teachers truly buy into personalized-learning concepts and practices. Through professional development led by groups such as Summit Schools and the Highlander Institute [a Providence-based education nonprofit], our teachers and administrators have learned how to use real-time student data to shape instruction so that they can meet each child where that child is at academically." 
More engaged students; more engaged teachers
Maher sees this personalized-learning approach increasing engagement on both sides of the classroom. Educators are better able to focus their time and attention on helping students with problem areas and lessons that have them struggling, while kids have a greater sense of control over the pacing and direction of their learning.
"Personalized-learning technology helps students choose subjects they find personally meaningful and culturally relevant," he said. "In Providence, the push toward personalized learning has led to greater student voice, with students and teachers working side by side to create a new ethnic studies curriculum now piloted in a number of our schools this year."
Leaders say that as the state has invested more time, energy, and money in these personalized-learning efforts, Rhode Island educators have embraced the challenge of turning the conceptual into the commonplace.
"There are already a lot of groups thinking about this and doing a lot of good work," Culatta says. "How do we help push and really expand the implementation?"
Beginning this fall, Rhode Island is poised to find out.
Support The 74's year-end campaign. Make a tax-exempt donation now.