Will Making the FAFSA More 'Fun' Help Get Pell Grants Into Students' Pockets?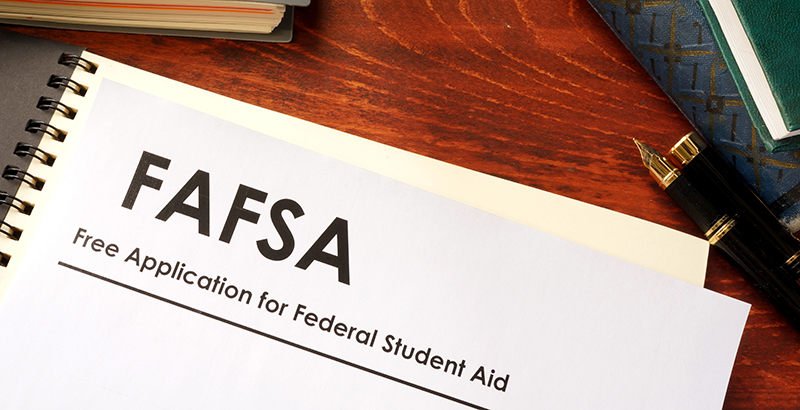 No paywall. No pop-up ads.
Convincing students and parents to fill out the Free Application for Federal Student Aid, or the FAFSA, can often be a losing battle – and completion rates are low in many states across the country.
In Louisiana, state officials have gotten students excited about what seems like a tedious task by turning it into a competition among high schools.
In addition to offering typical FAFSA workshops and seminars, the state took FAFSA-form-filling tables to social events. Twice, before the pandemic, there were pop-up FAFSA events at basketball tournaments, so spectators and athletes and their families could get the important form done while also cheering for their team.
"You know, sports and food here in the South. We love sports and food," said Tireka Cobb, field outreach services director with the Louisiana Office of Student Financial Assistance.
Each month, the students from the school with the greatest gains in FAFSA completion earn bragging rights when their school's name is in the winner's spot.
But the real prize? Money for college.
Across the country, the high school class of 2021 left more than $3.75 billion in federal aid unclaimed, a direct result of not filling out the FAFSA, according to an analysis of federal student aid data by the National College Attainment Network (NCAN). More than 1.7 million students did not fill out the FAFSA; if they had, NCAN estimates that about 813,000 of them would have been eligible for Pell Grants, the federal financial aid for students with significant economic need.
To help students take advantage of the grant money the federal government sets aside for them, NCAN recommends that states implement policies similar to Louisiana's, which requires that students fill out either the FAFSA or opt-out forms in order to graduate. Advocates say that these FAFSA requirements must come with training for educators and counselors, so that students are supported, and so they understand why filling out the application is so important.
Bill DeBaun, director of data and evaluation at NCAN, said that students who think they can't afford college and don't qualify for aid might think college is out of reach. But if they filled out the FAFSA, they might realize they do qualify for grants that could make college possible, he said.
"Requiring the FAFSA for high school graduation puts it more prominently on the radars of district and school practitioners, and also students and families; it's a clear signal states are sending that FAFSA completion is important," said DeBaun, one of the authors of the report. "And also that considering a postsecondary pathway is also important."
This is the first time NCAN has analyzed Federal Student Aid data this way, but their work is modeled closely after an analysis done by the site NerdWallet in 2017 that found $2.3 billion in federal aid went unclaimed, and NCAN said about 61% of high school seniors filled out the FAFSA. NCAN's analysis of 2021 data found that about 53 percent of seniors completed the FAFSA, and $3.75 billion went unclaimed.
About 68 percent of Louisiana high school seniors completed the FAFSA in 2021 – the second highest percentage of any state, after Tennessee – but $44 million still went unclaimed, according to NCAN's analysis. A report from the Louisiana Financial Aid Working Group shows that FAFSA completion had risen to 85% in 2019, before the pandemic changed circumstances and allowed any student to use hardship waivers that are otherwise rarely granted.
Beyond working to get buy-in from students, Louisiana trained staffers and added support so that school counselors weren't figuring it out alone. The state deployed workers from the Office of Student Financial Assistance and the Department of Education to travel around the state and help run events to help families complete the application. During the pandemic, they ran virtual workshops and offered one-on-one support via Zoom.
Cobb, of the Louisiana Office of Student Financial Assistance, said she thinks the new efforts are working because she feels a sense of pride from schools around the state as they push each other to get more FAFSAs submitted and rise to the top of the leaderboard.
"Requiring the FAFSA for high school graduation puts it more prominently on the radars of district and school practitioners, and also students and families; it's a clear signal states are sending that FAFSA completion is important."
To graduate, students must fill out one of four forms: the FAFSA; a state merit scholarship application that doesn't require family financial information; an opt-out form, or a request for a waiver from the school.
Because many find the FAFSA to be complicated and because significant postsecondary funding depends on it, Louisiana's Office of Student Financial Assistance has taken to running monthly error reports on the applications that students submit. For example, the report can identify a missed signature or empty box, so the office can alert the student and help them fix the error.
Louisiana was the first state to make filling out the FAFSA a high school graduation requirement, in the 2017-2018 academic year, and several states have followed with similar policies since then.
California, where students left more than $560 million in Pell dollars unclaimed, according to the NCAN analysis, will be among the next to implement a universal FAFSA policy, after a bill passed in the state legislature last year.
The state California Student Aid Commission is still figuring out exactly what the policy will look like in practice, but it's clear that, like Louisiana, California will give students and families the chance to opt out of the FAFSA graduation requirement.
Catalina Cifuentes, chair of the California Student Aid Commission, said the opt-out provision is to protect students ineligible for aid, such as undocumented students, from being barred from graduating. Undocumented students are ineligible to receive federal aid and will instead be required to fill out the Cal Dream Act application for state aid (or opt out). There will also be a more general opt-out provision for families who, for one reason or another, don't want to complete the form.
Audrey Dow, senior vice president at the Campaign for College Opportunity, said she is hopeful about what the policy can do for California. She encouraged careful tracking to make sure the policy implementation is equitable from region to region.
Marlene Garcia, executive director of the California Student Aid Commission, said students who think they can't afford college often rule themselves out as potential college students before they apply for the FAFSA and learn that they are eligible for aid. The more information they have, the more options they will have for their future, she said.
"I think the worst scenario would be that if these are students that are already convinced they are not college material, that they just say, 'Why am I going to fill out this form? I'm not going to go to college,' and just opt out," Garcia said. "We have to be bold in helping students understand that most any good, livable-wage job requires some training or education beyond high school."
This originally appeared at The Hechinger Report and is published here in partnership with the Solutions Journalism Exchange.
Get stories like these delivered straight to your inbox. Sign up for The 74 Newsletter