Why Does NEA Want Julie Su to Be the Next Secretary of Labor?
Analysis: In what appears to be an unprecedented move, the union publicly endorsed the candidate — before her nomination was announced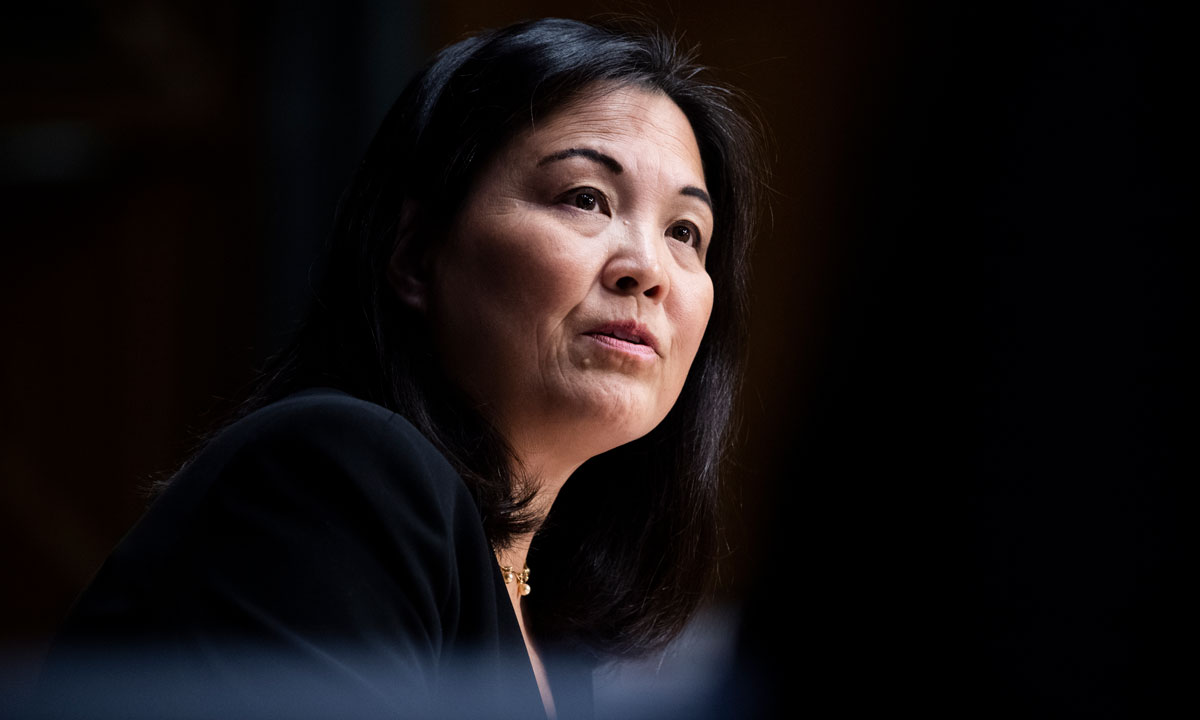 Get stories like these delivered straight to your inbox. Sign up for The 74 Newsletter
In what appears to be an unprecedented move, the National Education Association has publicly announced its support for a potential U.S. secretary of labor.
In a Feb. 11 letter, NEA President Becky Pringle urged President Joe Biden to nominate Julie Su, currently deputy secretary, to replace Marty Walsh, who is leaving to become executive director of the National Hockey League's players union.
It is common for interest groups to support their favorites for cabinet offices and other high-ranking federal positions. But I can find no previous occurrence of NEA publicly endorsing a candidate prior to his or her nomination — not even when one of its own, former NEA President Lily Eskelsen García, was being considered for education secretary in December 2020.
NEA's change in tactics may have its roots in that time period, when newly elected President Biden was forming his first cabinet. Su was on the short list for labor secretary, but Democrats were divided over several candidates. Walsh was selected because of his union background, his close relationship with Biden and endorsements from the AFL-CIO and the American Federation of Teachers.
Though it is the nation's largest union, NEA did not back a candidate.
When Su was passed over, it disappointed her supporters, most notably Asian-American advocacy groups. Biden's cabinet does not contain anyone of Asian-American descent. Being the deputy secretary, Su is an obvious choice this time, and the Congressional Asian Pacific American Caucus is among those lobbying hard on her behalf.
There are other contenders for the job, with powerful people in their corner. Rep. Nancy Pelosi reportedly wants former New York Rep. Sean Patrick Maloney. Sen. Bernie Sanders likes Sara Nelson, president of the flight attendants union, or former Labor Secretary Robert Reich.
NEA's decision to publicly support Su this time may have to do with cabinet diversity, or the desire to show itself as a driving force in organized labor. But what appeals to the teachers union about Su herself isn't entirely clear.
In her letter to Biden, Pringle lists among Su's accomplishments as deputy secretary being a "skilled messenger," overseeing the workforce "tactfully and with kindness" and traveling across the country "promoting the work of the Department and Administration."
And while NEA considers teaching experience a prerequisite for being education secretary, it doesn't hold the same standard for labor secretary. Su is a former civil rights attorney with no union experience.
Almost two-thirds of Pringle's letter is cribbed from a March 8, 2021, letter from Marc Egan, NEA's director of government relations, to the Senate, urging a yes vote for Su's confirmation as deputy secretary.
Not that it will matter, but California Republicans are squarely against Su, due to her tenure as the state's labor secretary. During her watch, California paid out an estimated $32.6 billion in fraudulent unemployment insurance claims.
NEA may get its wish and see Su installed as labor secretary, but it will take more than any efforts on her part to reverse decades of union decline. Membership losses have continued unabated through both Democratic and Republican presidential administrations. Biden's will be no exception.
Mike Antonucci's Union Report appears most Wednesdays; see the full archive.
Get stories like these delivered straight to your inbox. Sign up for The 74 Newsletter