Who Let the Dogs in the Yearbook? Why More Schools Are Honoring Canine Companions as Invaluable Classmates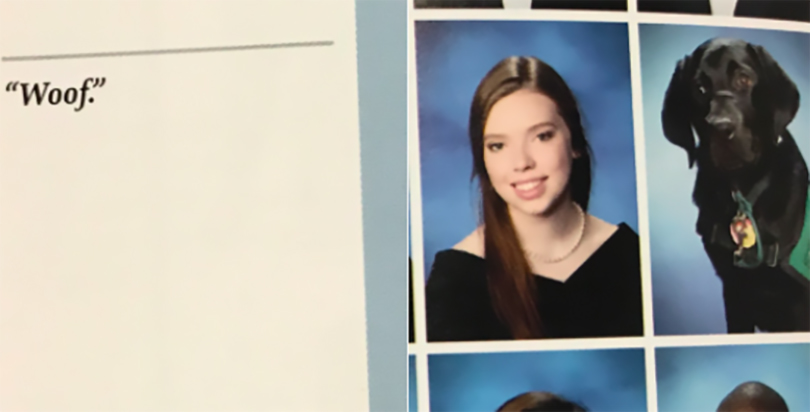 This article is one in a series at The 74 that profiles the heroes, victories, success stories, and random acts of kindness to be found at schools all across America. Read more of our recent inspiring profiles at The74million.org/series/inspiring.
They spend more time with students than parents and teachers combined. So it's only fitting that service dogs are starting to take their proper place in school yearbooks.
As the academic year ends, social media is filled with pictures of service dogs posing alongside their two-legged student and faculty peers.
---
This is why Creek's the best! Even the service dog made the yearbook. ??? pic.twitter.com/on1rnPShnV

— Amy King (@cchspals) May 19, 2017
---
It's a way to share how important service dogs are for students, especially as the animals often become the focus of special education battles. In February, for example, the Supreme Court
unanimously ruled
in favor of a student with cerebral palsy, saying she and her family could sue her old school district for having barred her goldendoodle from class.
In Texas, student journalists at Timber Creek High School
first reported
the story behind student Kathryn Campbell's service dog, Soldier. The golden retriever is Kathryn's companion, calming her anxiety when she's in a new place. He's there for her through her seizures, which can cause memory loss. "[Soldier] provides consistency and stability for her," Kathryn's mom, Kim Campbell, told the Timber Creek Talon. "[Soldier and Kathryn] spend almost 24 hours a day together … [they] are a team."
---
---
A Virginia student, Andrew "AJ" Schalk, shared the story of his service dog, Alpha, with
BuzzFeed
after Alpha's very unassuming yearbook photo was retweeted thousands of times.
"The amazing thing about Alpha is that he knows 20 to 40 minutes before my blood sugar actually does go low or high due to his amazing sense of smell," said AJ, who has Type 1 diabetes.
---
---
That's also why Florida second-grader Ethan brings his service dog Ketch to school. "Ketch is pretty much like my brother," Ethan said in an interview video with
The Education Network.
---
can we just take a minute to appreciate the fact that my cousins diabetic alert dog got a picture in the yearbook pic.twitter.com/6vNuWi3vVu

— gkelly (@gracekellly) May 20, 2017
---
Some dogs who assist faculty members earn a place in the yearbook next to other educators.
---
My old highschool has a service dog and they took his pic for the yearbook pic.twitter.com/JsDiOLVVs7

— Becca (@Thatsbec) April 28, 2017
---
At Blaine High School in Minnesota, two therapy dogs became an internet sensation a few years ago for their place among the staff pages. Vicky Camacho, a special education paraeducator, shared with The 74 some of the things her two English mastiffs help students with: lifting spirits and lessening depression, reducing feelings of isolation, encouraging communication, and helping children overcome speech and emotional disorders.
"When the dogs walk through the halls with me, I see most of the students' faces glow with happiness, love, and compassion for pets," Camacho said in an email to The 74.
---
Check out the Yahoo! News Canada article about the service dogs at BHS. http://t.co/sVDT2dOkiQ pic.twitter.com/3ydBVbmaks

— Blaine High School (@BlaineHS) June 2, 2015
---
Just a few of the many reasons some call them legendary.
---
This is from one of my area high schools, where Hillary Clinton attended. Service dog made the yearbook. THIS SCHOOL PRODUCES LEGENDS. pic.twitter.com/0g3jHSy0Oc

— Tina (@TinaCannotDance) May 14, 2017
---
---
Get stories like these delivered straight to your inbox. Sign up for The 74 Newsletter