Whitmire: In the State That Created High-Performing Charter Networks, College Success Is Lagging Behind Others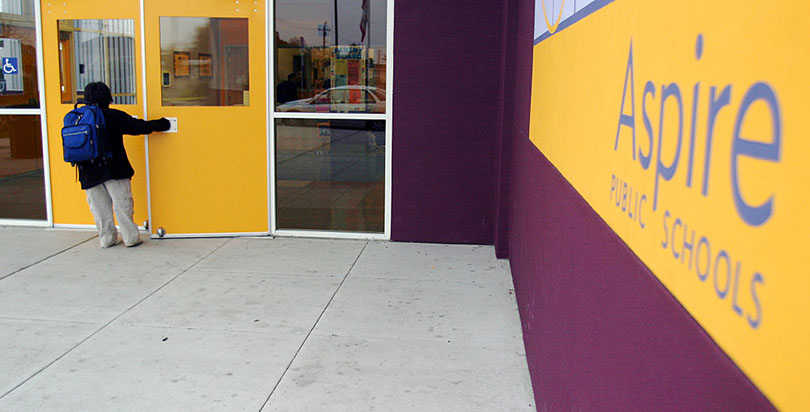 This essay is part of the ongoing multimedia series by Richard Whitmire called The Alumni, which focuses on the efforts being made by America's top charter networks in guiding alumni to — and through — college. Read all our school profiles here, and be sure to visit The Alumni microsite to see other essays, videos, graphics and profiles of the educators and students leading a college success revolution: TheAlumni.The74Million.org.
First, the good news: Alumni from nine of the country's major charter networks are earning bachelor's degrees at far higher rates (three to five times as high) than the general population of students from low-income families, among whom only 9 percent of students earn four-year degrees.
But still, embedded within the good news was a troubling finding: Of those nine networks, three were California-based — and all three ended up on the bottom of the college success list. Alliance College-Ready Public Schools and Aspire Public Schools are seeing 25 percent of their graduates earn four-year degrees within six years of leaving high school. For Green Dot Public Schools, their college success rate — while a bit iffy due to very rough data — is probably even lower.
Now compare that to New York–based Uncommon Schools or Houston-based YES Prep, where roughly half the graduates earn four-year degrees in that time period.
For me, this was especially surprising. Only a year ago, I documented in The Founders the origins of the nation's high-performing charter networks. The state that turned out to be the star was California.
The first charter school in the country was born in Minnesota, but the origins of today's higher-performing charter school networks can be traced to California. That's where a state law signed in 1998 not only opened up the spigot for charters but allowed one governing board to oversee multiple charter schools. That led to Aspire Public Schools, the nation's first charter management organization — a model that became replicated nationally, and a model that produces nearly all the best charters.
California is also home to the New Schools Venture Fund, which applied Silicon Valley startup investment strategies to charter school startups, an innovation that allowed the nation's highest-performing charter networks to expand quickly.
Given all that, it's jarring that California is not leading the national push to sharply boost the college graduation rates of charter school alumni.
It would be tempting to say that poverty rates make the difference, or perhaps the number of students who arrive at school speaking only Spanish. Certainly, California schools take in huge numbers of students who speak only Spanish at home, and they enroll large percentages of low-income children.
The California Charter Schools Association gathered federal education data comparing Los Angeles to Massachusetts, which has the highest-performing charter sector in the country, and produced a convincing report saying that the L.A. charters serve a far larger, and far poorer, student population. It has a point.
But serving high-poverty students is also true of networks with far higher college success rates like YES Prep in Houston, as well as Uncommon Schools in Newark and the Brownsville neighborhood of Brooklyn. I've visited charters in those neighborhoods, as well as California charters in East L.A., and the poverty challenges seem similar.
Perhaps it's a matter of per-pupil state spending; there's a good case to be made there. The California charter schools receive only about half of what Uncommon Schools is able to spend in its neighborhoods.
But then look to IDEA Public Schools, which got its start in the incredibly high-poverty Rio Grande Valley. The network gets roughly the same funding as its California equivalents, and yet its college success rate is 35 percent. And IDEA certainly doesn't take in students who are better off than students moving to East L.A. or who are more likely to speak English at home.
If anything, the California charter networks have a huge college advantage. In the Rio Grande Valley, there's no University of California, Los Angeles, willing to give smart poor kids a chance; nor is there a network of California state universities to send graduates.
But there is one common trait shared by the three California networks: They all got late starts, at least when compared to the East Coast networks, in setting up tracking systems to follow their alumni through college, stepping in to offer help when needed.
The network of KIPP Public Charter Schools was the pioneer here. Back in the 2008–09 school year, KIPP changed the name of its KIPP To College Program to KIPP Through College, a minor name change that launched scores of new college preparation programs as well as an elaborate initiative that tracks their alumni through college.
That KIPP program was soon mimicked by other charter networks. Today, charter networks like Uncommon and Achievement First track every graduate, continuing to offer counseling until the day that a college diploma gets awarded.
But when all this was happening, the California charters were busy struggling with both expansion and budgets.
In the same year that KIPP launched KIPP Through College, Green Dot took over the famously low-performing Locke High School, an audacious move done on a scale not matched by any East Coast charter network. Alliance, meanwhile, was expanding its high schools at a dizzying rate — up to 15 now.
There's more.
At the very time East Coast charters were building college tracking systems, California charters were fighting for their lives, trying to survive when state spending was both low and erratic. Between 2008 and 2012, the state cut spending by nearly $10 billion. Only in recent years have those budgets improved.
Charter school boards were presented with proposals to launch KIPP-like student tracking programs, but the state funding was never stable enough to get started, recalls Aspire founder Don Shalvey, now a charter funder at the Bill & Melinda Gates Foundation. The decision then was to keep the focus on the K-12 grades.
At roughly the same time, California higher-education institutions got slammed with budget cuts, making it harder for students to get into the classes they needed to graduate. That proved to be devastating to low-income students, said Simon Linsley, who oversees college success guidance at Alliance. Once off-track for graduation, they take jobs and then never return. It got so bad at the community college level that Linsley could only offer renegade advice.
"I would tell them to go to campus, walk into a class, sit down and make the teacher kick you out — all in the hope that the teacher would allow them to register," Linsley said.
In recent years, budgets have improved, and all three state networks — Alliance, Green Dot, and Aspire — now seem invested in this new cause. But all three are far behind East Coast charter networks — and not likely to catch up for many years.
The California charter networks did what they had to do to survive the budget crises, but based on the college success rates seen among the other networks, that lag means thousands of low-income students who could be winning degrees are instead struggling. Not nearly as badly as their counterparts in traditional schools, but struggling.
Considering the state's illustrious history in pioneering charter innovation, that's unfortunate — and worthy of a big push to correct.
Richard Whitmire, author of The Founders: Inside the Revolution to Invent (and Reinvent) America's Best Charter Schools, is currently publishing The Alumni, a multiseries multimedia project on charter school college success rates.
Get stories like these delivered straight to your inbox. Sign up for The 74 Newsletter