Whitmire: Decrying 'One Size Fits All,' Hickenlooper Lays Bare Democratic Party's Deep Divide Over School Choice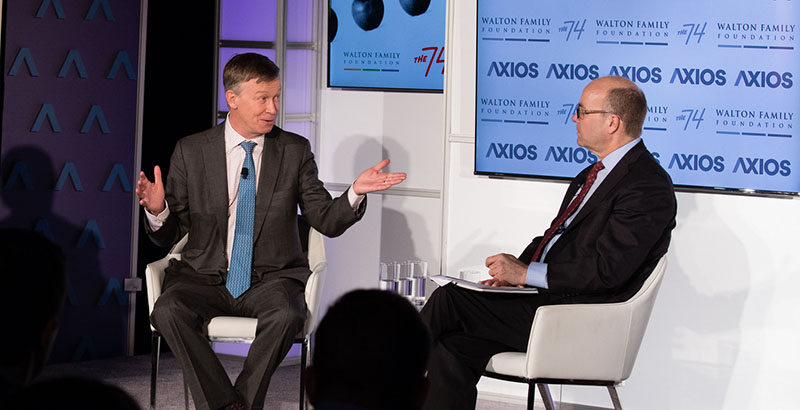 Many might assume that Colorado Gov. John Hickenlooper was only spouting bromides when he answered Axios's Mike Allen's question: What's the most common education mistake made around the country?
The governor's answer: Assuming that there's a "one-size-fits-all solution" for improving education outcomes.
That sounds somewhat simplistic. Who's in favor of one-size-fits-all solutions? But among splintering Democrats these days, those can be fighting words — words that may haunt Hickenlooper if he pursues a much-talked-about presidential bid.
The governor spoke at "Raising the Bar: A Conversation on Education," an event moderated by Allen and presented by The 74 and the Walton Family Foundation. Govs. Jeff Colyer of Kansas and Roy Cooper of North Carolina also spoke at the town hall event.
Hickenlooper said he once assumed that the silver bullet for poor education outcomes was a longer school day and longer school year. Instead, what he and other Colorado political and education leaders created there is a full plate of options for parents, especially in Denver, where a "portfolio" district offers families the ultimate in school choice: traditional, charter, or experimental schools run by the district.
But allowing parents robust choice isn't popular among the new left Democrats, the very same Democrats who in California, for example, refused to endorse the state's senior senator, Dianne Feinstein, for her re-election bid.
Her fault? She wasn't as progressive as rival state Senate leader Kevin DeLeon, not as fiercely anti-Trump.
At that same San Diego meeting where Feinstein was shunned, the new left Dems did their best to create a platform that would force charter schools to behave more like district schools — thus pushing parents back into one-size options. The dynamics are pretty simple: The teachers unions rule the Democratic Party, and the unions dislike the mostly nonunion charters, which they accuse of sapping money from district schools.
Can they succeed? In some instances, yes. Not long ago, the teachers unions in Massachusetts led a successful campaign to prevent any expansion of charters in that state, thus restricting school choice to parents who can afford to buy homes in high-performing suburban communities.
So, yes, the new left has that clout, especially as Democrats are scrambling to push back against anything supported by President Trump and Education Secretary Betsy DeVos.
Trump and DeVos like charters and choice? Discussion over.
What Hickenlooper and others achieved in Denver represents the moderate wing of the Democratic Party, a wing that supports charter school options for low-income parents — and a wing that has seen its momentum sapped by the new left.
Yes, saying education leaders should avoid "one-size-fits-all" solutions sounds like a bromide. But not for a Democrat considering national office in an era of Donald Trump pushback. Those are fighting words.
Get stories like these delivered straight to your inbox. Sign up for The 74 Newsletter