Where There's Smoke: 4 Teenage Students See House on Fire, Rescue 90-Year-Old Neighbor From Burning Bedroom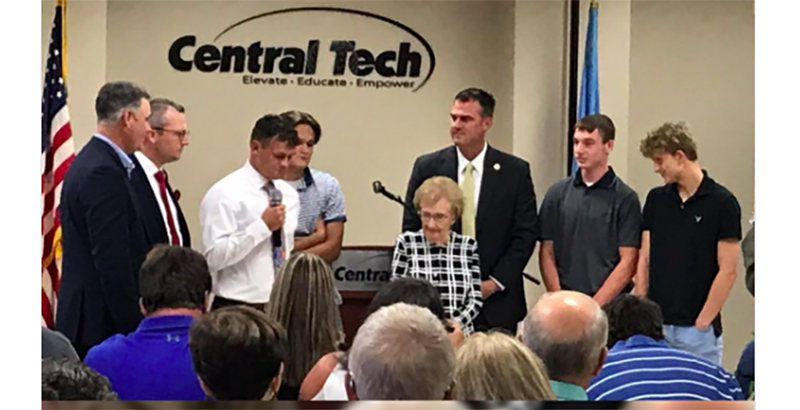 This article is one in a series at The 74 that profiles the heroes, victories, success stories and random acts of kindness found at schools all across America. Read more of our recent inspiring profiles at The74Million.org/series/inspiring.
Those who call for character-building to be part of a school curriculum might want to take a look at schools in tiny Sapulpa, Oklahoma. They must be doing something right.
Four young heroes, just 14 to 17 years old, showed courage and compassion when it was needed — they rescued a 90-year-old neighbor from her burning home. Missy Nicholas, the grateful daughter of the woman they saved, posted a heartfelt thank-you on her blog, which went viral.
Catherine Ritchie, 90, saw her bed on fire and tried to put it out by throwing blankets and pillows on it, Nicholas wrote. Ritchie quickly became disoriented by the smoke and couldn't find her way out. Across the street, the four teens smelled smoke, saw flames and heard a fire alarm. Only one of them knew Ritchie, and they weren't sure she was even at home, but they jumped into action.
As Tulsa World tells it: Dylan Wick, 16, called 911. Seth Byrd, 16, tried to break in the front door. Wyatt Hall, 17, ran to a neighbor for help. Nick Byrd, at 14 the youngest of the group, "kicked in the back door, found Ritchie and carried her to safety."
"Thank you for not allowing this to be the tragic end to our mother's amazing life," Nicholas wrote in her blog post. "Thank you for staying with her, hugging her, and helping her feel less alone until we could get to her. Thank you for being the kind of young men who thought about another person above yourselves."
That could have been the end of the story, but it was just the beginning for the boys, who quickly drew public praise for doing what came naturally to them.
Commenters on Nicholas's blog also had high praise for the youths.
"It is the way the world and our kids should be, caring, selfless and looking out for his or her fellow human being," Manny V. Tibe commented on the blog post. "I salute these kids and their parents for bringing them up in such a way that everyone of us would be proud to call them our children. Thank you for setting an example for the children of this generation. God bless all 4 of you and your families."
Then, Oklahoma Gov. Kevin Stitt visited Central Technology Center Campus in Sapulpa to shake the boys' hands and honor them in a ceremony at the school.
"People helping people" is the central characteristic of Oklahoma, the governor told the crowd, according to the Sapulpa Times.
And then, to top it all off, on Father's Day, Ritchie's family invited the boys' families to celebrate with them. And Nicholas wrote a Father's Day post to mark the occasion.
Get stories like these delivered straight to your inbox. Sign up for The 74 Newsletter