When Zuckerberg Commits Billions for Personalized Learning, He's Thinking of Programs Like NJ's 'Teach to One'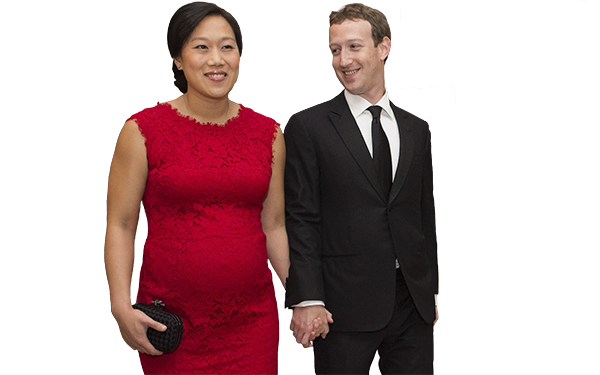 Facebook CEO Mark Zuckerberg and wife, Dr. Priscilla Chan, used the birth of their daughter Max to announce Tuesday they were donating 99 percent of their Facebook shares — a pledge now valued at $45 billion — to essentially remake the world she will inherit, from eradicating disease, to healing conflict to revolutionizing learning. The tool they see as most effective for realizing every child's educational potential — regardless of whether they live near a good school — is personalized learning.
"Our generation grew up in classrooms where we all learned the same things at the same pace regardless of our interests or need," the couple wrote in an open letter to their newborn. "Your generation will set goals for what you want to become — like an engineer, health worker, writer or community leader. You'll have technology that understands how you learn best and where you need to focus. You'll advance quickly in subjects that interest you most, and get as much help as you need in your most challenging areas. You'll explore topics that aren't even offered in schools today.
"Your teachers will also have better tools and data to help you achieve your goals."
The newly created Chan Zuckerberg Initiative is focusing its early personalized learning efforts in the San Francisco Bay Area but there are other parts of the country where personalized learning has already taken root. In fact, The Seventy Four's Naomi Nix was reporting on one such program in Elizabeth, New Jersey — a program that's already been singled out for praise, and granted millions of dollars, by the U.S. Department of Education — in the weeks leading up to the Zuckerberg/Chan announcement that just put the term "personalized learning" on 1.5 billion more lips. Here's Naomi's story:
In an iPrep Academy classroom in Elizabeth, New Jersey, an eighth-grader can dabble in high school math on a computer that already knows quite a bit about how he learns. Nearby, a group of seventh-grade students are working together on a class project revolving around a math concept that the eighth-grader may have mastered yesterday or is still struggling with.
That the students are in the same class tackling the same subject at the same time but not at the same level of difficulty or with the same approach is the point of what's called personalized learning.
The academy, part of the public school system in this industrialized city of 125,000, is one of dozens across the country experimenting with a new personalized learning model called "Teach to One: Math," which allows students to follow a math curriculum at their own pace, using group work, traditional classroom teaching and virtual tutoring.
"The students really like it," said iPrep Principal Lawrence Roodenburg, who first started using the program in 2013. "They are not always doing the same thing."
Under the program, lesson plans might involve being taught by a teacher in a classroom setting one day, then the next working with a group to practice a concept or tackling computerized math problems with a virtual tutor one-on-one.
The computerized program tests the students on their mastery of concepts taught during the classroom instruction and can feed them additional lessons on the same concept if they haven't quite gotten it yet.
The program's algorithm will also tailor teaching methods to students depending on their past performance — giving them more virtual tutoring if they learn better that way or more collaborative assignments if that approach delivers stronger results.
The group draws thousands of lesson plans from a variety of sources — from Kahn Academy, which provides free, short lectures via YouTube videos, to traditional textbooks by educational publishing giant, McGraw-Hill. Those teaching materials are then blended together into New Classrooms' computer program which assesses kids' strengths and weaknesses and delivers a ready-made lesson plan tailored for them.
Schools pay $225 per child to use the technology as well as extra fees for any additional support services they want. New Classrooms vets schools that apply to be a partner, including onsite visits for finalists to make sure there is buy-in from the school's staff.
When new technologies are introduced to schools, they can sometimes be seen as yet another complex technique teachers have to master on top of their already heavy workloads. New Classrooms designed Teach to One with the opposite in mind, aiming to simplify the classroom experience.
"(Teachers) do not have to be overwhelmed by the technology," New Classrooms co-founder Christopher Rush said. "The technology could free them up to do what they do best."
iPrep Academy, where the program is being implemented in fifth through eighth grade, says it has seen some positive results. Between the beginning and end of the 2013-14 school year, iPrep students grew 1.75 times more than the national average on Measures of Academic Progress, an assessment created by nonprofit Northwest Evaluation Association which specializes in personalized testing.
This year, the U.S. Department of Education granted the district and New Classrooms $3 million to expand the program to five Elizabeth public schools and to complete a three-year study of its impact being done by the Consortium for Policy Research in Education at Columbia University's Teachers College.
Teach to One: Math got its start in 2009, when Rush and
partner Joel Rose started a similar program at the New York City Department of Education, where three middle schools began experimenting with it.
TIME magazine named the initiative one of the top 50 inventions
of 2009, calling it "learning for the Xbox generation."
A study conducted by The Research Alliance for New York City Schools of the first year of the program found it produced mixed results. But a
more recent study
conducted by Columbia University professor Douglas Ready showed that schools that adopted the Teach to One: Math showed academic gains that were 15 percent above the national average in the first year and 47 percent above the national average in the second year.
Those are the kind of statistics that encourage
personalized learning advocates
, who argue that abandoning the traditional "one-size-fits-all" approach to teaching will help poor and minority children. But they find themselves at odds
with critics
who say the method requires schools to over rely on technology when a teacher's judgement might work better.
"These systems reduce all the richness and complexity of deciding what a learner should be doing to — sometimes literally — a "Next" button," David Riley, co-founder of electronic textbook company Lumen Learning, wrote in a
recent blog post
. "As these systems painstakingly work to learn how each student learns, the individual students lose out on the opportunity to learn this for themselves."
As the debate around personalized learning has evolved, so too has Teach to One: Math.
The program now includes more assignments that require students to spend more time investigating deep, complex problems. Lesson plans also follow a more logical chronology, Rose and Rush said.
Last school year, nine school districts educated more than 6,500 students with the Teach to One: Math model. This year, that number rose to 28 district and charter schools which are educating some 10,000 students in places such as Denver, Colorado, New London, Connecticut and Oakland, California.
Rose and Rush don't plan to stop there. The future of Teach to One may soon include older and younger students and other types of classwork.
"In the long term, we are excited to expand our reach to elementary, (and) high school as well as other subjects," Rush said.
Get stories like these delivered straight to your inbox. Sign up for The 74 Newsletter