When Learning Social Skills, Special Ed Students Do Best When Grouped by Social Ability, Not by Disability, Study Finds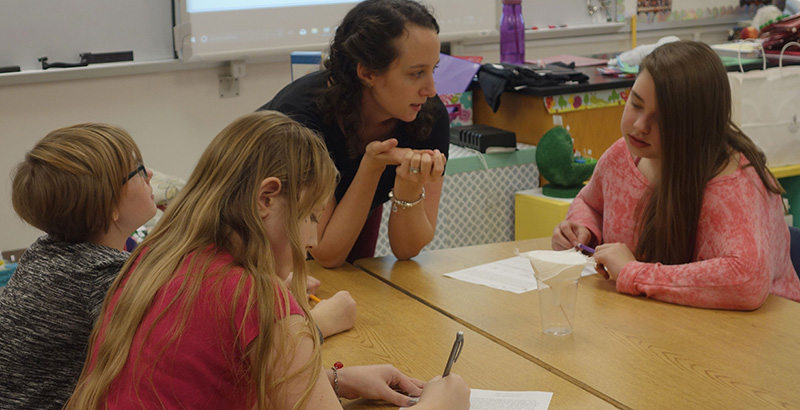 When a teacher narrows her eyes, some students might assume she's concentrating. Others might think she's angry. Some might just have no idea.
From reading facial expressions to having a conversation with their peers, some students struggle with social skills more than others. Schools try to address this by teaching these skills in addition to academics, but new research shows that how well students learn them depends on which students they're learning with.
A study from the University of Missouri–Columbia found that students with disabilities often progress further if they are working with students who have similar levels of social skills than if they are grouped with children with a much greater range of abilities.
Schools don't always do this, said Janine Stichter, professor of special education at the University of Missouri and co-author of the study. Instead, students are usually grouped based on factors like their school schedule or which disability they have. But two students with high-functioning autism might have different social skills and need different instruction, she said.
"What we realized is, it's really about fine-tuning what those social skills deficits are, and there's not enough assessments out there that drill that down very well, so this research supports the need for that and to look past the diagnosis when putting kids together," Stichter said, adding that this research can explain why some interventions work for some students but not others.
When students are grouped with peers who have similar social skills, teachers can personalize instruction for them. Past research on social influences also suggests that students might be discouraged by classmates who are more advanced than they are, or distracted by children with poorer skills.
For her study, Stichter observed classrooms where students used a social skills curriculum she and her colleagues had developed over the past 10 years. The randomized trial took place over four years in 34 public schools.
Researchers measured five social skills in the students — facial expressions, the ability to communicate feelings and emotions, the ability to share ideas, problem-solving, and conversational reciprocity.
Some might misconstrue "social skills" as meaning being popular or good at talking to people, Stichter said, but that's not what this type of learning is about. Instead, it's about helping students learn how to get their needs met in whatever environment they're in.
For example, some students Stichter works with could have extraordinarily high IQs but still be unable to tell the difference between a happy face and an angry face. So when a teacher widens her eyes or raises her eyebrows, some students may think she hates them. Stichter's curriculum includes lessons that help students identify facial expressions and practice them with their peers.
"The students can't learn academics if they don't understand how to interact with their teacher," said Stichter, who sees many students who can't communicate and get in trouble or shut down because they don't know how to express their needs.
Get stories like these delivered straight to your inbox. Sign up for The 74 Newsletter