What Would Schools Be Like If They Were More Like Children's Museums? Designers of New Pittsburgh K-6 School Are Finding Out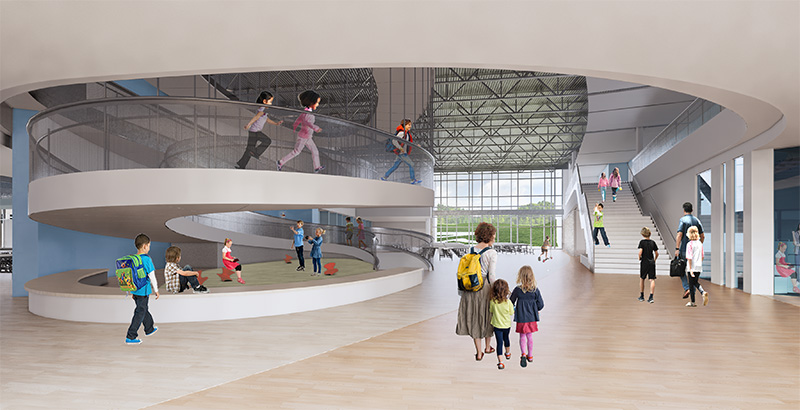 Updated Oct. 7
When architectural firm CannonDesign was tasked with designing the Seneca Valley School District's new Evans City Elementary and Middle School outside Pittsburgh, the architects took an unusual approach: They partnered with a children's museum.
The ensuing design, then, is decidedly different from a traditional school build, bringing together the resourcefulness of a museum with the desire to use every possible opportunity to teach and the ability to curate learning in an ever-shifting landscape. As CannonDesign architects Michael Corb and Troy Hoggard worked with Anne Fullenkamp, director of design for the Children's Museum of Pittsburgh, one thing became clear: When it opens in 2022, hopefully welcoming students post-pandemic, Evans City won't be another cookie-cutter school.
"Schools and museums are working to solve the same problem, but we come at it through different ways," says Corb, the firm's project client lead. "We asked the question, 'What would schools be like if they emulated children's museums more?'"
Fullenkamp, herself a trained architect, has worked to help teachers adapt their classrooms to fit new curricular and education challenges. She says a museum's perspective centers on adaptation; spending so much time with teachers trying to adapt already-built architecture to fit education's changing landscape, she approached the school project as an opportunity to rethink classrooms and incorporate the informal settings of a museum into a permanent space that was all about flexibility. The design wasn't about formal classrooms; it was about exploring how every space within the building linked together, all serving a collaborative and educational purpose.
Take the walls as an example. Evans City will have three types — analog, digital and curated — serving multiple purposes, with the idea that the K-6 school's students and teachers will be curators of their own environment.
Digital walls contain screens to show whatever the school chooses, though Hoggard says the designers were careful not to overindulge in digital displays. The walls' monitors, devices and switches can be easily reconfigured and rewired as technology changes.
The analog walls include a pegboard-like series of dense, wooden strips with holes, grids of holes that can hold anything with mass or weight — even 3-D objects — in a flexible design.
The curated walls are similar to the analog walls but are spread out across corridors and are meant for displaying finished work.
Using corridors and open areas as collaborative spaces will bring differing grades together, and movable furniture will encourage the constant reworking of spaces.
School corridors aren't often leveraged as teaching tools, but to be more like a museum that uses every possible area as a resource, the Seneca Valley project will have graphics-filled walls throughout. The K-2 corridor will focus on shapes, counting, base 10, maps and animals. The grade 3-4 corridor will highlight electricity, earth sciences, measurement, maps, graphs and reading, and the 5-6 corridor will focus on 3-D plotting, soils and hydrology, ecosystems, fractions, algebra and language.
The pegboard walls will allow students to take part in active learning, displaying work as they progress — not just when they're finished. These interactive spaces are flexible, durable and more akin to museum exhibits to foster learning, Fullenkamp says. The building will also contain educational elements on the walls, such as one that teaches about sound and harmonics in the music space and a magnetic map wall to help students understand geography, language and space.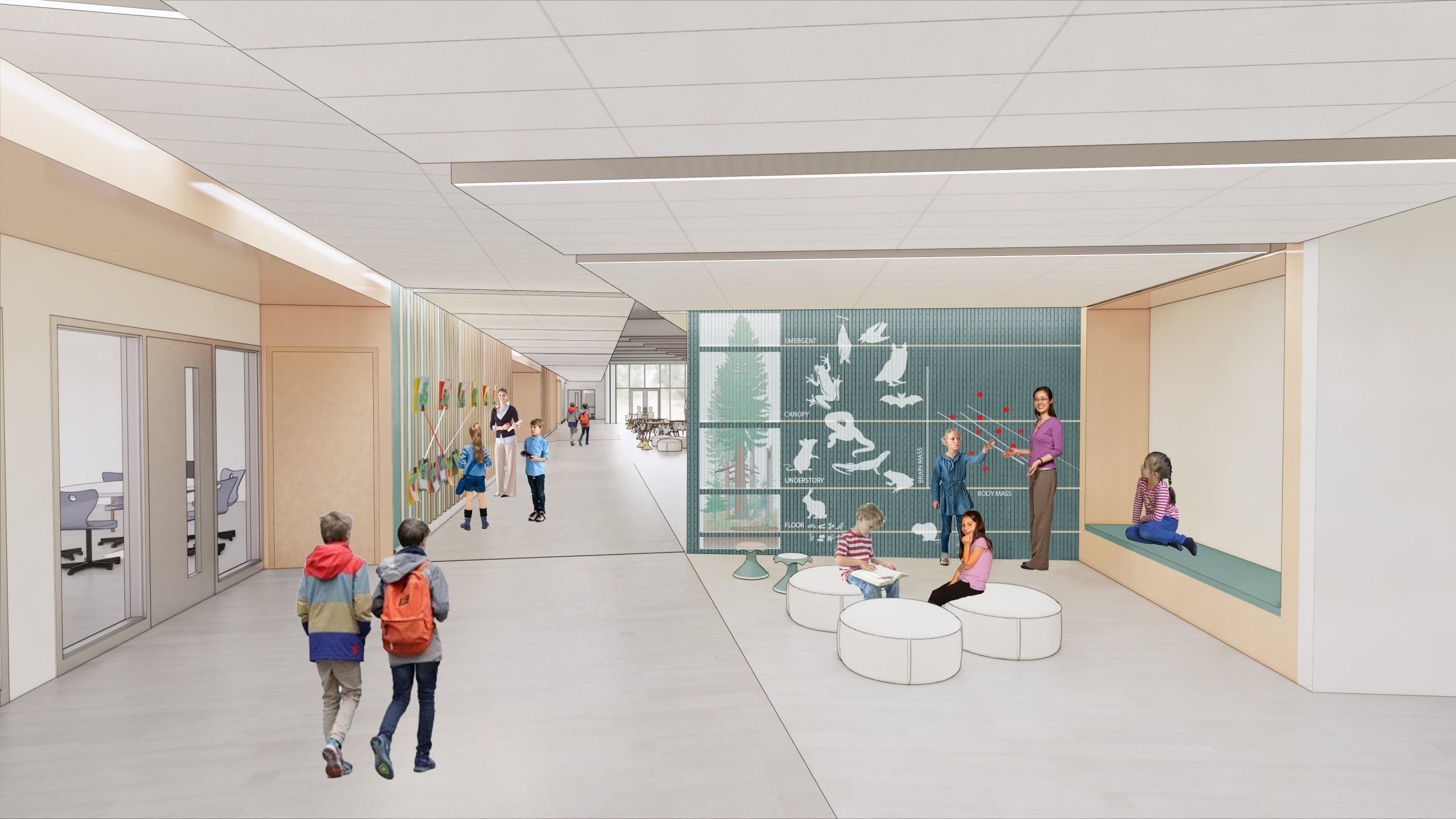 In total, Hoggard says, there are 17 specific locations in the building where the physics of architecture are demonstrated and explained, borrowing a museum concept of ensuring that every opportunity to teach gets captured.
Floor patterns and graphics laid atop structural columns teach about shape, size, volume and distances. Exposed columns, trusses and building materials show off engineering and science. The south-facing glass wall traces the path of sunlight across a floor pattern. The mechanical pump and fan rooms have illuminated lighting and displays with interpretive graphics to teach about condensation, evaporation, conduction and convection. Rain spouts on the main canopy include a gauge, while graphics explain weather patterns. A roof deck has special solar panels and sedum plants, and a large, obvious light switch will allow some student control of lighting and energy consumption while teaching about the role of automation in energy.
Using the building and its materials to engage students, the architects tried to diminish the institutional feel. Instead of stairs through most of the site, there are ramps both on the exterior and in the lobby meant to encourage students to take different routes to get where they're going.
Many of the classrooms have direct access to outside; those pathways, and ample use of daylight, aim to connect the interior and exterior environments. The scale of the building adapts to make what's big feel small. For example, the littlest students — kindergartners — will have a loft on the second floor with a dedicated roof terrace, in a small, specially closed-off area just for them.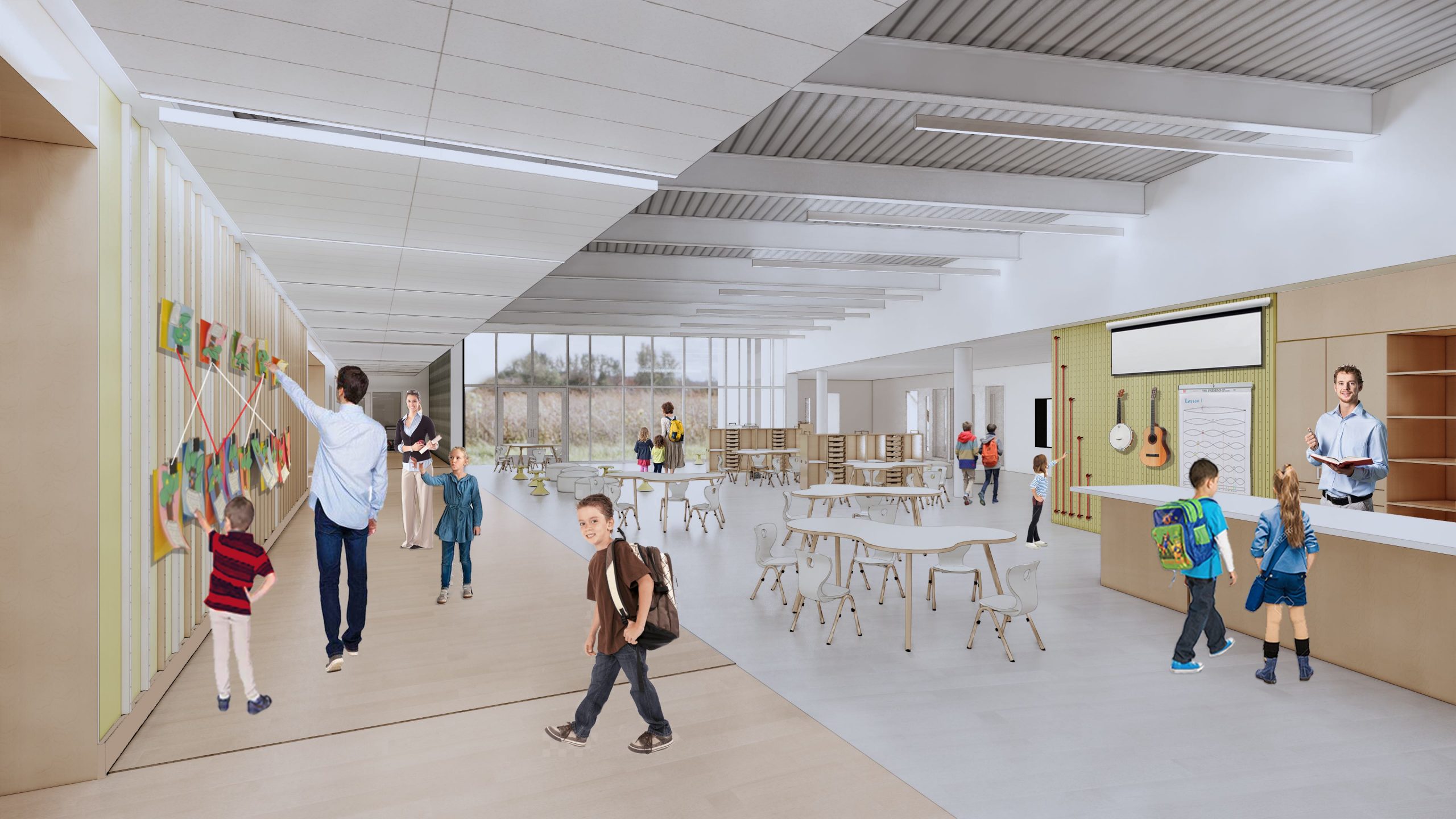 Maps play a key role throughout the building to "inform a sense of place," Corb says. The two-story entry wall includes a world map as a resource for discussing geography, languages, ecosystems and ancestry, and the lobby has a map of the Pittsburgh region. The dining area's entry wall features a map of the school grounds that allows staff to teach about water, plants and design.
Areas that aren't serving as teaching tools are intentionally left neutral to allow student work to stand out, and, as in a museum, spaces have layered functions, such as a small-group instructional area that also serves as a sensory room.
"We needed to think about how we change the culture so students and teachers feel like they have agency over the space to make changes in real time without spending more money to make the space the way they needed in the moment," Fullenkamp says.
Corb says this can all happen anywhere, at any school. "Pulling from the children's museum in expression is thinking of the core building as a blank canvas, supporting process and product," he says. "The beauty of this project is it is using funds in a different, and what we think, more engaging, way. You can have an institutional, factory-based model or something more engaging, more collaborative and more responsive to project goals. It does require a client with this kind of vision, but doesn't require a lot of money."
Support The 74's year-end campaign. Make a tax-exempt donation now.