'What Would It Mean to Equalize Access to Tutoring?' Brown University's National Student Support Accelerator Aims to Find Out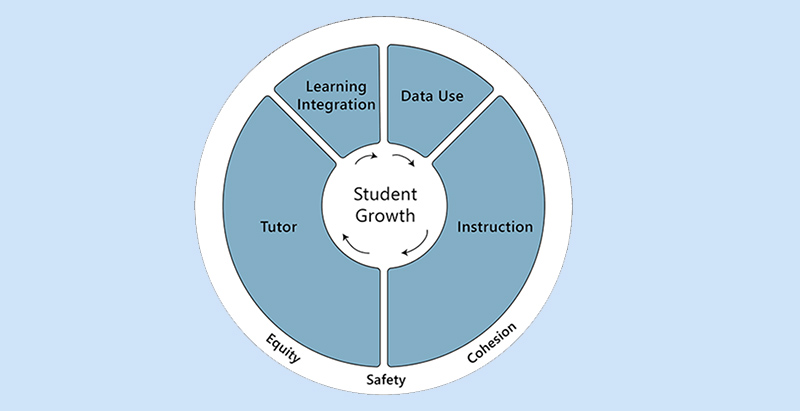 When the pandemic forced K-12 schools to shift to distance learning in March 2020, Brown University's Annenberg Institute for School Reform made its own shift, leveraging research and financial support to deliver individualized tutoring to traditionally underserved students at high risk of additional learning loss.
"There is a lot of evidence that tutoring can produce large learning gains for a wide range of students, especially students who have fallen behind," says Carly Robinson, a postdoctoral research associate at the institute. "Tutoring raised to the top of the list of what could put a dent in unprecedented learning loss. Tutoring works."
The institute quickly developed the National Student Support Accelerator, still in its startup phase, to bring together researchers, schools and donors to help give K-12 students nationwide access to tutoring. Robinson says the goal is to make tutoring effective and then implement that effectiveness at scale.
Part of the challenge is ensuring accessibility, especially for families who can't afford a private tutor. "What would it mean to equalize access to tutoring?" Robinson asks. "The actual vision is pretty big."
Now, nearly a year later, the institute is focused on getting tutoring test sites up and running, with Annenberg providing matching funding through its donors.
"We are hoping to create a network of tutoring organizations and districts that can learn from one another, so we are not constantly reinventing the wheel as districts try to do this and organizations continuously improve," Robinson says. The group is developing a cost calculator tool and information on its website about how to find funding. Robinson says the institute expects the accelerator to become its own organization.
About a half-dozen test sites have popped up in California, North Carolina, Rhode Island and Texas, with another half-dozen in the works for Georgia, Oklahoma, Maryland and Washington, D.C. One of these is at Aspire Public Schools, a network of 38 public charter schools in California whose students — unaccustomed to accessing one-to-one tutoring — are 76 percent eligible for free and reduced-price school lunch, 73 percent Latino and 11 percent Black. Aspire is working with Paper, a virtual chat-based tutoring service that offers help in four languages.
Jennifer Garcia, Aspire's chief academic officer, says the Brown partnership made sense as it became clear that the network's students were going to be doing distance learning for an extended period of time. Each of the 7,000 students in grades 6-12 received a Paper account running from January 2021 to January 2022. The $37-a-head cost is being covered with $100,000 from the accelerator and $100,000 raised by Aspire; and an additional $60,000 still needs to be funded.
In just the first few weeks of the program, Aspire students contacted Paper over 3,000 times. "It is strongly encouraged and highly promoted," Garcia says. "Our hope is Paper can support students, so we have different student outcomes."
Students having trouble with an assignment enter the online portal and type in a problem, draw it on a virtual whiteboard or upload a file. Tutors then respond and help walk students through the solution. Paper also provides review and annotation on writing assignments.
Affluent districts in California use the service, and Garcia wanted it for her students as well. "If we were going to actually minimize the opportunity gap and change outcomes by giving resources that are meaningful, tutoring resources are incredibly meaningful," she says. "I know our families receiving this are excited about this and happy about it. This actually interrupts the pattern of disparity."
A former teacher in New York, Robinson says the hope is to get tutoring to every student who might be falling behind. "If there is an opportunity for universal tutoring," she says, "there are not going to be kids who don't have the chance to advance."
Aspire will study students' outcomes and use of Paper to gauge improvement. With in-person learning likely for fall 2021, Garcia says she sees a scenario where the service could provide "additional support in the classroom" — for example, teachers assigning students to spend 20 minutes with a Paper tutor to help draft the start of an essay before writing.
The institute will track the effectiveness of Paper's method, and if it proves effective, "that is amazing and it is a different way to think about creating tutoring," Robinson says.
Disclosure: The Bill and Melinda Gates Foundation, Walton Family Foundation and Charles and Lynn Schusterman Family Foundation provide financial support to the National Student Support Accelerator and The 74.
Get stories like these delivered straight to your inbox. Sign up for The 74 Newsletter