What to Do With Pokémon Tie Son Made in 1st Grade? Wait a Decade and Wear It to His HS Graduation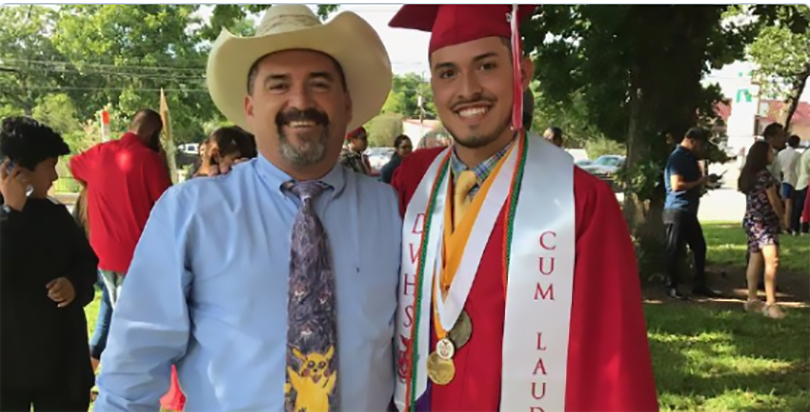 This article is one in a series at The 74 that profiles the heroes, victories, success stories, and random acts of kindness to be found at schools all across America. Read more of our recent inspiring profiles at The74million.org/series/inspiring.
When Dylan Olivo was in first grade, he gave his dad, Robert, a handmade Pokémon tie. His father appreciated the gift with his son's hand-drawn Pikachu, but he had no place to wear it.
---
---
Fast-forward a decade or so, and the time finally came: Robert donned the Pokémon tie to wear to Dylan's graduation from Del Valle High School in Travis County, Texas.
Robert told
KVUE-TV
that when he received the tie, he certainly had no idea where he would wear it. "Me and my wife would joke about it, and I told her, I'm going to wear it when he graduates. That will be the best time."
---
#TodaysWinner could be Dylan Olivo's Dad who wore a tie his son had made in 1st grade to his graduation 11 years later! #AllTheFeels pic.twitter.com/AzbbacYAtQ

— Jo and Sparky ? (@joandsparky) June 5, 2017
---
So as Dylan prepared to walk during commencement exercises as one of the top students in his class, his dad put on the tie for the first time, taking something silly and making it meaningful.
"I could see the Pikachu from far away," Dylan told KVUE. "It just has me appreciate what I have with my dad."
He told
Teen Vogue
he was "shocked" that his dad actually went through with it. "I didn't expect him to really wear it or even have it this whole time. He has never worn the tie before in his life until my graduation day."
---
Dylan?, @themindofd is now trending in #Houstonhttps://t.co/iiw0Rouafi pic.twitter.com/Y6pz8dcn13

— Trendsmap Houston (@TrendsHouston) June 2, 2017
---
"My dad and I have that relationship where it may not look like we're close, but really we're pretty much the same people," Dylan told
Fresh U
. "We're always cracking jokes and laughing about something, even if it's dumb."
---
---
Get stories like these delivered straight to your inbox. Sign up for The 74 Newsletter