What Sort of Coaching Works Best for Early Childhood Educators? New Report Offers Some Clues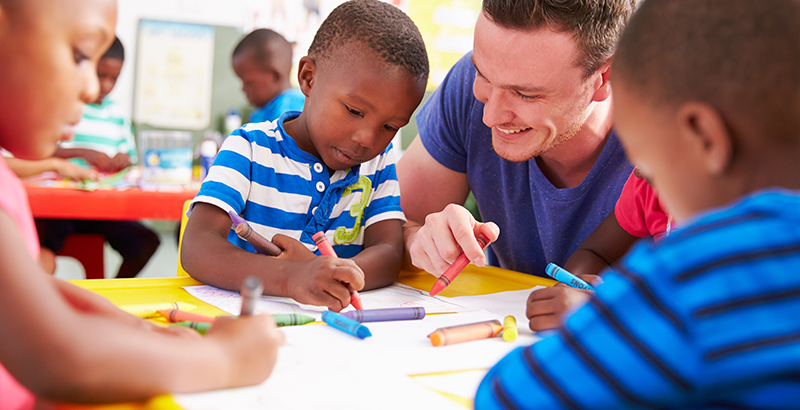 Ten years ago today, when then-President George W. Bush signed legislation reauthorizing Head Start, he hoped that "emphasis on research-based curricula and classroom practices will increase children's preparedness for school." Since then, Head Start has made encouraging progress, but the quality of instruction remains low in too many classrooms.
One way Head Start programs are addressing this challenge is through one-on-one coaching support for teachers. Coaching, which is now required by the Head Start Performance Standards, is both a big opportunity and a big challenge, with the potential to impact nearly a million students.
By working one-on-one with a coach, teachers can build practical skills and improve their students' readiness for kindergarten and beyond. Coaching has much stronger evidence behind it than do some of the one-size-fits-all approaches that give "professional development" a bad reputation. But coaching can also be difficult and expensive to implement well. This means the field of early childhood education has to work harder and smarter to realize coaching's full potential for students and teachers.
In a new paper released today, I review the research on coaching in early childhood education and profile examples of high-quality coaching to offer recommendations for how Head Start and other early childhood education programs can make the most of these resources.
One of the first things that jumped out in this research was the huge variety of strategies under the umbrella of "coaching." In most models, teachers work individually with their coaches to set goals, review feedback, and improve their strategies and skills over time. There are countless variations on that basic framework, some of which have stronger evidence than others. Head Start's performance standards don't explicitly define coaching or limit programs' choices very much. This flexibility is good for innovation and local autonomy, but it creates an increasing need for practical guidance. Head Start programs should understand the range of design choices for coaching and the possible trade-offs in order to choose an approach that fits with their goals, contexts, and staff needs.
Substantial personal support for teachers over the long term might sound like an expensive proposition. Resources are tight in the world of early childhood education, and evidence-based coaching models are usually labor-intensive. But we don't actually know how much it costs to provide effective coaching — and it might not be as expensive as administrators fear. Creative strategies such as providing long-distance coaching using video or training school and center leaders to coach their own staffs could make this support more affordable, as could technologies that reduce the paperwork burden on coaches. Programs might also be able to shift resources to coaching from other professional development approaches that may not be working.
Head Start leaders at the federal level can assist with these program design and budget puzzles by offering extra guidance through the early years of the new performance standards, supporting useful research, and lifting up innovative, successful examples already in progress. High-quality coaching programs do more than hire a coach and call it a day — they create whole systems focused on quality improvement and professional growth that include teachers, coaches, leaders, and other staff.
Coaching in Head Start would be even more effective if there were more evidence and research to support various design choices and explain cost/benefit trade-offs. Much of the coaching research to date focuses on the question "Does coaching work?" (Generally, it does.) To make quality coaching achievable in thousands of Head Start sites across the country, however, the focus needs to shift to asking, "When does coaching work best, for which educators, and in what contexts?" Federal agencies could support and fund research that addresses these kinds of questions.
Head Start's ongoing focus on quality improvement over the past decade is yielding results. By making smart decisions about coaching, Head Start programs and federal policymakers can support further improvement in the quality of teaching that leads to lasting benefits for children, families, and our country's future.
Support The 74's year-end campaign. Make a tax-exempt donation now.