What Should Kids (and Parents) Know About Student Data and Online Testing? Some Suggestions From a Privacy Advocate — and Mom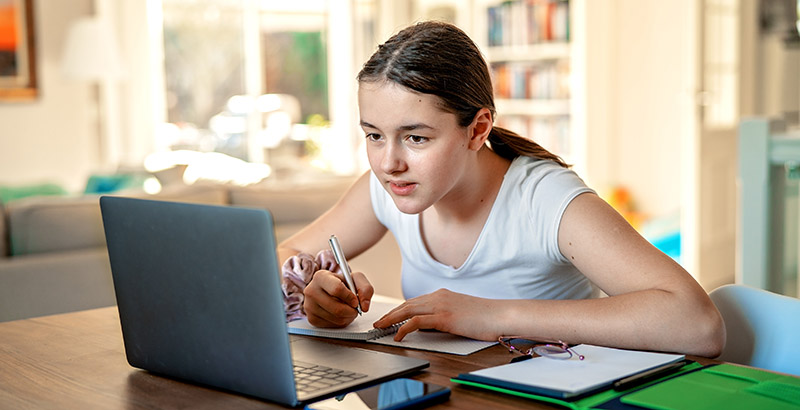 Students across the world have had to adapt to a new way of learning due to the coronavirus pandemic. Now, as the school year comes to a close, they are also adapting to a new way of being evaluated: taking tests online. Advanced Placement exams were recently administered virtually, with widespread glitches, and colleges and school districts are looking to move their exams online for next semester, making testing — stressful enough during normal times — even more so.
I have children in elementary, middle and high school, and I have watched each of them deal with the anxiety of this new school environment over the past few months. I have also listened to their concerns and questions about online learning and privacy while using various platforms to wrap up the school year from home.
What data are being collected about them? Who's looking at their online browsing history? What about their Google searches? Who gets to see this information, and what do they do with it?
Privacy and security considerations are a key part of my day job, so my kids are naturally a little more aware of some of these issues than others, but these concerns are rampant among their friends and classmates as well.
When it comes to online testing and virtual proctoring, students should have the right to review and understand what data are being collected and why.
There should be guidelines on specific and limited data collection and sharing restrictions for these platforms. It should be clearly stated that testing companies do not own the data they collect from students, and that they won't sell or share the information. Students want to be able to decide who sees their data and how it is used.
In truth, this whole online learning and testing experience has raised questions for me, too.
Exactly how should online testing work? There are several options available. Some online proctoring services lock students' browsers, prevent them from going to another URL and monitor their online activity while they are taking an exam.
Some proctoring services can provide either live or automated online monitoring, even watching students by accessing their webcam and microphone. This adds another layer of privacy concerns that can make students understandably uncomfortable. Some students don't want to show their homes to complete strangers and increase their anxiety during an already stressful time.
For students with learning disabilities, an analytics-based system monitoring a test taker's movements will immediately flag kids with attention and executive function disorders who need to expend energy in order to concentrate. Not every student or parent feels comfortable disclosing disability information to an online proctor or company outside the school district.
Since proctoring companies are responding to the needs of educational institutions, schools have a responsibility to ask for good privacy standards to protect kids while allowing for tests to take place in a safe and secure environment. Students deserve to be trusted and heard. Companies need to build platforms that inherently address privacy concerns, and at the same time, schools should build assessments that better serve students and their learning paths.
The systems we are seeing in action this spring are implicitly telling students we don't trust them by not taking the time to first discuss with them the objectives, purpose and privacy considerations of online learning platforms. We should consider how students feel and address any long-term psychological effects this type of surveillance will have, while quickly working toward a more balanced approach to testing by both proctoring companies and schools.
Schools need to trust students while educating them. Our kids are trying their hardest to learn and earn good grades during a pandemic. They're doing their best under extremely unusual circumstances, and they deserve nothing less in return.
Olga Garcia-Kaplan is a New Jersey public school parent and a student data privacy advocate with over 15 years of experience in the financial services industry, managing regulatory requirements and submissions to the Securities and Exchange Commission. 
Get stories like these delivered straight to your inbox. Sign up for The 74 Newsletter