What Did This Ohio Teacher Do During His Summer Vacation? He Rowed Across the Atlantic Ocean — and Set a World Record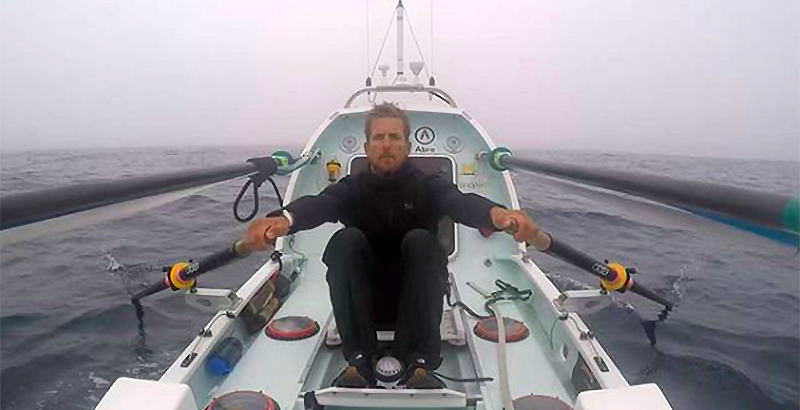 This article is one in a series at The 74 that profiles the heroes, victories, success stories, and random acts of kindness found at schools all across America. Read more of our recent inspiring profiles at The74Million.org/series/inspiring.
After you've spent part of your summer vacation rowing across the Atlantic Ocean, how do you go back to school?
With a pep rally, of course.
Last Friday, Cincinnati's Seven Hills School celebrated AP biology teacher Bryce Carlson with cheers and high fives for his world-record-setting achievement — on Aug. 4, he became the first American to row across the North Atlantic when he came ashore in England's Scilly Islands after 38 days, 6 hours, and 49 minutes, 15 days faster than the previous record.
Carlson, 37, worked for years preparing for the trip and spent more than $100,000 — some of it his own cash, some of it crowdfunded. "I'm a teacher. I don't have $85,000 sitting in a bank account," he told The New York Times.
He set off from Canada in June in the 20-foot, high-tech rowboat Lucille, named after his grandmother.
Carlson, who also runs ultra-marathons, decided to make the transatlantic trip "to have an adventure that would be exciting and that I would learn from and grow from and share with the world," he told MLive.com.
That included posting live tracker positions on his website and many, many pictures from his seafaring science lab on social media.
Bryce was not alone today in the North Atlantic! He was able to capture about 5 min of video by placing his @GoPro in the water as his new friends checked out his boat. #brycerows #England #ocean #Dolphins #adventure #yolo #WorldRecord #oceanrowing #teacher #Athletics #rowing pic.twitter.com/SD7aZEVZZs

— Bryce Carlson (@brycerows) July 29, 2018
Over the last day, Bryce has experienced visits from Terry the Tern, rough weather (including two capsizes), and unexpected health difficulties. Visit https://t.co/2dzUAYsgtE for the latest news from the North Atlantic. #brycerows pic.twitter.com/7AlcSr9qNv

— Bryce Carlson (@brycerows) July 25, 2018
Day 31: Covered ~65mi past 24hr w. GPS hiccups and big waves but good wind. 1600mi down, 412 to go! pic.twitter.com/eIbPxfRCjq

— Bryce Carlson (@brycerows) July 27, 2018
"That was really exciting for me to see whales and dolphins for the first time — to see bioluminescent plankton for the first time," Carlson, a native of Muskegon, Michigan, told MLive.com. "To see my boat surrounded by a swarm of krill — the main dietary item of whales — I had been reading about those things since I was a kid. To be immersed in that for the first time was really special."
His own diet consisted of water, energy drinks and bars, and dehydrated rations. He would start his day at 6 a.m. and row for 12 hours starting at 8 a.m., then rest for 12 hours. With no relief boat following him, he was without human companionship, but he kept in touch with friends and followers online and via satellite phone.
Lucille capsized — about a dozen times. Carlson's water desalinator fizzled. Ocean spray flowed into his tomb-size hull, zapping his electronics. He lost 15 pounds during the journey.
But Carlson rowed on. And on. And more than 2,000 miles later, he arrived, knackered, as the British would say, in the port of the tidal rocky island of St. Mary's Harbor in northeastern England.
Carlson went back to school last week a changed man — and with some life lessons for his students.
"All we need to get started in this game is curiosity." Our Science teacher Bryce Carlson – Athlete shares hugs and high fives with students after addressing the student body during a pep rally to kick off the school year. #StingerPride

Posted by The Seven Hills School on Friday, August 24, 2018
"I think there are expected challenges — the things you know going in are going to happen or are likely to happen — and you have a plan in place for how to prevent that or get around it or overcome it," he told MLive.com. "Then there are the things that you didn't expect. I think for me, the greatest anxiety came from the unknown."
Carlson told WKRC, "In some subtle ways at least, maybe some profound ways that I'll discover later, I'm changed from this experience. The person my students will have. The teacher my students will have in the classroom is a little bit changed from this experience."
Submit a Letter to the Editor