What a School Believes: Making New Friends and a Better World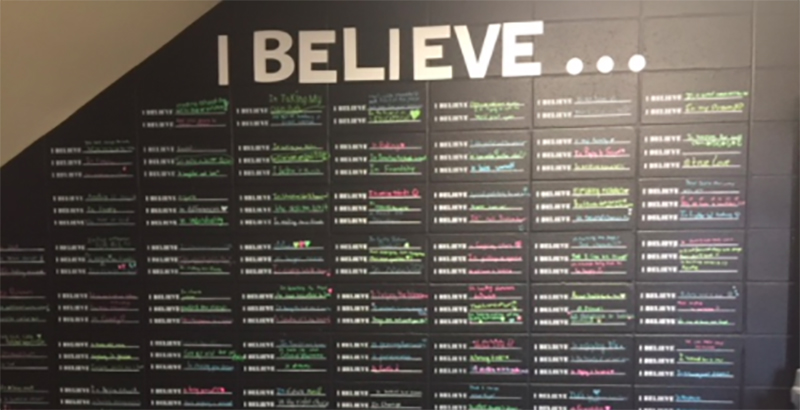 This article is one in a series at The 74 that profiles the heroes, victories, success stories, and random acts of kindness to be found at schools all across America. Read more of our recent inspiring profiles at The74million.org/series/inspiring.
Lundahl Middle Schoolers have so much to believe in. Laughter and love. Individuality. Helping the homeless. Peace and forgiveness. Making new friends. Family. The list seems endless, hopeful, inspiring.
And it all came from sixth-graders writing with chalk on an "I Believe" wall inside their Crystal Lake, Illinois, school.
Learning came from the wall too.
Teachers Kim Chudick and Cynthia Nero created the wall in a stairwell across from Nero's classroom after Chudik's daughter showed her the lyrics and music video from Shawn Mendes's popular song "Believe."
Kicking off the project with a discussion of the lyrics and the video's visuals, students collaborated on discussions about messages, beliefs, kindness, and current events.
"The kids didn't realize they were learning," Chudik told the Northwest Herald. "I'm always looking for ways to keep the kids interested and take everything beyond the classroom."
Students then researched current issues and wrote paragraphs about what they had learned. The assignment included different types of media, themes, messages, tone, mood, and even poems and songs.
Then they went to the wall — just like the one in the video — writing down powerful expressions of what was most important to them.
"It's helping us to express who we are," student Molly Mareci told the paper. "People just judge people by the way they look and not the way they should be seen."
Respect played a key role in the project — students needed permission to write on the wall and couldn't erase any other student's statements. "It really made them think about what's important to them," Nero said. "Some kids wrote some really insightful things."
Plus, as student Grace Collingbourne told the newspaper, "if you believe enough, it might come true."
Get stories like these delivered straight to your inbox. Sign up for The 74 Newsletter