West Virginia Schools Face Big Staffing Problems Amid New Teaching Assistant Law
The Third Grade Success Act was intended to address the state's abysmal reading scores.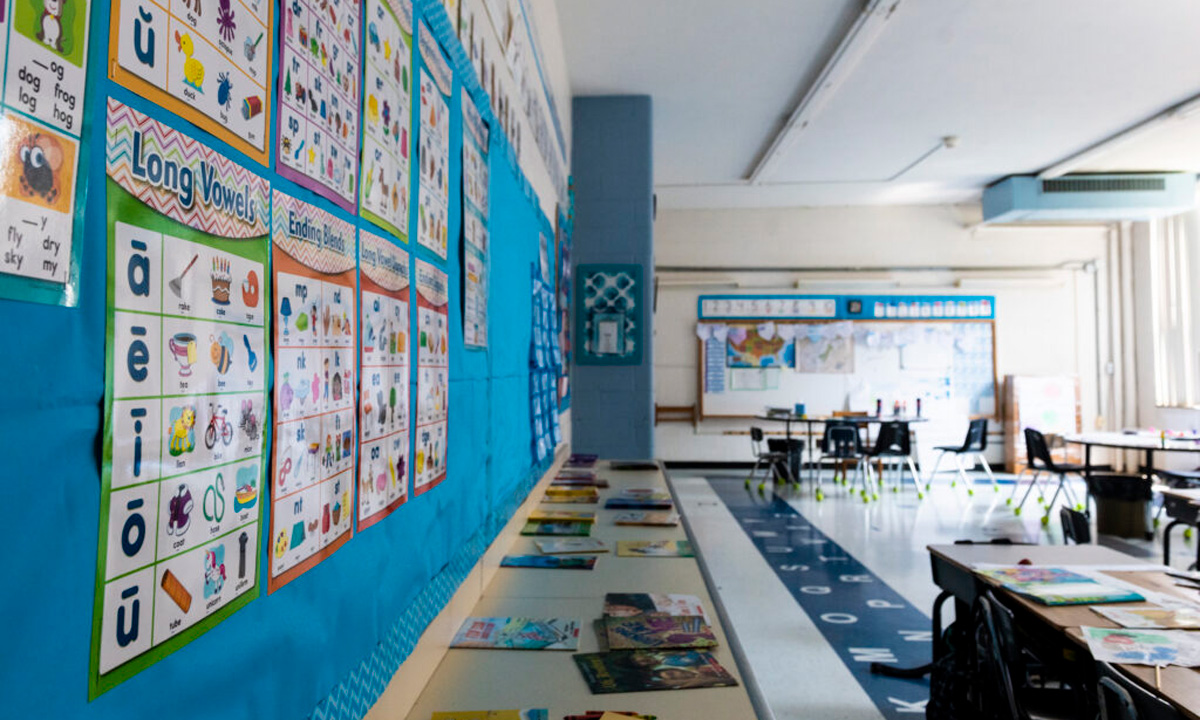 No paywall. No pop-up ads.
Facing historic lows in West Virginia kids' reading and math abilities, state lawmakers passed a landmark bill earlier this year that would require and fund teachers' assistants in many lower-level classrooms.
But with the new school year approaching, the program implementation faces hurdles on a deadline included in the bill. County school systems are now tasked with filling the classroom assistant positions or backfilling the jobs being vacated, including special education aides, for the new positions.
Lawmakers worry about the upcoming vacancies that could be caused by counties implementing the bill, known as the Third Grade Success Act.
"Come August and September, when these schools are opening, I'm very concerned about what we're going to see," said Del. Joe Statler, R-Monongalia, vice chair of the House Education Committee. "The trouble is in the implementation."
In Berkeley County, Superintendent Ronald E. Stephens IV still has open aide positions to fill along with new vacancies left by existing employees transferring into the new aide positions.
"While we remain optimistic about implementing the code across our second and third grades in future years, we do have concerns that many classrooms, including prekindergarten and special education, may continue experiencing staff shortages including 79 other unfilled service positions," he said.
The landmark education bill, a priority for the governor, House and Senate during the 2023 Legislative session, required teachers' assistants in lower-level classrooms based on the number of students. The bill also outlined reading instruction and added a number of support and intervention strategies to monitor student progress through the end of third grade. Reading proficiency by the end of third grade is a "crucial marker" in a child's educational development, researchers said.
West Virginia recorded its worst reading and math scores ever in 2022; education officials cited the pandemic's education disruptions as a reason for the drop in scores.
"We're excited about the Third Grade Success Act and being able to implement this legislation," West Virginia Department of Education Superintendent Michele Blatt said. She added that the department is monitoring any issues that arise in its rollout.
"This legislation was a labor of love for many," she added.
Statler expressed concern that the legislation gave the WVDE and counties a tight deadline to implement the first phase of the plan, which this year required assistants in classrooms with more than 12 kids in just first grade classrooms along with other other literacy-focused requirements.
Del. Chris Toney, R-Raleigh, estimated there would be 300 classroom aides hired for first grade classrooms around the state. The bill is expected to annually cost $97 million once positions are filled through third grade, which is supposed to happen over the next few years.
The state has faced a teacher shortage, and last year, 1,544 certified teachers were teaching out of their content area, according to the WVDE. The classroom assistants are not required to have a teaching degree but must receive reading and numeracy training, according to the legislation. Lawmakers expressed concerns about filling the positions, which they believed would be more than 2,000 jobs, ahead of passing the bill.
"I do have concerns about them finding people to fill these positions," said Del. Elliot Pritt, R-Fayette. "The education system is already chronically understaffed."
Leaders with the WVDE told West Virginia Watch that at this time, they could not provide a total number of assistants needed or share how many of those positions had been filled. They cited, in part, that enrollment totals, which determine the number of aides needed, won't be set until October.
The WVDE missed a July 1 deadline, required in the bill, to provide a report about parts of the new literacy and numeracy program. Spokespersons for the House and Senate told West Virginia Watch those reports were received July 20. WVDE officials communicated with Legislative staff members ahead of the delay.
"Although the plan for July 1st was not met by WVDE, the speaker's office, as well as others in the Legislature, stayed in contact with the leaders of WVDE to enforce those policies and inquire about the delay," Toney said. He has worked for Raleigh County Schools for 16 years, including as a classroom aide.
"We are hopeful that the right changes will take place to ensure that these policies will reflect the concerns of parents, educators and students," he added.
New aide positions could drain special education staff
WVDE Deputy Superintendent Sonya White said that many of the newly-created positions are often being filled by people already working within schools.
"There's a lot of shuffling right now," she said. "Some counties are struggling to fill the positions."
Stephens has filled 50 of the 62 new aide positions in Berkeley County. He said that the majority of staff filling the positions came from other classrooms in the district, the schools' transfer list of discontinued positions. Some were former aide substitutes, he said.
Kanawha County Schools spokesperson Briana Warner shared the similar concerns as Stephens about people leaving special education classrooms for the new aide positions. The Kanawha County school system, which is the state's largest, needs 80 aides this upcoming year in its first grade classrooms. They have five to 10 vacancies at this time, she said.
" … We're anticipating needing additional special education and other classroom aides due to movement to first grade positions," Warner said. "We have begun recruiting additional special education aides to fill any of the vacancies that may be created as we create additional first grade aide positions this year."
Warner added that the county school department went out and interviewed current special education aides in June so that they "could put together some basic ads and attempt to get ahead of any loss."
"From the beginning, my biggest concerns have centered around special education aides. We do not need to take from one department to give to another," Toney said. "We need to make sure all of our students and staff, no matter what their specific needs are, will have more opportunities for safety and success in their schools."
Not all students in the state with an IEP have a developmental disability but many do. Students living in poverty are more likely to be identified for special education.
"We knew there was a possibility we were going to drain the special education positions," Statler added.
Despite the current hurdles, lawmakers remain optimistic that this bill will improve the state's education system and student outcomes. State lawmakers referenced academic gains in Mississippi while crafting the legislation; Mississippi went from being ranked the second-worst state in 2013 for fourth-grade reading to 21st in 2022 with some of the same initiatives West Virginia has been adopting.
The state is also offering literacy training to principles and teachers this summer. Blatt said that more than 1,000 school personnel from around the state have participated in those training opportunities.
West Virginia Watch is part of States Newsroom, a network of news bureaus supported by grants and a coalition of donors as a 501c(3) public charity. West Virginia Watch maintains editorial independence. Contact Editor Leann Ray for questions: info@westvirginiawatch.com. Follow West Virginia Watch on Facebook and Twitter.
Get stories like these delivered straight to your inbox. Sign up for The 74 Newsletter