Weingarten Speech Tying School Choice to Racism Sets Off Firestorm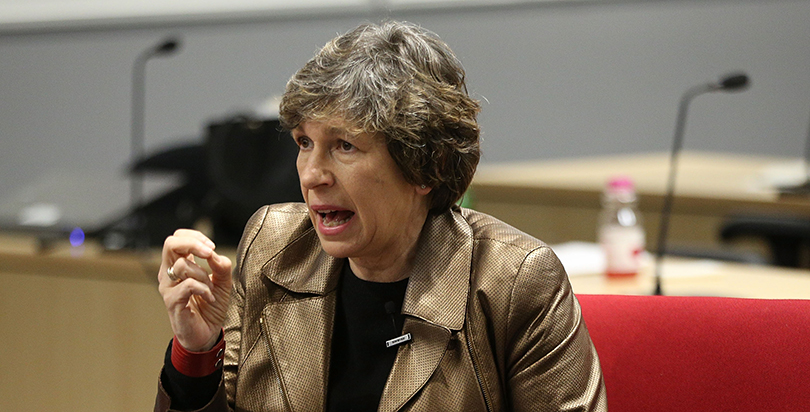 Teachers union head Randi Weingarten let loose an intense debate after declaring in a speech that the school choice movement originated in an effort to keep schools segregated.
The American Federation of Teachers president delivered the
speech
Thursday at the union's summer conference to a room of 1,400 teachers.
Weingarten pointed to schools in Virginia, after the Brown v. Board of Education ruling, that resisted integration by shutting down their public schools and providing vouchers for white students to attend private school.
She also said school choice efforts today continue to segregate students and private schools that use vouchers can discriminate because they don't follow federal civil rights laws.
"Make no mistake: This use of privatization, coupled with disinvestment are only slightly more polite cousins of segregation," Weingarten
said
.
The Trump administration has made school choice a priority, proposing $1 billion in new public school choice funds while simultaneously cutting billions from the department. (The House Appropriations Committee
declined to fund
this new choice proposal but did give $370 million to charter schools and slashed $2 billion from teacher training.)
Other school choice supporters saw hypocrisy and political calculation in Weingarten's remarks. Some recalled the AFT's own
racist history
and argued that segregation still defines today's
public schools
.
---
Thank you, @kevinpchavous, for speaking truth to power! pic.twitter.com/Y7boxF831c

— Center for Ed Reform (@edreform) July 21, 2017
---
The center's CEO, Jeanne Allen, called for Weingarten's
resignation
.
Others showed support that the head of the 1.6 million–member union raised a complex history.
---
History is complicated; we should learn from all of it. AFT also sent teachers to Prince Ed Co to teach black students who were shut out. pic.twitter.com/BBNCjlvt0T

— Catherine Brown (@Catbrown66) July 20, 2017
Thank you @rweingarten for brining up @amprog's report on the racist origins of school vouchers. #teach17 https://t.co/hN0WJ3LzCy

— gregcruey (@gregcruey) July 20, 2017
---
It's a further crumbling of an already strained relationship between Secretary of Education Betsy Devos — a career-long voucher supporter — and Weingarten, Politico
reports
. The pair had a seemingly harmonious joint tour of a public school in April but have since had only harsh words for each other.
---
Best DeVos is the most anti-public ed Sec of Ed ever. #TEACH17

— Randi Weingarten (@rweingarten) July 20, 2017
---
During a speech with the conservative American Legislative Exchange Council Thursday, DeVos criticized the union's focus on a system above individual students, and she followed up in a series of tweets.
"[AFT] are saying education is NOT an investment in individual students. And they are TOTALLY wrong," DeVos
wrote
.
---
Hard to believe. They have made clear that they care more about the system than about individual students. (1/3) https://t.co/RHeU6aU5GQ

— Betsy DeVos (@BetsyDeVosED) July 20, 2017
---
---
Support The 74's year-end campaign. Make a tax-exempt donation now.