Whiplash: After 2 Senate Defections, DeVos Shores Up 50 Votes Thursday and Clears Cloture Friday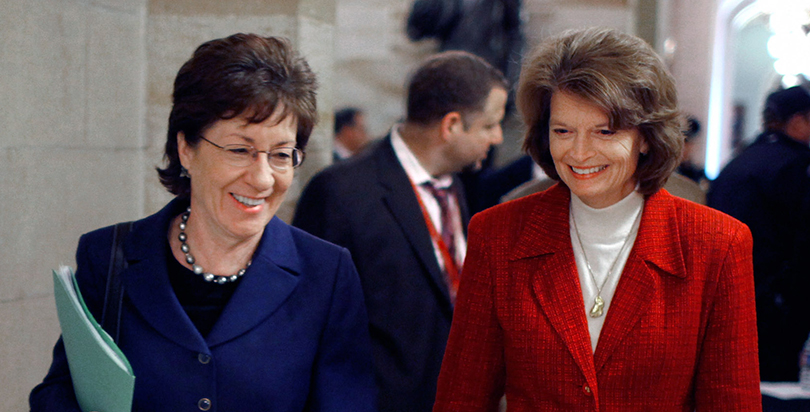 February 3 Update: Senate Republicans moved to end debate over Betsy DeVos's record Friday with an unusual early-morning 7 a.m. cloture vote. The final tally followed party lines: 52–48. Republicans Lisa Murkowski and Susan Collins voted for the procedural motion, although they warned earlier this week that they wouldn't vote for DeVos's nomination in the end. The move prevents Democrats, who have been energized by opposition to DeVos following her faltering committee appearance, from delaying a confirmation vote early next week. Sens. Lamar Alexander and Patty Murray, the chairman and top Democrat on the Health, Education, Labor and Pensions Committee, kicked off the debate around 7:15. There will now be up to 30 (non-consecutive) hours of debate before a final vote is heard.
February 2: Article updated to reflect support for DeVos from the remaining six senators considered "on the fence." She has now secured the needed 50 "ayes."
Betsy DeVos's confirmation as education secretary is teetering after two Republicans announced Wednesday they would oppose her nomination.
Their votes will mark only the second and third GOP defections against a cabinet nominee put forward by President Trump. (Rand Paul opposed CIA Director Mike Pompeo.) And given the party's thin majority in the chamber, Wednesday's revelation quickly led a coalition of Democrats, academics and teachers unions to double down on their bid to get the Senate to #DumpDevos, going so far as to circulate phone numbers for senators who were believed to still be sitting on the fence.
The Senate is split 52–48 in favor of the Republicans. Given unified Democratic opposition and the two GOP defections, that means a 50–50 tie for DeVos, with Vice President Mike Pence set to cast the deciding vote — the first time a vice president would break a tie since 2008. The final vote is likely to occur Monday, and Republican leaders said DeVos will be confirmed.
The drama began unfolding early Wednesday afternoon, when two Republican senators, Lisa Murkowski of Alaska and Susan Collins of Maine, announced on the Senate floor that they would not vote for DeVos.
Their announcements left the Republican leadership scrambling, moving the vote on DeVos's nomination ahead of the vote on Attorney General–nominee Jeff Sessions — who, if he were confirmed to his post ahead of DeVos, would have left her down one crucial vote.
Patty Murray of Washington, the top Democrat on the education committee, said in a statement that Republicans were jamming DeVos's nomination through "despite serious questions about her finances and potential conflicts of interest, her clear lack of understanding of basic education issues."
Advocates seeking a third GOP defector to sink DeVos's nomination targeted more than a half-dozen other Republicans on Wednesday afternoon, including Pat Toomey of Pennsylvania, Rob Portman of Ohio, Jeff Flake of Arizona, Dean Heller of Nevada, and Nebraska's Ben Sasse and Deb Fischer.
Flake and Sasse were two of Trump's sharpest GOP critics during the campaign. Fischer, like Murkowski and Collins, voted against amendments to the Every Student Succeeds Act that would allow federal funds to follow children in a private school choice program.
But by midday Thursday, all six senators had lined up in support:
"I'm all for her," Toomey told The Washington Post.
"I support Betsy DeVos for Secretary of Education because during the confirmation process she committed to strongly support public education and because of her support for local control, instead of having the federal government dictate education policy at the state and local level," Portman said in a Thursday statement.
Flake invoked the movie Jerry Maguire, tweeting that DeVos "had me at 'school choice' years ago."
Said Heller in a statement, "As the husband of a teacher, I believe Betsy DeVos is the right choice for this position."
Sasse stood by his earlier praise of DeVos: "It's hard to think of many who have done more for the education reform movement over the last 30 years than Betsy DeVos."
Shortly after 2 p.m. Thursday, Fischer became the final senator to tweet her support: "While I do not agree with Mrs. DeVos on every issue, I do believe she has the ability and the commitment to lead the department."
Murkowski and Collins had said Tuesday that although they'd vote to move DeVos's nomination out of committee, they weren't committed to voting for her on the floor. On Wednesday, they reiterated that they would vote to invoke cloture — cut off debate — on the nomination but made clear they would not vote for her confirmation.
(The 74: Betsy DeVos Nomination Clears Hurdle, Leaving Acrimony and Uncertainty About Full Senate Vote)
Both had expressed reservations about DeVos's advocacy for charter schools and private school choice at what they felt would be the expense of traditional public schools.
---
---
Collins called it a "very difficult decision" and praised DeVos as a "good person" who "cares deeply about the children of this nation."
Nevertheless, she reiterated points she had made in committee: that DeVos's many years of advocacy for vouchers and charters raised questions as to whether she would focus appropriately on traditional public schools and whether she totally understood the federal law governing special education.
DeVos's nomination, particularly in the weeks since she stumbled at her January 17 confirmation hearing, has attracted widespread attention and opposition on social media and from Americans not normally attuned to the leadership of the Education Department.
Murkowski credited the outpouring of opposition from her constituents for her decision.
"I have heard from thousands, truly thousands, of Alaskans who shared their concerns.… Their concerns center, as mine do, on Mrs. DeVos's lack of experience on public education and the lack of knowledge that she portrayed in her confirmation hearing," Murkowski said.
(The 74: DeVos Pledges Not to Gut Public Schools or Force School Choice During Confirmation Hearing)
Republican leaders, meanwhile, expressed continued confidence that DeVos would get the requisite votes for confirmation.
"I am 100 percent confident she will be the next secretary of education," White House Press Secretary Sean Spicer said. "I think that the games that are being played with Betsy DeVos are sad. She is someone who has been a tireless advocate over the last couple decades to really support reforms that benefit children, and they are going to be the real winners with her as secretary of education."
The Dick & Betsy DeVos Family Foundation provided funding to The 74 from 2014 to 2016. Campbell Brown serves on the boards of both The 74 and the American Federation for Children, which was formerly chaired by Betsy DeVos. Brown played no part in the reporting or editing of this article.
Support The 74's year-end campaign. Make a tax-exempt donation now.